Yesterday I was down on location helping a client with a website project and we started talking about different ways he can show off his new site and get more eyeballs on it.
I reminded him on how we ended up "meeting."
One of his team members mentioned he saw me on Facebook, visited our website, and then "started seeing me everywhere."
He eventually reached out to book an appointment, he loved what he heard, asked for a proposal and he is now a happy customer.
He is a customer today in part due to the retargeting campaign he saw after visiting our website. So how does retargeting work? Let's dig in and I will explain this for you.
How Does Retargeting Work?
Retargeting is a form of online advertising that can help you keep your business in front of people who visit your website, don't take immediate action, and leave your website. For most websites, only a small amount of people (typically around 2%) converts on the first visit. Retargeting is a powerful online marketing tool designed to help businesses reach the 98% of visitors who don't reach out to you right away.
This graphic shows how the retargeting process works: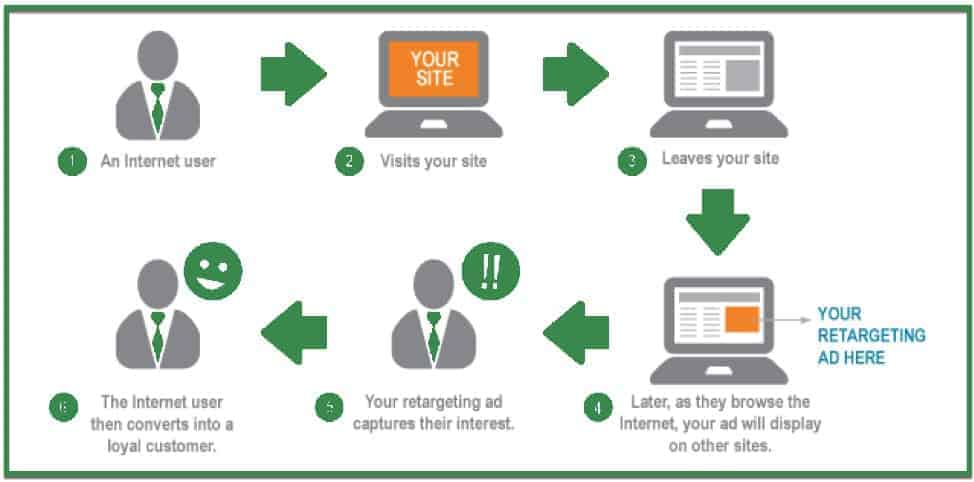 What Are The Benefits of Retargeting For Your Small Business?
There are lots of great benefits to retargeting (also known as Remarketing). Here are some of the biggest benefits we have seen from this online marketing tactic.
Generate more sales
By staying in front of prospective clients it can be a powerful way to convert more visitors into paying customers.
Reach interested prospects
Retargeting ads only to show to people who demonstrated by their behavior that they are interested in what you do. Staying in front of them can pay off.
Retargeting builds trust
When you become more visible to your website visitors they are more likely to trust your brand.
Make your brand appear more substantial
When you show up everywhere online it makes you look bigger than might actually be and that can push prospects over the edge to finally reach out to you.
Stay top of mind and grow brand awareness
I call this the "I see you guys everywhere" effect. When you stay top of mind to people they are more likely to take the next step and reach out to you.
Low cost advertising
Retargeting is very cost effective and you can run a retargeting campaign it won't cost you an arm and a leg to stay in front of your target audience.
Most people DON'T take action immediately
Follow up is key when trying to magnetically-attract people to your business. Some used to say it takes 7 touches to finally push someone over the edge to decide to work with you. These days, I think that number is even higher and retargeting can help you touch prospective customers until they are ready to reach out to you.
Increase conversion rates
When you have multiple follow ups your sales numbers will increase dramatically.
What Kinds of Retargeting Can I Do?
There are lots of different types of ads you can run in a retargeting campaign. For most of our clients we focus on Google and Facebook retargeting ads but there are other networks
Google Text Based Ads Retargeting

One of the simplest ways to run retargeting ads is with Google text based ads. As shown in the image above, that is a simple text based ad that we run for one of our advertising clients.
Google Banner Ad Retargeting
Another way to run retargeting ads is via Banner ads that display on various sites around the internet that have Google adsense code on them. You can get your banner ads promoting your business display prominently on popular news sites, blogs, and sites that your ideal customers may be visiting. These types of banner ads can contribute to the "wow, I see you guys everywhere" effect I mentioned previously.
YouTube Ad Retargeting 
YouTube is the second biggest search engine in the world and people spend more time every year watching video there. Over 70% of the YouTube traffic is from people on a Mobile device. 73% of adults in the United States use YouTube and each user spends over 11 minutes a day on this social media platform. This can be a great platform to run retargeting video ads on.
Facebook Retargeting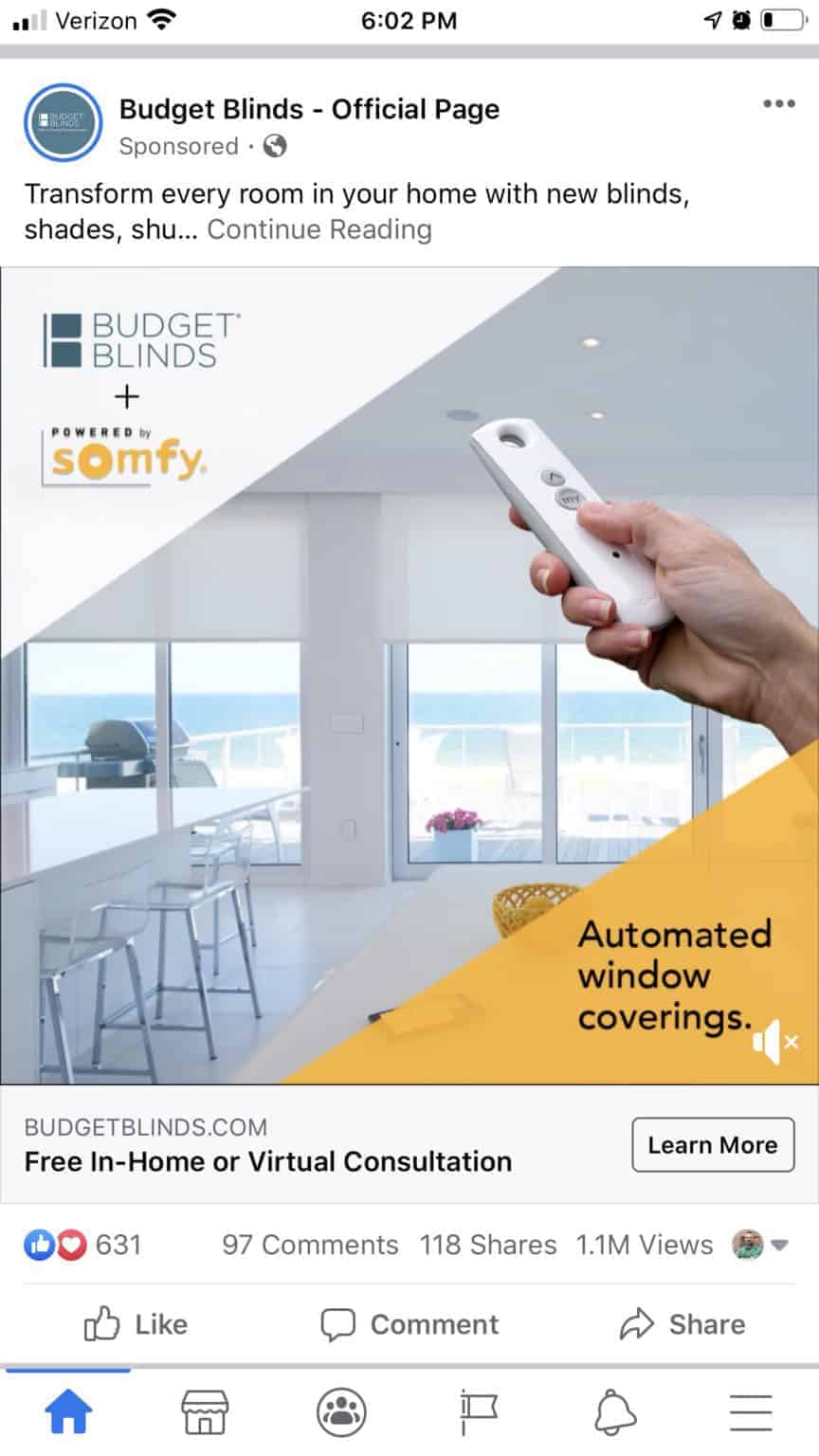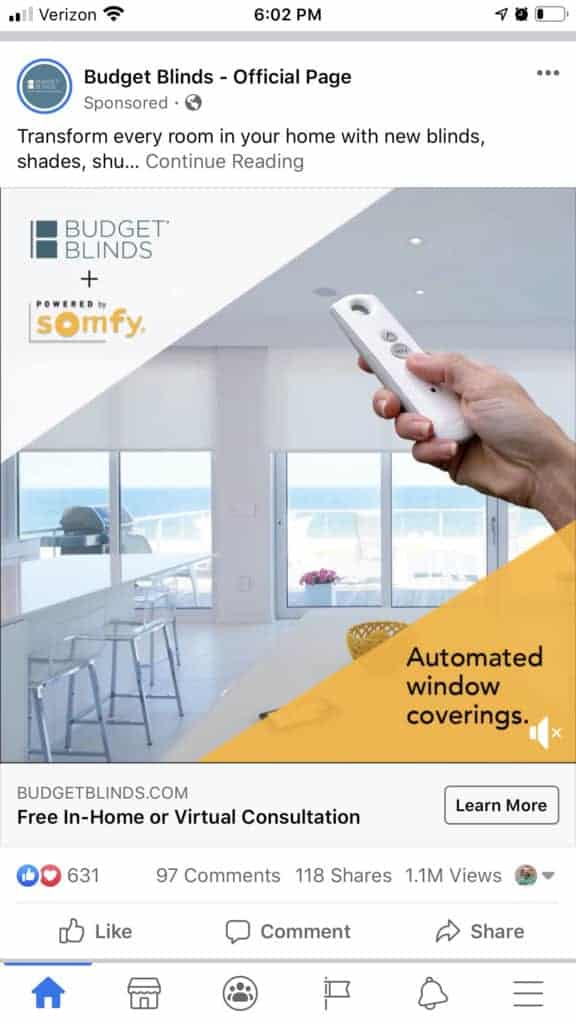 Facebook is one of the most widely used social media platforms and your ideal customers spend a lot of time there every day. One of my favorite places to run retargeting ads is on Facebook. When they visit your website and then later login to Facebook you can have your retargeting ad displayed to them. The image above was from a website I visited earlier in the day and then when I opened the Facebook app on my phone I saw this ad pop up. Smart ad strategy for this brand.
Instagram Retargeting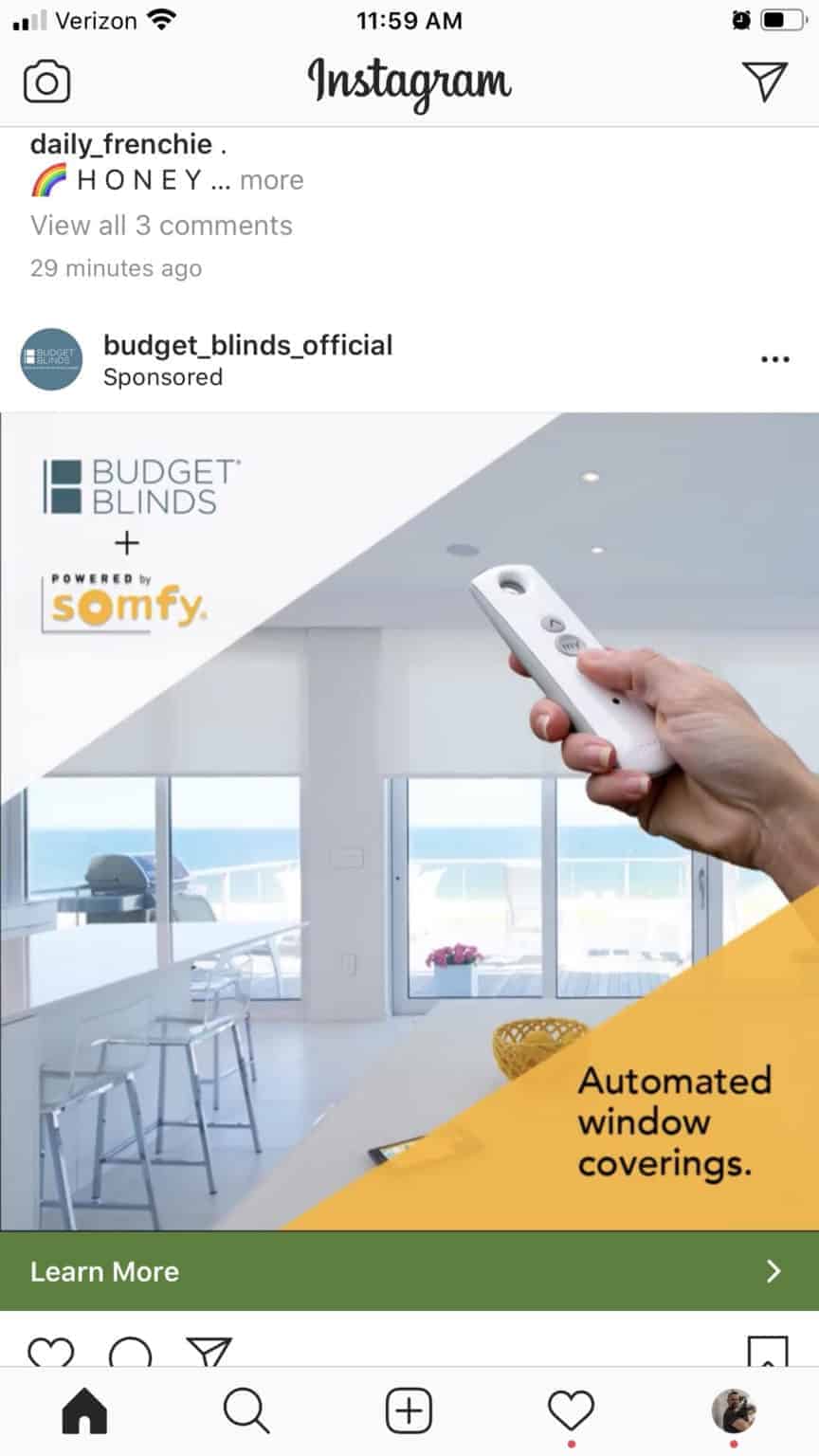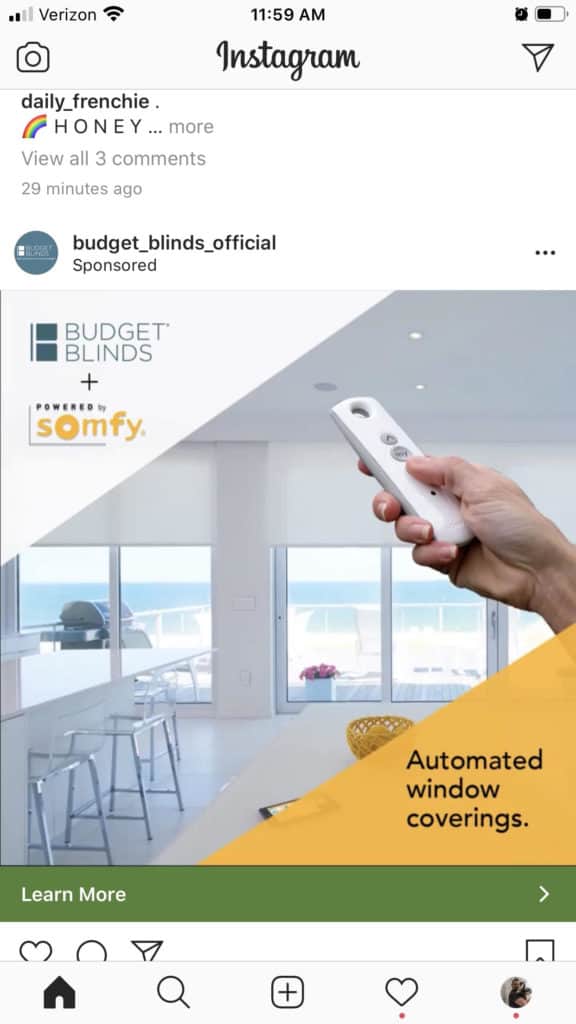 Instagram is another great place to run retargeting ads for your small business. The image above is from the same company I mentioned above and I saw this retargeting ad targeting me after visiting their website.
LinkedIn Retargeting 
Some are surprised to learn you can also run retargeting ads on the LinkedIn social media network. LinkedIn is a social media network devoted to people in business so it can be a good potential place to run retargeting ads for your small business (especially if you have a business to business approach). You can set up LinkedIn retargeting ads to stay top of mind to your ideal prospects.
Other Networks Like Ad Roll
Beyond the usual online ad suspects there are even more options out there where you can advertise your business across even more platforms. AdRoll is a well-known platform popular with more advanced business who want to take advantage or retargeting.
How Does Retargeting Work Summary And How It Can Help Your Small Business
This is a powerful strategy that can work for all kinds of different small businesses.  If you are interested in learning more about this powerful small business marketing tactic I invite you to reach out to learn more.  
You can contact us here and we can schedule a date and time too discuss how your business can take advantage of this strategy.