Maid For You NH Website Redesign
Tammy Caveney owns a Concord NH Cleaning service business called "Maid For You" and you can see her new site here:  https://maidforyounh.com
She came to us for help recently because her old "do it yourself" Wix website just wasn't working to grow her business like she wanted it to.  Her old website didn't rank for her core services like she had hoped it would, and it rarely ever generated any business for her.
She wanted more…
She met with my team and I at NH Strategic Marketing and told us what she wanted her site to be able to do – and we then built her a professionally-designed site that was far more than a static page on the Internet like she used to have.
The website redesign turned her site into a 24 hour a day, 7 days a week sales machine that will tirelessly work to help her grow her business.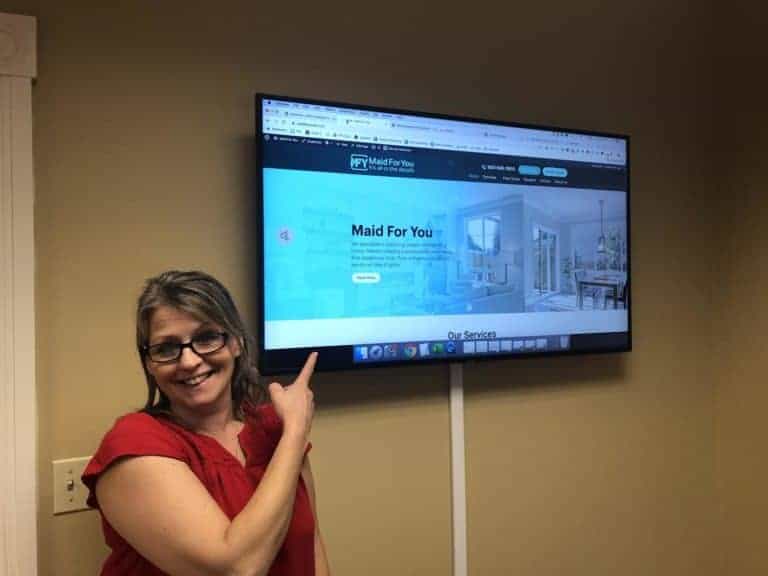 We took this photo after her site had been live for only a couple weeks, and she happily reported that she has already closed TWO new high-value clients from it that will be worth thousands of dollars a year to her business!
Not too shabby for being live only a couple of weeks.
In Tammy's new and improved site she wanted marketing tools such as:
– Automated quote functionality and online booking
– An integrated Customer Relationship Management (CRM) system that helps to systematize and automate most of her customer communication and new client campaigns
– The ability to offer Gift Cards on her website
– An online Review system that helps her build the online reputation of her business and attract even more new customers by showcasing reviews from other happy customers
– Click to call functionality, so people looking at her site on a mobile device can easily call her for a free quote
– Built out Services pages to help her rank more effectively in Google and improve the Search Engine Optimization of her website
– An integrated Blog so her and her team can easily add content, and continue to build out the search engine effectiveness of her site
– An updated and professional look that helps to attract (and convert), the right customers
– Integrated analytics so she can clearly see how many people are viewing her site and how they are finding it
– And much more
Now that her site is live, we are moving on to the next phase, which is an integrated Online Advertising campaign on Google and Facebook, targeting her ideal prospects in and around Concord, NH.
NH Strategic Marketing doesn't just offer website redesign, we also offer marketing services.  This campaign will help her show up on the front page of Google when and where people are searching for cleaning services in her targeted geographic area.
Her ads will also show up on popular social media platforms where her potential customers spend hours a day.
Ultimately, this campaign will help more people to be aware of her business, and will help them find her new website.
Tammy has a great business and we predict that it will be growing by leaps and bounds in the upcoming year, built on the foundation of her new "sales machine" of a website.
SOME QUESTIONS FOR YOU:
Is your website old, outdated and in need of a refresh?
Does your current website generate leads for you to the level you wish it would?  (Does it generate leads for you at all?)
Is your website a static thing that just sits on the Internet and doesn't actually help you market and grow your business?
If you want more from your website, we should talk and see how we can help transform it into a real marketing asset for your business.
My team and I are happy to schedule a call or in-office meeting with you to discuss your business goals and to see how we can help you.