NH Strategic Marketing, LLC 130  N  Main  St Fl 2 Concord, NH 03301
Personal Touch Landscaping & Contracting Case Study
About Steve at Personal Touch Landscaping & Contracting
Steve Mock has been offering landscaping and outdoor living solutions for people in Long Island, NY since 1986. Our team started working with Steve years ago when he reached out looking for help landing more high quality landscaping and hardscaping clients.  
He just had a website that wasn't getting any traffic.  He had built his business up to this point by relying on referrals and getting business by word of mouth.  While that worked to get him to a certain point he wasn't experiencing the growth that he really wanted to see.  He wanted to get more customers and grow faster so that is why he reached out for our help.  
The biggest thing he needed help with was getting the phone to ring with qualified landscaping leads. Lucky for him, that's our specialty.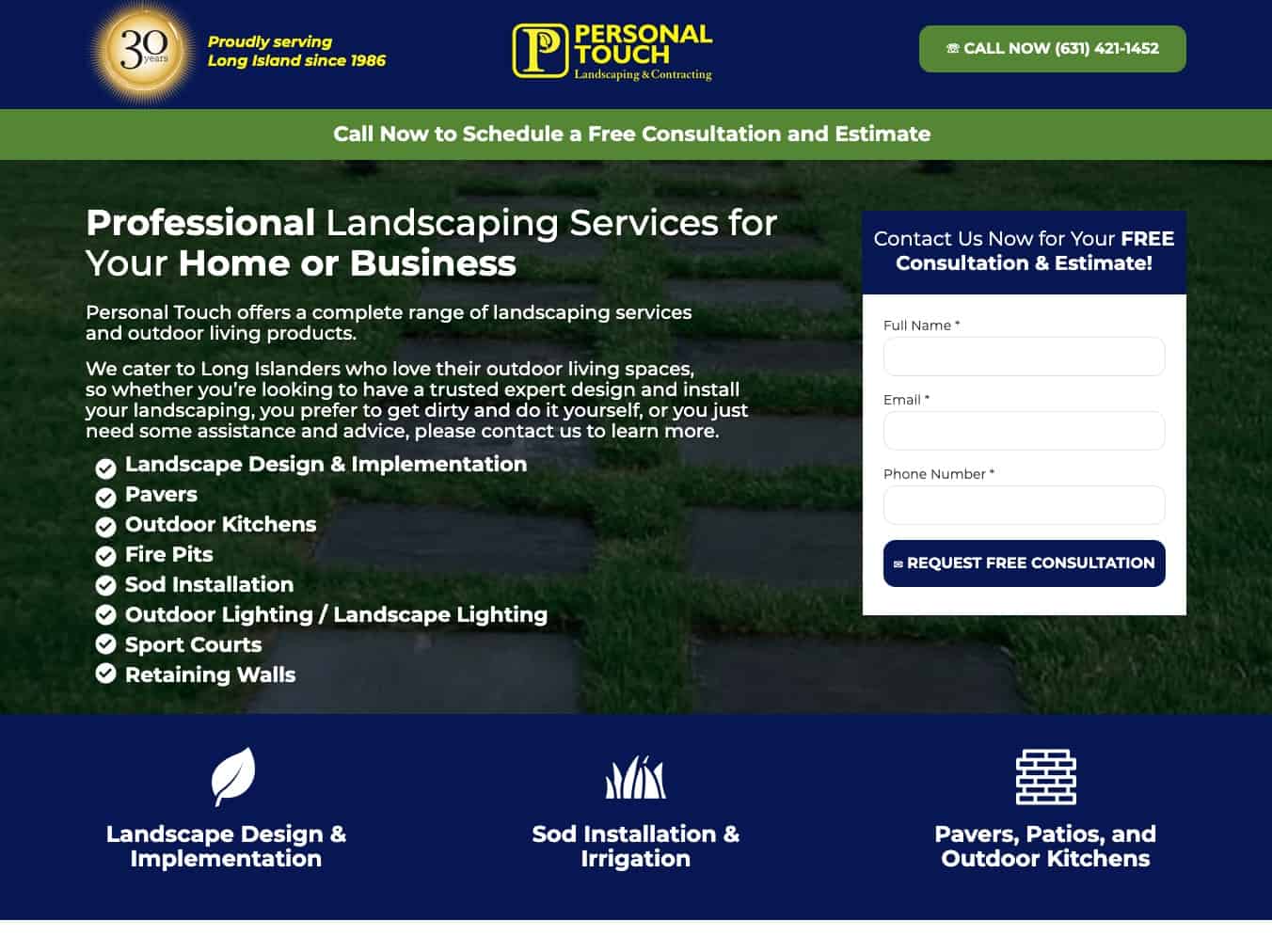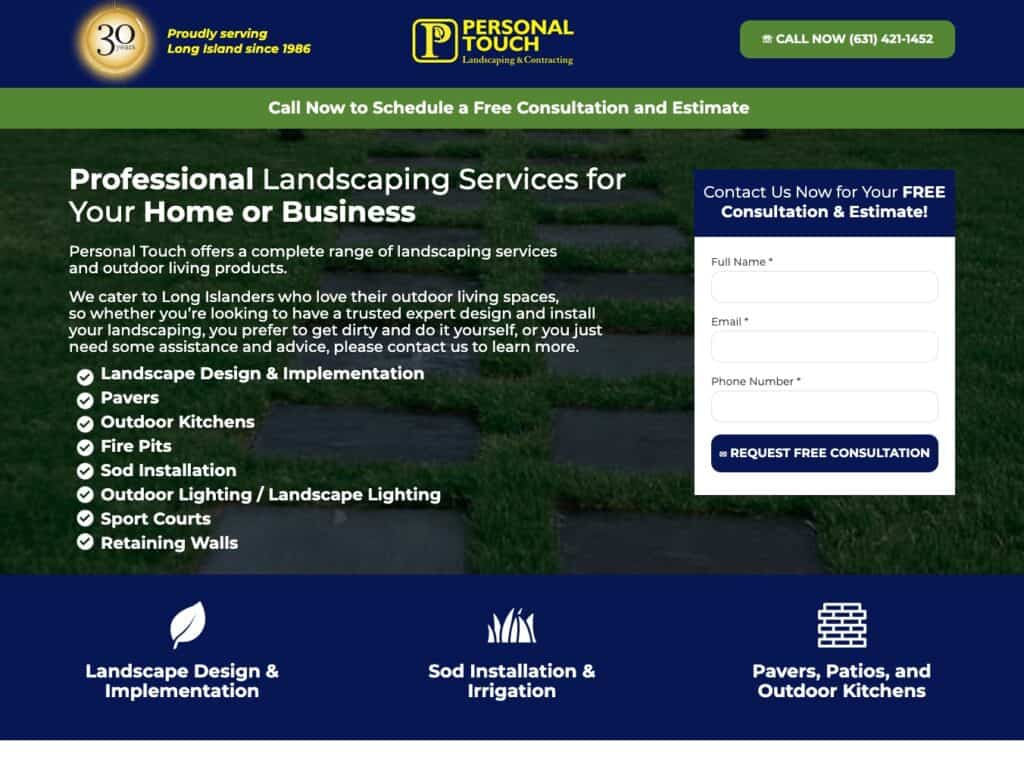 The Synergistic Combination of Google Ads, Local SEO, and a Conversion Funnel
When we started working with Steve, we got clarity on the types of landscaping jobs he was looking to get more of. He wanted more high-ticket outdoor paver patios, outdoor kitchens, outdoor living spaces, retaining walls, paver walkways, and even sod installations. 
After we had clarity on the types of jobs he was looking to attract within his service area we crafted a Google Ads campaign to help him get more landscaping leads for his business. We created a customized landing page for his business that clearly shows what he does, what his customers have said about his work, and pictures showcasing the quality of his work.  
We launched the campaign and he started getting great leads for his business that turned into high-ticket jobs for his business.  
We also started working on optimizing his Local SEO presence in the Google search results. This combination of local SEO and paid Google Ads has worked very well for his business.
Highlights From the work we've done to improve Steve's Online Presence
When we first started running campaigns for Steve, he saw a 25% increase in the average number of leads that he was receiving each month, and a 26% increase in his conversion rate. When we relaunched his campaigns the following season, he saw a drop in his cost per click and a 24% year over year increase in the search impression share for his ads. 
With the optimization of Steve's Google Business Page, he saw an increase of 58.9% in the number of people who were viewing his page, and almost doubled the number of calls that he was receiving each month from his Google Business Page.
High-Value Customers For His Landscaping Business
Last summer, Steve texted me and shared that he had just landed a job from one of the many leads he received from the paid advertising campaign that month. The prospective customer told him that she had a "small sod installation job" she wanted a quote for.  
This one lead turned into a $155,000 sod installation on a beautiful property. This high value client loved the work Steve and his team did so much that she kept them on the property doing additional work. That additional work turned into tens of thousands of dollars in additional revenue.  
This was just one job that Steve received from his online advertising (he got a lot of other quality jobs as well!).
What are you looking to achieve?
Like we said, we love working with small business like YOU.
Our team of online marketing ninjas are experts in their industries and have years of "under the hood" experience so that your business can function as well as look pretty. We are here for you and we've got your back! We've been serving small businesses all over the country since 2012 and now we can't wait to work with you.