Birthdays are a great reason to create a marketing message to your prospects and customers.  Birthdays are meant to be celebrated with people you care about and as a small business owner and marketer, what's important is getting your customers engaged while providing them with an incentive to shop with you, or at the very least, have some 'good feelings' about you and your business.  If they think of your business around their 'special day' they may be more likely to spend their Birthday card money with you.  ;-)
In this "list-icle" (list article) I pulled together a vast collection of Birthday Marketing ideas to help you promote your business.  I encourage you to scan through these and find one or more that you can incorporate into your small business marketing plan.
1.  Facebook Birthday Ads – This is one of the most powerful Facebook marketing tactics I have ever come across. We all have probably seen a direct mailing over the years offering us something free on our birthday, like a free meal. This is why businesses often times offer Birthday clubs, so they can send users a special Happy Birthday card or something on their Birthday.


Well, did you know you can run a Facebook ad that specifically targets users whose Birthday is within one week? If you were a restaurant owner, you can run a special ad that offers users a special coupon for something. And this is just the tip of the iceberg!
A local restaurant could target users with Birthdays and offer them a free meal with another meal purchase.
A local clothing shop could target users that are engaged with ads for tuxedo rentals.
A local daycare could target users that are expecting with ads for childcare.
A local fitness club could target people who have recently moved to town with a free one month trial coupon.
2.  Customized Email Marketing
I also received emails from marketers I frequently shop at or am on their newsletters. These companies such as Banana Republic, JCREW, and even Alaska Airlines sent me discounts for my birthday. Alaska Airlines sent a 5% off coupon- and within a day, I booked a $600 flight.
3.  Customized Birthday Mailers Sent Automatically To People Within Your Geographic Area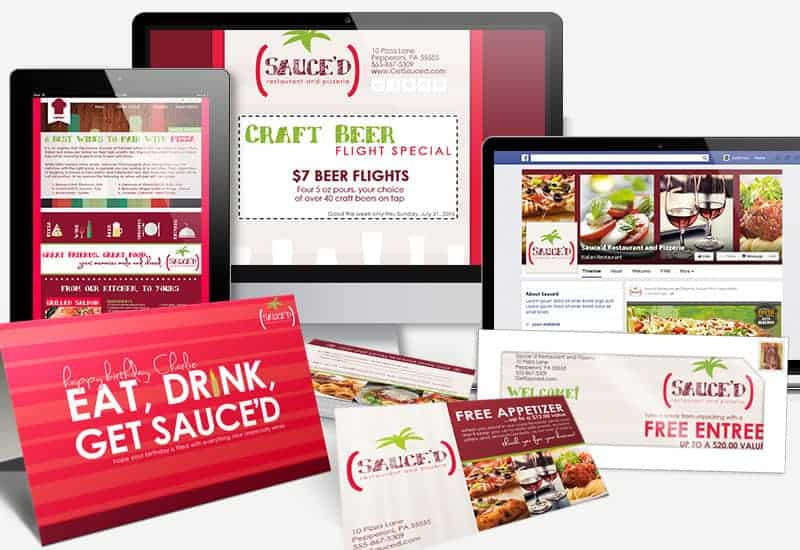 Over the years I have worked with various Restaurant clients and Birthday direct mailers are a HUGE piece of the strategy many restaurants use as part of their marketing.  It allows them to take a fairly unpredictable business and make it more predictable.
Here is how they do it.  They know that 70% of adults dine out on their special day AND usually the have 6-10 friends or family members that dine and drink with them.  The restaurant owners know that if they can get someone to come to their restaurant around their Birthday they will bring people with them.  Having multiple birthday parties coming into their restaurant every week helps to stabilize a fairly unpredictable business.
One of the Vendors I have recommend restaurant owners use is a company called Moving Targets.
Here is some information from the Moving Targets website:
"Direct mail, the backbone of your brand, leverages trigger events like birthdays and moving which naturally produce high levels of response and conversion. Our Birthday Connections direct mail service brings you new customers every month and keeps them coming back.
Include Birthday Connections direct mail service in your marketing campaign and generate business from people celebrating a birthday in your town.
We do all the work by mailing personalized letters, designed by our experts, to your ideal prospects. All mailers include your logo, branding, company information and a birthday gift certificate."
Further, this is how their Birthday Connections direct mail service works:
"Use the most accurate database available—we know your neighbors' birthdays—to target your ideal customers by age, gender, income, home or apartment and distance from your business
Specify geographic restrictions such as non-delivery areas or boundaries that may affect travel
New ideal customers will contact you, redeem your gift certificate and experience your business
Enjoy a steady stream of new customers with automatic mailings"

Here is a tool on the Moving Targets Website that shows you how to see how many people you could have direct mail automatically sent to people within your geographic area:  
4.   Mail customers a handwritten birthday card
Mailing a hand written card to past and current clients, valued partners, vendors in your referral network, connections who have helped you–everyone you can think of.
This is a low-cost and unique marketing idea for small business, but many small business owners have reported that this is very effective.
5.  SMS Marketing – Text customers a coupon. Text messages have a 90% Open rate (I personally open 100% of all the text messages I get).  Text messages break through and it's a good reason to communicate with your house list.
6.  Mail your in house mailing list of customers having a birthday a catalog. It 'old school' but it works.
7.  Send customers a gift post card. The goal is to entice them to shop in your retail stores.
8.  Make customers an offer on a social media network like Twitter, Facebook, Google +, Snapchat, or Instagram. If you know your customer's birthday you can post a message on their social media page wishing them a Happy birthday.  With customers that are friends of mine (and who I know have a good sense of humor), I post something like this on their Facebook Wall with a funny message.  ;-)
9.  Tweet customers a special offer. Make sure the incentive is good enough to get prospects and customers to follow you on Twitter.  If they are connected to you on Twitter, you can send them a 'Birthday Tweet' with a special offer.
10.  Make a special location-based services offer. Use Facebook, Foursquare or other location-based services platform to get customers involved.  Facebook has been constantly improving their location targeting and offer some interesting targeting options.
11.  Create a fun press release. Incorporate a special offer to entice new customers.
12.  Have a good old fashioned Birthday sale to celebrate your own birthday. This option's a classic and I have used it in my online and offline businesses in the past. I schedule a special promotion as part of my own Birthday celebration as an excuse to drum up some more business.  You can do the same no matter what kind of business you have.
13.  Give your customers a gift on Your Birthday.  Hand out a company promotional gift. Make sure that it's something customers will keep around and coordinates with your offering.
14.  Offer your subscribers, social media followers, and customers a "Virtual Gift." This works well for B2B offerings. Give away an e-book, research, or even a webinar.
15.  Create a Birthday "Training Video" – Video is becoming more and more powerful every day so creating a short birthday training video that you can share with your customers, followers, and email subscribers is a great idea.  You can create a great piece of valuable and useful content that helps your audience and then email that out, post it on your Facebook Fan page, and upload it to your You Tube Channel.
16.  Have a Facebook contest. Get people excited about your birthday, or heck, even your company's birthday. Make it easy for lots of people to participate. You could do a simple Facebook giveaway contest (like a caption contest, guess the number of presents I got, etc) OR you could use some sophisticated Facebook Contest software like we us to generate leads for our businesses.  I talk about that in one of my In the Trenches Small Business Marketing episodes which you can watch here.
17.  Serve them a 'before work' breakfast. Open early for a special party. Get customers powered for the day with caffeine and muffins. Limit your invitations to make customers feel special.
18.  Throw an in-store birthday party and feed them. Invite customers to your store or business for some free food such as snacks and even birthday cake. Knitty City, a NYC knitting store, does this every January.
19.  Throw a HUGE birthday party event and publicize the heck out of it.  I know of a Record Store in Australia that throws a big in-store event.
20.  Celebrate the Birthday of a Popular Celebrity.  A lot of small businesses already have special sales and offers attached to specific Holidays but have you ever thought of doing a special promotion built around the Birthday of a Celebrity?  You would want to pick a celebrity that 'vibes' with your target customer base.
For example, a record store in Oklahoma does an Elvis Presley birthday party promotion. Their headline of their ad, "He may be gone but Elvis Presley is not forgotten. A birthday party for the rock 'n' roll legend will be at the Trolley Stop Record Shop from noon to 3 p.m. Saturday"
You can submit a press release to the local press in hopes of getting some media coverage, you can do Facebook ads to promote it, and even email your subscribers to promote it.
21.  Drink to your customers. Have post-hours party with some grownup adult beverages. (Now we're talking)  ;-)
22.  Have a special Birthday Raffle. To celebrate your own Birthday (or the Birthday of your business) run a special Raffle.  You can have a lot of little prizes with one big one, or just have a lot of small prizes to give away.
23.  Throw a virtual birthday event. Take Google Hangouts, GoToMeeting, or even Meerkat for a test drive to engage with your customers in a virtual manner.  You can then post the recorded video of the event to your social media profiles and even YouTube.
24.  Use QR codes and host a scavenger hunt in your store. Get customers involved by getting them to work around your store using information connected with the QR codes.
25.  Create a full day event around one of your products. This is useful to keep people coming into your store all day. For example, a local catering company could offer a series of mini-cooking lessons.
26.  Send a Personalized Email wishing your customer a birthday. Simply taking the time to send a personalized email can go a long way.  A simple way to do this is to 'friend them on Facebook' and when you see its their Birthday you can send them an email.  There are various P.O.S. and CRM systems that will automate this process for you too.
27. Highlight your customers' birthdays on your social media executions. Have a special birthday widget that highlights customers every day.
28. Give customers a special birthday promotion. Have a special birthday deal that everyone can take advantage of. For example: Loehmann's, a discount retailer, emails a promotion that's good for one week.
29.  Make your customer a star. Put a photo of your customer or their handiwork on view in your store the month of their birthday.
30.  Make a donation in your customer's honor. Customers like businesses that support charities, so integrate your birthday promotions with a charity that's related to your business.  This can create great goodwill and help support a great cause.
31.  Record a Celebrity Video that you can use to post on all your customers Social Media profiles.  A very smart marketer by the name of Joe Polish recorded himself and the notorious Richard Branson wishing a Happy Birthday.  Joe has one of his staff members login to Facebook every day and post this video to people he is connected with.  This is smart for a lot of reasons.  Joe is associating himself with a known celebrity which makes him look like even more of a rockstar, his video is being viewed not only by the Birthday boy or girl BUT also their hundreds of friends and family.
32.  Record a personalized 'Selfie' Happy Birthday Video for your customer.  Simply grab your smart phone and shoot a 'selfie video.'  You can upload it to their Facebook profile and even email it to them.
33. Create a Happy Birthday video from your office/business.  A Dentist office created a simple Happy Birthday video using a simple software like Animoto to create a Happy Birthday video comprised of photos of their customers and staff wishing the client a Happy Birthday.  They then email and share this on social media with their client who is celebrating a birthday.
34.  Have a breakfast for customers. Open your establishment early to catch people on their way to work.  Server coffee cake (with candles), coffee, and maybe have some special offers for those early bird customers.
35.  Throw customers a party. Once a month have a party in your store to celebrate the customers with birthdays that month. Have cake or other refreshments to get customers in. Think about how to entice people to come on less busy days.  Make this fun and interesting and they will come!
36.  Have a Summer Birthday Cookout at your office.  Bring a Grill to your office and on a nice summer afternoon have a birthday cookout.  Consider having entertainment like a Band to make it a fun event that people will want to stick around and enjoy.
37.  Have a potluck dinner after hours. This is a great option for small businesses where a lot of the customers are friends. It gives people space to get together (and show up at your establishment.)
38.  Celebrate the birthday of a President and build a promotion around it.  Here is a list of US Presidents and their birthdays and you can come up with some creative promotions for your business by tying into their Birthdays.
39.  Create a fun Birthday sale. Of course, an option always on the table is to create a fun Birthday sale built around your birthday or the birthday of your business.
40.  Tell the world. If the costs make sense, use old-fashioned direct mail to announce a special birthday promotion associated with your business.  Its a great 'reason-why' to build a promotion around.
41.  Hold a special 'invite only' sale. There's nothing that gets people's attention more than velvet rope appeal.
42.  Have a special live event with a celebrity guest. Invite someone well known in your niche to come to your store or business where they can interact with prospects and the public. Bookstores have done this for years with readings.
43.  Make a charity donation in honor of your Birthday. Match a percentage of customer purchases or donations and to celebrate your birthday donate some money for a worthy charity.
44.  Create a charity tie-in. Work with a not-for-profit organization to get your customers involved and have fun at the same time. Get everyone to go to a local hospital to have a knit-in or renovate a home for Habitat for Humanity.
45.  Use Fiverr.com to get a "Birthday Cartoon" made for your customer.  There is a great website called Fiverr.com where you can pay people $5 to do all kinds of off little projects.  One of which is a Birthday Cartoon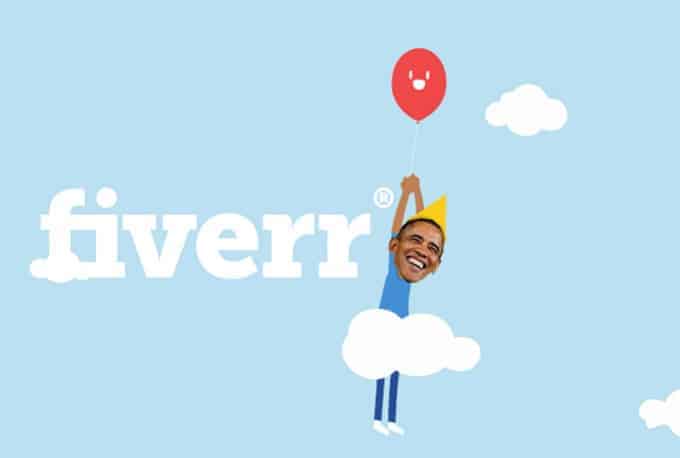 46.  Pay a Fiverr.com designer to make a special Birthday Fan Page graphic.  You can commission a Fiverr.com designer to create a special Birthday-themed Fan Page graphic that your team swaps out for your special day.
47.  Order a 'Birthday Signing Telegram' for your birthday customer.  Another 'gig' you can order from Fiverr.com is to pay someone $5 to call your customer and sing them a happy birthday song.  (I have paid to have a birthday Hip Hop song created.
48.  Treat them like a king.  I have seen businesses that have higher-end clients (such as Financial planners) invest in some really nice birthday presents for their valued clients celebrating a birthday.
49.  Launch a new product on your birthday.  What better day to give birth to a New product or service than your own birthday?
50.  Birthday Flavor of the month.  Offer a flavor or special of the month. This doesn't just work for food products.  For example, a graphic design firm could offer a "Logo Beautification Month" which offers specials discounts to any business that purchases a new logo.
Are there any other birthday suggestions that you'd add to this list? If so, what are they?
51.  Large Purchase promotion.  Offer a discount, reward, or prize if the customer spends over $X.
52.  Bring a Friend Birthday Celebration.  Throw a party at your business where you invite your existing customers and contacts to 'bring a friend.'  This can be a great way to have new customers discover your business in a fun way.
53.  Two for One days.  Offer a two for one day to encourage your customers to introduce a friend to your business.  This is similar to Buy One Get One Free promotions, but with the stipulation that the freebie must be for a friend, which helps generate referrals.
54.  Launch a New Website on the Birthday of your business.  Do it like the world is watching.
55.  Pitch a magazine.  Pitch a magazine to run your article or do a story on you, even if you know you won't get picked up, just to work your self-promotion muscle and survive rejection.
56.  Have a crowdsource contest for designing your new logo, packaging, or book cover.  You can use a service like 99 Designs to run your graphics contest.
There you have it.  A big birthday box full of marketing ideas.  Got any other birthday marketing ideas that you have used to promote your business?
By all means email me and I will add them to the list.
Happy birthday marketing!
Sources:
http://movingtargets.com/what-we-do/birthday-mail
http://heidicohen.com/birthdays-50-ways-marketers-celebrate
http://blog.marketo.com/2013/07/my-birthday-brings-all-the-marketers-to-the-yard.html
http://www.mnwebco.com/blog/how-target-facebook-birthdays-facebook-ads
Helping small businesses grow through smart online marketing is our passion – you'll know it as soon as you talk to us for 5-minutes. I hope to talk with you about growing your business very soon.