I'm a movie buff….
Always have been.
When I was a kid my family owned a movie store and I loved working there because I got to see a lot of movies. You may be wondering what this has to do with how to really attract website traffic but stick with me and I will tie it all together for you.
I remember loving that movie "Field of Dreams."
In that movie the famous line of "If you build it, they will come" was uttered.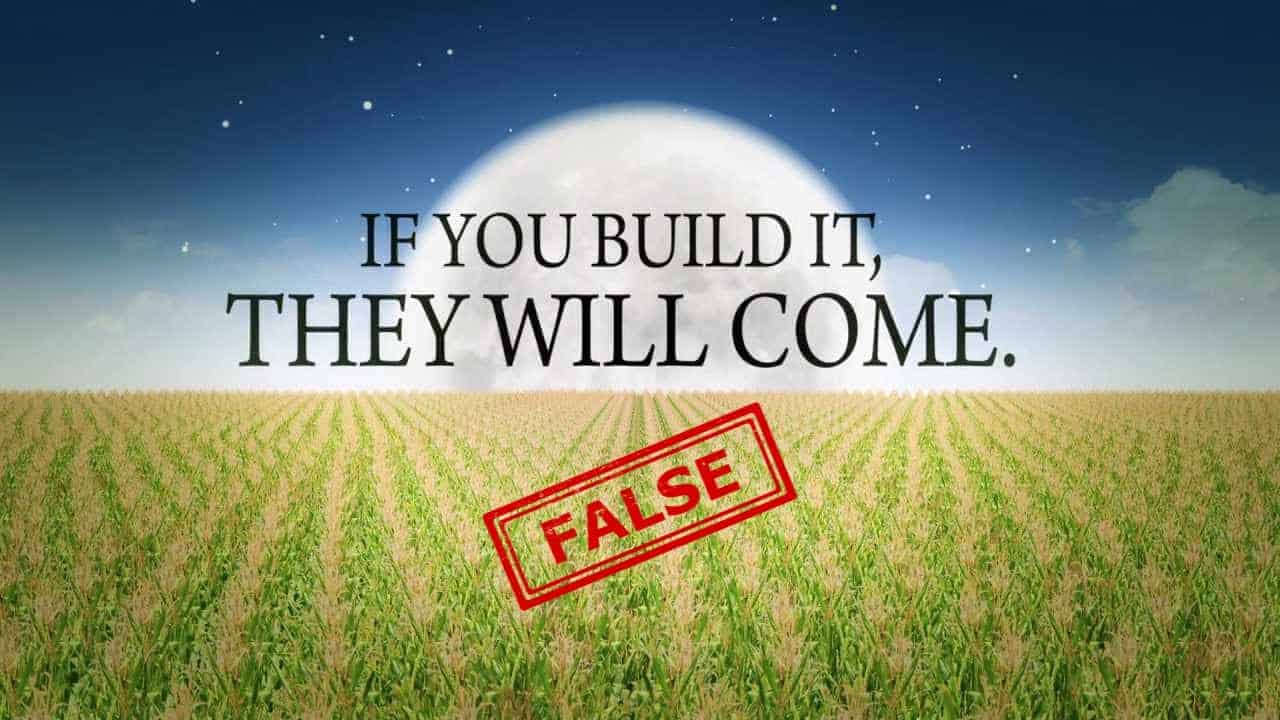 Well, that may be true for a Field of Dreams but it is NOT true for your business website.
Just creating a website isn't enough to guarantee that you will rank well and attract traffic.
It's more complicated than that unfortunately.
Please understand that the Internet is a big place and it gets bigger every day.
There are over 2 Billion websites on the Internet today.
Over 547,200 websites are created each day across the globe.
Getting it in front of your ideal customers is the next step.
Now, there are lots of ways to do that.
How To Really Attract Website Traffic For Your Small Business
Think of what I am going to share as "tools in the toolbox." Not all tools are right for every job and the same is true for different businesses.
Some businesses do better by focusing on getting their website prominently displayed on the front page of Google.
Others do better relying on Social traffic from Facebook and Instagram. Maybe even Pinterest.
Some businesses can focus on a bunch of methods to get the right eyeballs on their site.
Digging deeper, it matters if you are a local business that services a specific geographic area versus a national business that can help people in other geographies.
For the rest of this post I will focus on local businesses only.
Local Business Traffic Attraction Strategies:
Here are my top 3 recommendations for a local business to show up in front of their ideal customers online and attract traffic to your business:
1. RANK IN THE GOOGLE MAPS PACK (aka the 3-Pack)
97% of people start a search for a business to help solve a problem or fill a need by going to Google and typing in keywords such as "landscaper near me", "jewelry store Concord NH," or even "mold testing NH."
Google will display just 3 businesses in the Maps Pack. There could be 30 plus competitors in your area and ONLY 3 spots that will actually display on the front page.
If you want to guarantee you won't get any traffic to your site make sure you don't show up on the front page of Google and that will ensure no one sees your site.
Getting YOUR business showing up in the Maps pack can help you attract very qualified traffic to your business and your website.
We have clients who we have helped optimize their listing making it show up more often and as a result they get 10,20, 50 even 100 calls a month just from this listing.
Additionally, they also get anywhere from 20-150 clicks a month to their business website from this optimized listing placement.
There are lot of moving parts that go into whether Google does in fact show your Google Business Page in the 3 pack including:
–Directory listing accuracy (the more accurate your business information is across the Internet is a BIG factor and a lot of businesses get this wrong all the time. (If you want to see how accurate your business listing information is across the web just reach out and I can help you see how you stack up.)
–Reviews (# of reviews, quality of reviews, frequency of reviews, etc)
–And more (come on, you didn't think I was going to give you all my secrets. We save these for our clients of course). I do share more strategies here if you want to learn more about how to rank in the Maps Pack.
2. GOOGLE ADS & FACEBOOK ADS
80% of all Internet traffic comes from these two sites. Paid advertising is the quickest and fastest way to attract your ideal prospects to get your website found. You don't have to have a huge budget to make this happen either.
Your budget for an ads campaign and which platform you choose to run ads on really depends on what kind of local business you have. For some businesses it makes a lot more sense to only focus on Google ads whereas other businesses it may make more sense to rely on Facebook ads to reach your ideal audience.
There is a lot more that goes into running an effective advertising campaign than I can cover here but some big points are:
-Know your ideal Customer Avatar and WHERE they spend their time and WHAT they search for. This is so important and many times not be clear on this can lead to failure from an ads campaign.
–Making sure your targeting is dialed in so you are reaching the right people (most ads campaigns we evaluate for prospective clients are missing the mark and attracting the wrong people. This results in their ad campaigns "not working" and feeling like they wasted money).
–Get proper tracking in place. One of the biggest reasons most small businesses fail when running online advertising campaigns is due to the fact they are playing "Blind Archery." They aren't properly tracking anything so they can't see if they actually attract the right people. By having the appropriate tracking in place (phone tracking, web form conversion tracking etc) you can accurately "see" what is really happening with your ads, which keywords to keep focusing on, which ones to get rid of, and more.
–A lot goes into effectively managing an advertising campaign from week to week and I compare it to having a Garden. You need to pull weeds, water what you want to grow, make sure it gets plenty of sunshine, and more. The same is true of a well-run ads campaign. You need to be routinely adjusting the campaign, adjusting bids, adding negative keywords, and more. We typically see people that set up their own campaigns "set it and forget it." As a result they don't see the results they hope for.
3. IMPROVE THE SEARCH ENGINE RANKINGS FOR YOUR WEBSITE
Another big traffic strategy for local businesses is to get their website to rank higher in the search engines by optimizing the pages on your site for the keywords you want to rank for. The more clear it is for Google to understand who you are, what your business offers, the services and products you sell, where you are located, and the service area you serve.
Having the right technical set up "under the hood" of your website is absolutely crucial if you want your website to display prominently on the front page of Google. Additionally, you need to optimize each of the pages for specific title tags, meta descriptions, keywords, and more.
Most sites we look at don't do this and they don't rank well as a result.
Additionally, there a lot of other factors that might negatively affect your website's Google rankings. If your site is slow (slow loading times), not secure (your isn't HTTPS secure) both of these can negatively affect your website rankings.
Search Engine Optimization doesn't have to be complicated and it really comes down to doing the right things in the right ways. If you want an audit on your current rankings this is definitely something my team and I can help with. A lot of what we do for our clients to help them with their SEO is showing them clearly how they rank currently, how their competitors might be beating them, and giving them a simple to follow strategy that will help them grow their SEO Rankings.
Wrapping Up… How To Really Attract Website Traffic
If you build it, they will come is a great for the Fields of Dreams but NOT for small businesses looking to improve the website traffic. Just getting a website live isn't enough. If you want to get your website found by your ideal customers you need to show up prominently on the front page of Google or show up on Facebook when they are spending time scrolling through their newsfeed.
The right traffic strategies can help turn your website into your best salesperson but getting the right people to visit is a vitally-important. If you want some help coming up with a strategy to improve your website traffic reach out and I'll be happy to help.
You can book a meeting with me here.
To your success,

Kyle Battis
NH Strategic Marketing