As a small business owner, you might be wondering how to show up in Google Maps 3-Pack. Having helped hundreds of business owners improve their rankings on Google Maps, our digital marketing agency has learned a thing or two in the process. Not only can I help you through the process of setting up a Google My Business account, but I can also provide you with some tips and tricks that are sure to help you get your business noticed on the platform and increase your chances of showing up in the Maps Pack.
What You Need to Know about Google My Business
You may wonder, "What is Google My Business?" This nifty platform is a way to get your business noticed by customers at a local level.  It is a completely free way to potentially get your business showing up on the front page of Google IF you take my advice in this article.  Here is an example of one way that someone may see your Google Business Listing on the front page of Google: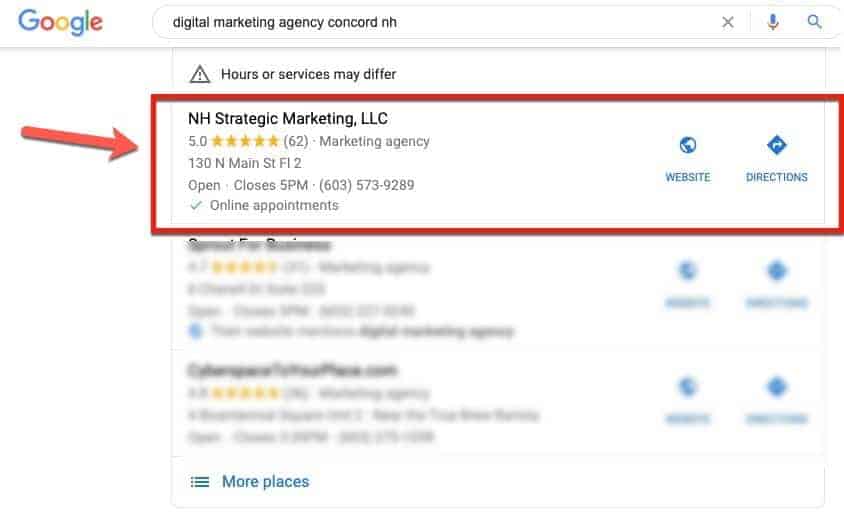 Moreover, it's an essential tool for small business owners to interact fully with potential customers. Not only do you provide essential information that could fill a need, but you can receive crucial feedback on how customers view your business.
Whether you already have an online presence or not, Google My Business is a great way to understand what your customers are looking for so that you can provide the right service when needed.  If you get it fully optimized you have a better shot at showing up in key Google searches for people looking for the services that you offer.
How to Show up in Google Maps
Now that you've learned the short answer to "What is Google My Business," you likely want to know how this relates to helping your business appear on Google Maps.  Before I share how to improves your chances of showing in the Google Maps 3-Pack let's take a step back.  It is important to understand there are only a few ways you can have your business show up on the front page of Google.  There are a small handful of ways that your business could show up on the front page of Google when someone does a Google search in your area.
There are the Paid Google Ads.  This is when you use the Google Ads platform with either a Google Smart campaign or a full Google Ads campaign (like the ones we run for our clients).
Your website's SEO.  Having your website rank on the front page of Google by optimizing your site for specific keywords.
Google Maps 3 Pack.  Finally, there is getting your business to show up in the Google Maps pack as often as possible.  This is what I will be focusing on in this article.
Ok so how do you get your business to show in the Google Maps 3-Pack and on Google Maps?  You will of course need to submit your business to Google and fully optimize that listing as a first step.
See if there's a listing for your business.  You can Google your own business name to see if you already have a listing or not.
Move on to the next step if you find your business.
Submit your business information to Google if there is no listing.  I share how to do that in the next section.
Add the name of your business, your business address, and the category that your product or service falls under.
Once you create your business listing with the Google My Business page and get it verified, your business will appear on Google Maps along with other related business profiles. It's that easy to start, but you'll want to make sure you've done everything right to enjoy maximum results.  Having evaluated hundreds of Google My Business listings I have found that most are not fully optimized and it holds them back.
Although this is enough to find your place of business pinpointed on Google Maps, it's not enough to necessarily see your business ranked for customers to find in a search. Therefore, to increase the number of people that choose your service, you'll need to add more information. All of this is done when you create a Google My Business account.  Here is how to set up your Google Business listing if you haven't already created one yet.
Starting Your Google My Business Listing
It's simple to begin, and the best aspect is that it's free. Just go to Google's business page and sign up for an account. Furthermore, Google offers additional free resources to help business owners show up in search listings. The first step of course is to go to www.Google.com/business to submit your business information to Google.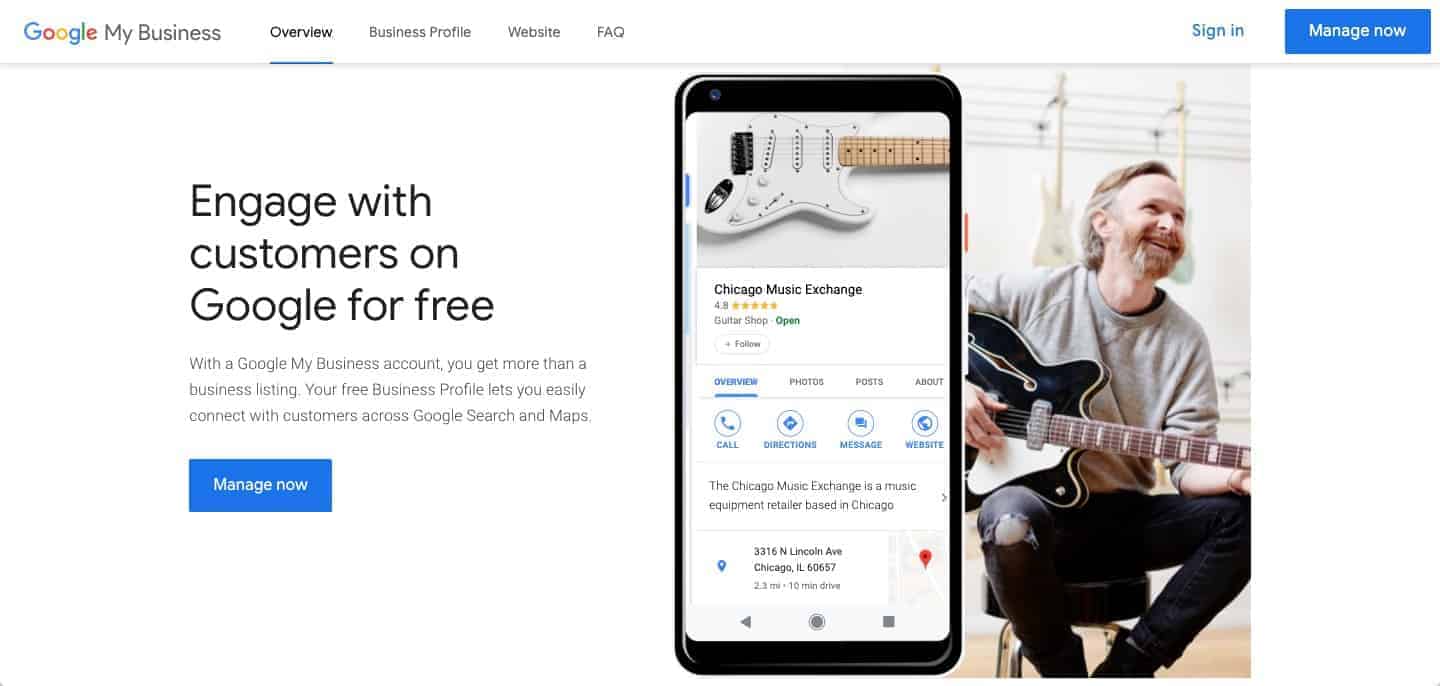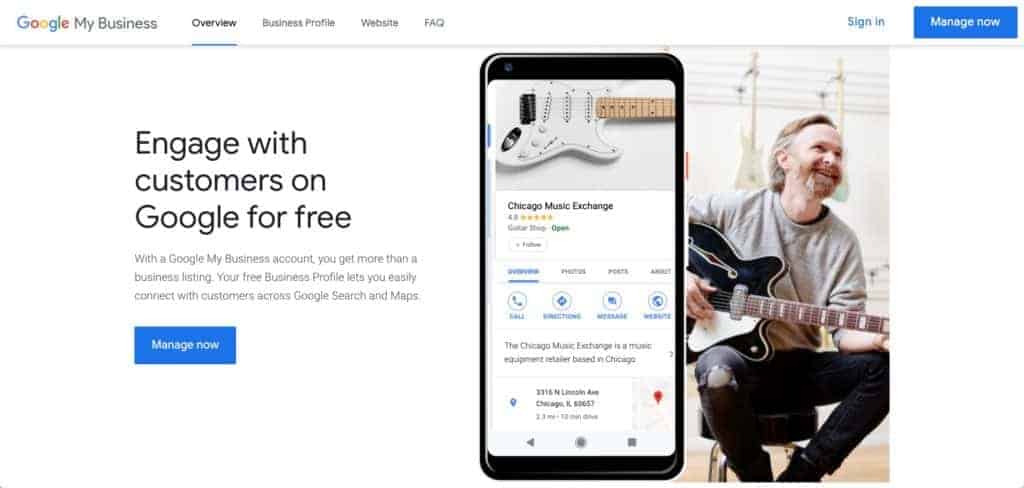 If you don't have a Google Business listing yet then creating your listing is the first important step.  You will need to have your N.A.P information ready.  N.A.P. stands for NAME, ADDRESS, and PHONE number.  This is the core essential information you will need to create your listing.  Additional information you will need if you have it is your Website address, a business description, list of services, and business founding date.
Simply go through the step by step process and answer the questions Google asks you about your business listing you are creating.  You can always go back and add more information later after you get the verification process started.
About The Google My Business Verification Process
After you have submitted your business listing information to Google they will more often than not require postcard verification.  This is where they send a postcard or small letter with a Verification Pin Code to your business address.  (You will need to be able to receive mail at this address otherwise you will have issues claiming your listing).  Here's what it looks like after you request that postcard from Google.  It usually takes about 5 days to receive the postcard once you request it.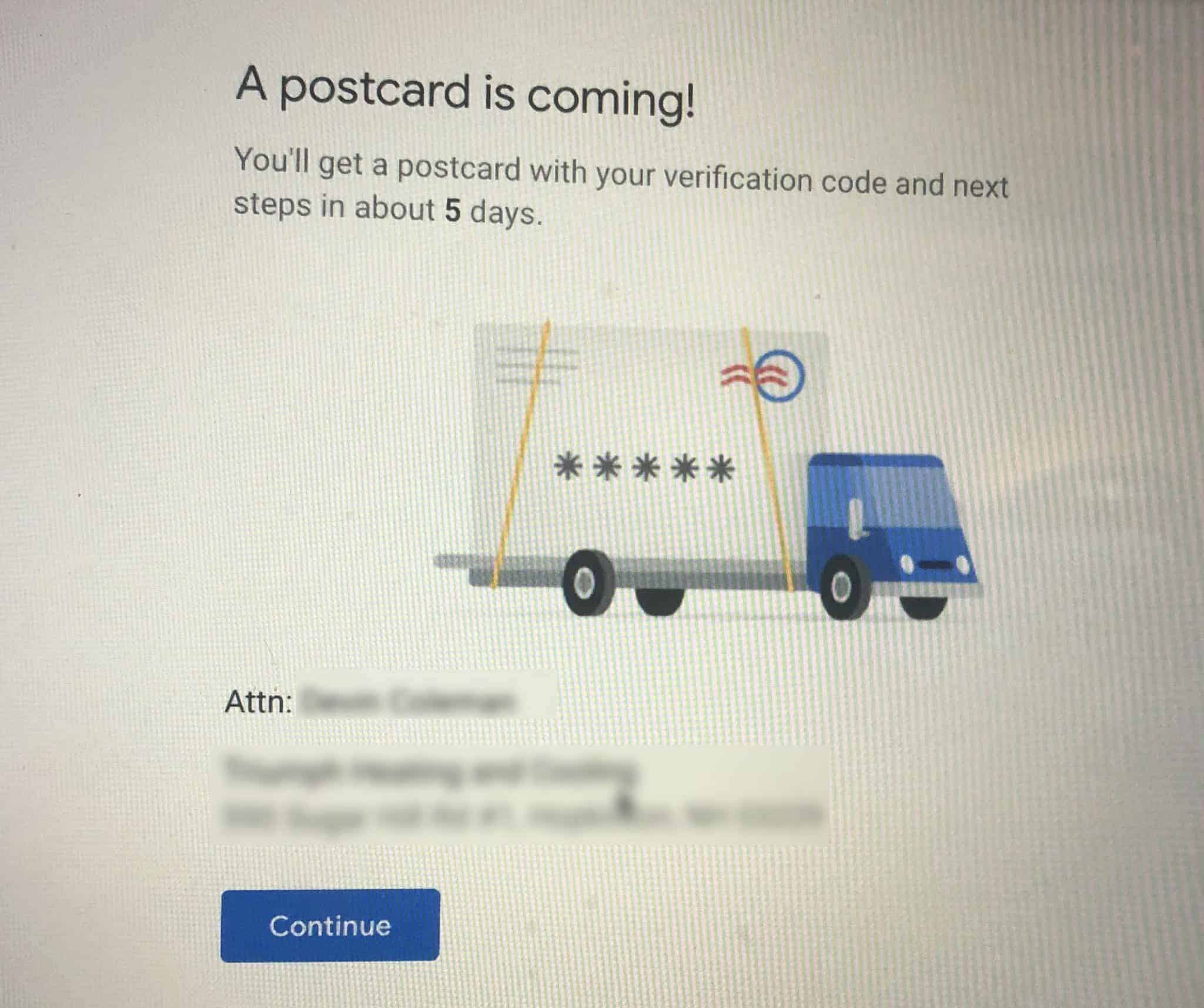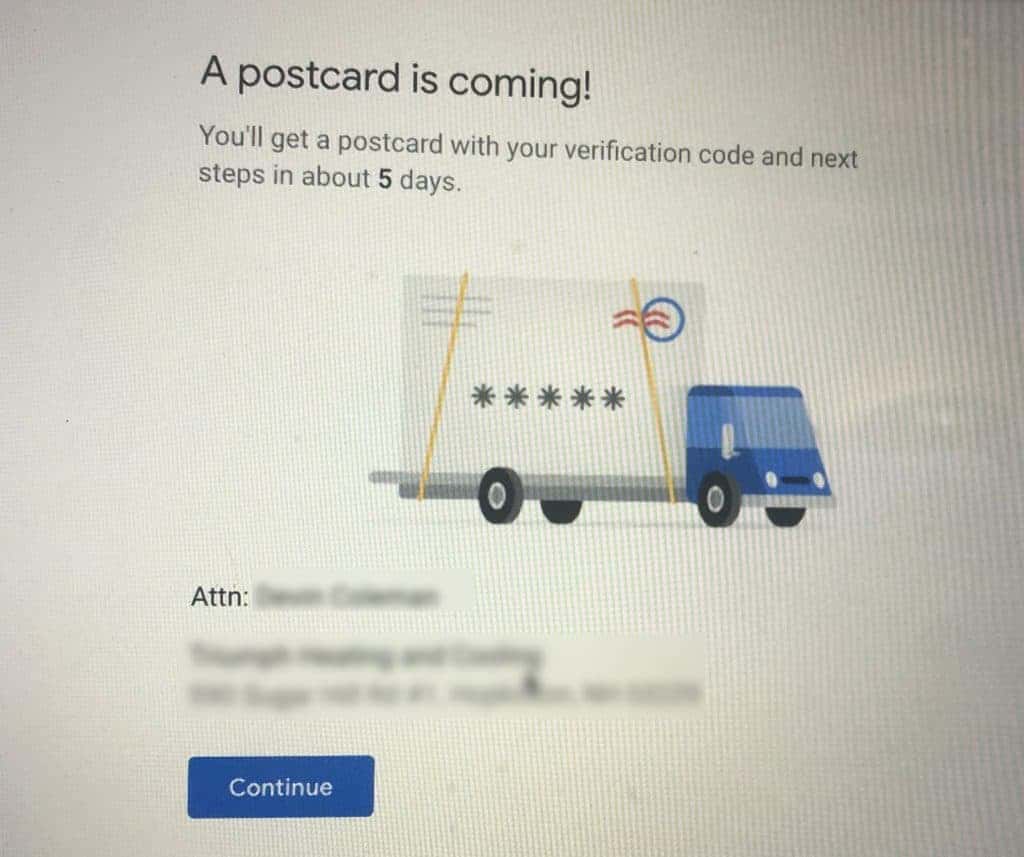 Once you receive this postcard you will need to take the pin code you receive and enter it into the back office of your listing to full claim your listing and make it live.
Essentially what you are doing here is proving to Google this is your business.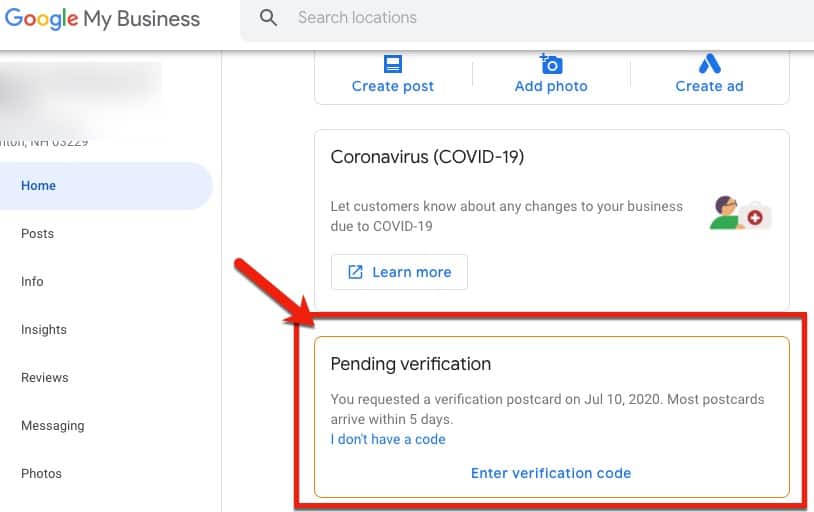 Sometimes they don't require postcard and will verify your listing via an automatic robotic phone call or text message where they give you the pin code in that manner.
What If There Is Already a Google Business Listing But I Didn't Create It?
If there is already a listing created for your business and you don't have access you will need to follow these steps to get control of your listing.  Sometimes a former employee created the listing and they are no longer part of your team.  In other instances I have seen Google just create a listing for your business even though you didn't actually create it yourself.  In either case, you will want to be certain to claim this listing as it is an important asset for your business.
Follow these steps to claim and already created Google My Business listing:
Go to Google Maps, look up your business name, and locate your business listing.
Click on the link in the lower left corner of the popup box that states "Claim this business."  You be able to see part of the email that originally created the listing.  If you have access to that email it can certainly shortcut this entire process.  If you don't you can request access to the listing and will have to wait a matter of days.
IF the existing owner of the listing doesn't grant you access you will have to wait.
After that waiting period you will then do this "Claim This Business" process again and then you should get access to the listing that way.
Complete all of the information you can to fully optimize the Google Business Listing.
Who Can Make an Account?
Almost anyone who owns a small business can set up a Google My Business account. As long as you have an address, you're ready to go. Consequently, you should check to make sure that you meet all of the requirements before you begin.
"How To Get My Business On Google?" – Add or Edit Service-Area Business Listing Details
You can update your business listing including the service area at any time. Additionally, you can change information such as business hours, website, and phone number with no problem or further action required on your part. However, if you expand your service area or change your business address, you'll have to go through Google's verification process again to update Google listings.
I've found that it's best to make sure that all of your information is completely accurate as of the date you create your Google My Business account because you won't be able to edit any of the information you provide until you complete the verification process. Therefore, this will make everything take longer, and this is unacceptable when you're itching to make your business soar.
How To Fix a Google Business Listing
If there's a problem with your information that's listed, you can make the necessary changes for an accurate description.
Sign into your account.
Go to the menu, and select "Info."
Select each section you wish to change in the box.
Click the button that states "Done editing."
Editing Your Listing on Google My Business
After you verify your business, you can make changes any time you feel the need to make your site irresistible to potential customers. Google makes it easy for you by allowing you to edit from your computer, Android device, or iPhone/iPad.
Log in to your account.
Choose "Info" from the menu.
Make your changes.
Click "Apply" after each edit.
Verifying Your Google My Business Listing
You might wonder why you even have to go through the verification process at all. Google takes security seriously, so the platform works to ensure that you are the rightful owner of the business that you claim as yours before you can make any changes. I like that no one else can go and mess up all my hard work once I've tweaked my account to gain maximum exposure. Additionally, potential customers are much more likely to trust a verified business.
The Verification Process
The majority of business owners must complete the verification process through the mail. Google will send you a postcard with a unique verification code to prove that you can receive mail at the address you provided. However, it can take up to 14 days to receive your postcard, so don't fret if it doesn't arrive within a day or two.
Beginning Verification
At the upper right-hand side of the page, you'll find a button that states "Verify now." Be sure not to click the "Verify later" option. After you click the link, you'll go to a page that shows your options. Some choices are mail, phone, and email. Due to the nature of your business, you may only be able to choose to verify your business by mail. However, if you have other options listed, be sure to read them carefully to select the one that's best for you.
Completing the Process
Once you receive the postcard you've been waiting for, here's what to do next:
Go back to Google My Business, and sign into your account.
Click on the verify option button or the choice provided in the menu.
Follow the listed steps to enter your verification code to complete the process.
You may have to wait a few weeks for your Google listing to update so that you can take a look at how customers view what you've created. Once your business listing goes live, you can better decide if there are any changes you'd like to make.
Make Sure Your Google My Business Listing Is Complete – GMB Optimization Tips
I've found that I'm getting better results now that I've completed every possible aspect of my own Google My Business account. If you leave anything blank, you're doing a disservice to yourself and your business because your customers won't know everything you offer. Therefore, be sure to add every category that applies to your business, and list all services that a customer may search for.
Photographs
Google recommends adding photos to your business listing. When customers get more of an idea of what to expect through visuals, they're more likely to request additional information, go to your website, or visit your location in person. Make sure your photographs meet the following requirements:
Utilize JPG or PNG format
Ensure the size is between 10KB and 5MB
Use a minimum resolution of 720px tall and 720px wide
Represent reality with well-lit images free of filters or alterations
Hint:  take photos with your cellphone and they will be Geo-Tagged to your location.  :-)
Add Your Business Logo
If you don't already know this by now, brand recognition has a major influence on how new and existing customers view your business. Choose a square photo for your logo as that's how Google My Business will display it in your listing.
Use a Cover Photo
While using an image of the outside of your physical location is a great idea to help customers who are trying to find you when driving to your place of business, you want to select a photograph that is an accurate representation of your business.
Choose Business-Related Photographs
In addition to providing images of the exterior and interior of your location, you want to give customers a better view of what you sell or what it is you do. Don't get me wrong, exterior and interior photos are a must to help customers find your business and know what to expect when stepping in the door. Great interior images can help customers feel comfortable in their new surroundings, making it a more enjoyable experience when they arrive.
Providing product images can let customers know what they can expect to find in your establishment. If you offer services rather than products, pictures showing your workers in action is a great way to advertise your business. I've found that adding at least one picture of a smiling employee serving an equally happy customer shows that others know that my business provides excellent care. It makes people want to come and visit.
Enjoy the Benefits of An Optimized Google My Business Listing
Your listing is now live and looks just the way that you want; what more is there? It might surprise you to find out how much information you can receive. Your Google My Business Account gives you many ways to interact with your customers and to find out more about how they use the information that you've provided. You can read and respond to customer reviews and better understand customer behavior with Google My Business Listing Insights.
Why Google Reviews Are Important
If you know anything about reviews, then you realize that more positive reviews are better for business. You'll have the opportunity to manage any reviews given by customers and to respond to both positive and negative comments.
You've probably heard that the best defense is a good offense, and with reviews, you'll be able to nip potentially damaging comments in the bud before they have a chance to taint your reputation.
When you check on the recency and frequency in which customers leave reviews, you'll be able to learn how to make subsequent positive comments to come in regarding your business regularly.
Monitoring Your Google My Business Listing Insights
This is another handy-dandy tool that's offered with your account to help your business grow. With the technological advancements that Google has made in the past few years, the platform can analyze your data to provide you with information to tweak your business information, create specials, and more.
How Customers Find Your Listing
Wouldn't it be nice if there was a way you could know how customers found the listing for your business? Google My Business Listing Insights provides exactly that. Customers can search directly for your business name or address, or they may search through discovery by product, service, or business category.
You'll receive data on total searches, direct searches, and discovery searches. This can help you to better utilize keywords on your website to fit exactly what customers are searching for.  There is some great information in there!
Where Customers Find You on Google
Whether customers found your business listing through a traditional Google search or Google Maps, you'll receive this information as well. Simply hover over the day you wish to view on the easy-to-read graph, and you'll know the number and type of searches that led to your listing.
Customer Actions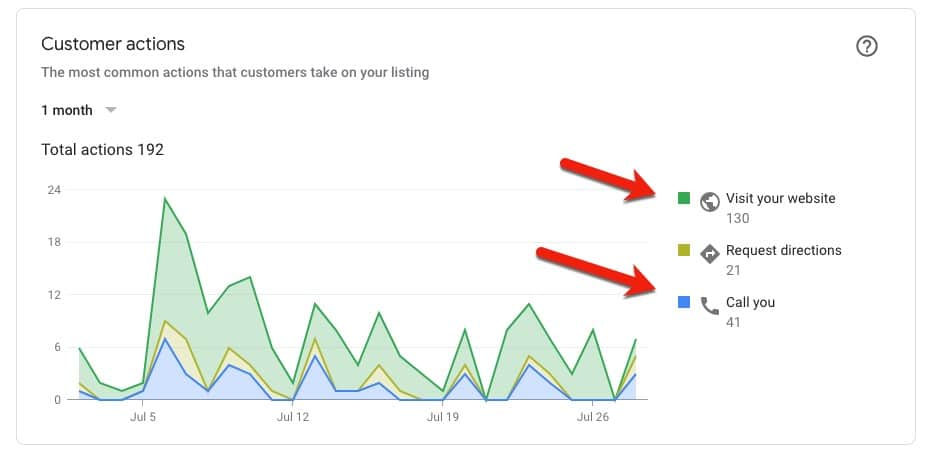 I find this section useful because it allows me to see exactly what customers did once they found my business listing. Google will show me what each customer did with the information they found about my business. This information may include the following:
Called my business
Asked for directions
Visited my website
Actions show me that my listing is working the way that I want it to. If no actions have occurred, then I know I have to consider some changes to my listing.
What Else You Can Do to Improve Your Chances of Showing in Google Maps
Before you undertake further measures to draw more traffic or rank higher on Google Maps, make sure that you claimed your business, set up your Google My Business account, complete all information, and continue to receive consistent reviews. Don't forget to add new photos and fresh posts to your listing from time to time because this will update Google listings, and you may rank higher in Google Maps. In competitive markets there are some other actions that can be taken to further improve your Google Maps Pack rankings.
Here are some other essential items to consider if you want to rank high in the Google Maps:
More often than not, simply creating your Google Business page is not enough.  There are a variety of other factors that will affect whether your listing shows in the Google Maps 3-Pack or not.  Here are some other very important pieces that you need to get dialed in order to maximize your chances of showing up.
Business Directory Listings.  There are literally hundreds of websites across the internet that can potentially list your business Name, Address, Phone number, website and other information.  Some people call these citation listings, others directory listings.  Either way, it is important to the Google Gods that all your business listing information matches up across the web.  Some of these directory listings are more important than others.  We offer a service that can help improve the accuracy of your listings across the web.
Adding Updates To Your Google Listing.  Google offers you the ability to add updates, posts, and even Coupons to your Google listing which can be helpful in getting more attention. I would recommend adding semi-regular posts to this via the back office of your Google My Business Listing or via the Phone App that Google offers.
Consistently get more positive Google Reviews.  Google also pays close attention to your overall review ratings and how often you get them.  Having a system in place to consistently get new reviews from happy customers and build your online reputation will help you attract more attention and convert more Google searches into customers for your business.  We offer a great service that can dramatically help increase the number and quality of reviews.
Conclusion – How To Show Up In Google Maps / The Ultimate Guide To Completely Optimize Your Google My Business Listing
There you have it my friend.  Now that you've optimized your Google My Business listing, hopefully you can sit back and reap the rewards of increased visibility in the Google Maps 3 Pack. However, keep your customers updated with specials, coupons, and other offers that come around once in a while. Also, be sure that your business information is up to date at all times so that you don't miss out on any sales. Thus, you'll want to monitor your Google My Business Listing Insights from time to time to know exactly what your customers want as this can increase sales as well.  If you would like some assistance in further improving your Google Maps 3 Pack rankings feel free to contact me for a Free evaluation.  I would be happy to speak with you.