When I sit down with a prospective client one of the first things I look into is how their own website ranks in Google. We look at how much website traffic they get, what keywords they rank for and more. One of our other go-to moves as a SEO Company NH is to ethically spy on your competitors.
Now, the next step is to ethically spy on the competitors.
You see, there are no secrets on the Internet and if you know where (and how) to look, you can reverse engineer exactly how competitor businesses are marketing online.
How Spying On Your Competitors Can Help Grow Your Business
It has been said that "Success leaves clues" and of my go-to moves is to conduct competitive online research to see how to compete online.
By gaining insights into how your competitors are getting their traffic you can discover what is working for them to attract new leads and customers from the Internet.
You can play "follow the leader" and do some of the same things for your business to catch up and surpass them.
Even further, you can identify holes in their strategy to compete at a different level above and beyond what they are currently implementing.
Let me share some of the ways that we can dig in and get clarity on how your competitors are getting inbound leads and customers.
Different Ways That We Can Spy On Your Competitors – Tips From A NH SEO Company
What Website Platform Is Their Site Built On
Finding out what platform your competitors' websites are on can be good knowledge to have on your back pocket. You might be wondering why a specific competitor is outranking you and their site just plain looks better.
Perhaps you have built your website on a low-cost platform like Wix and it just isn't performing like you had hoped. Website platforms like Wix, Squarespace, and GoDaddy Website builder are ok options if you are just getting started, but if you want results from your website I would recommend moving to a better platform like WordPress. At NH Strategic Marketing we build almost all of our clients' sites on WordPress and they rank much better than these DIY website building platforms. All things being equal the platform you built your website on matters.
You can easily spy on your competitors and discover what platform they built on by hovering over their website, right clicking on your mouse, and viewing source. If you know what to look for it is pretty easy to determine what platform the site has been built on.
How Fast Their Website Loads Compared To Yours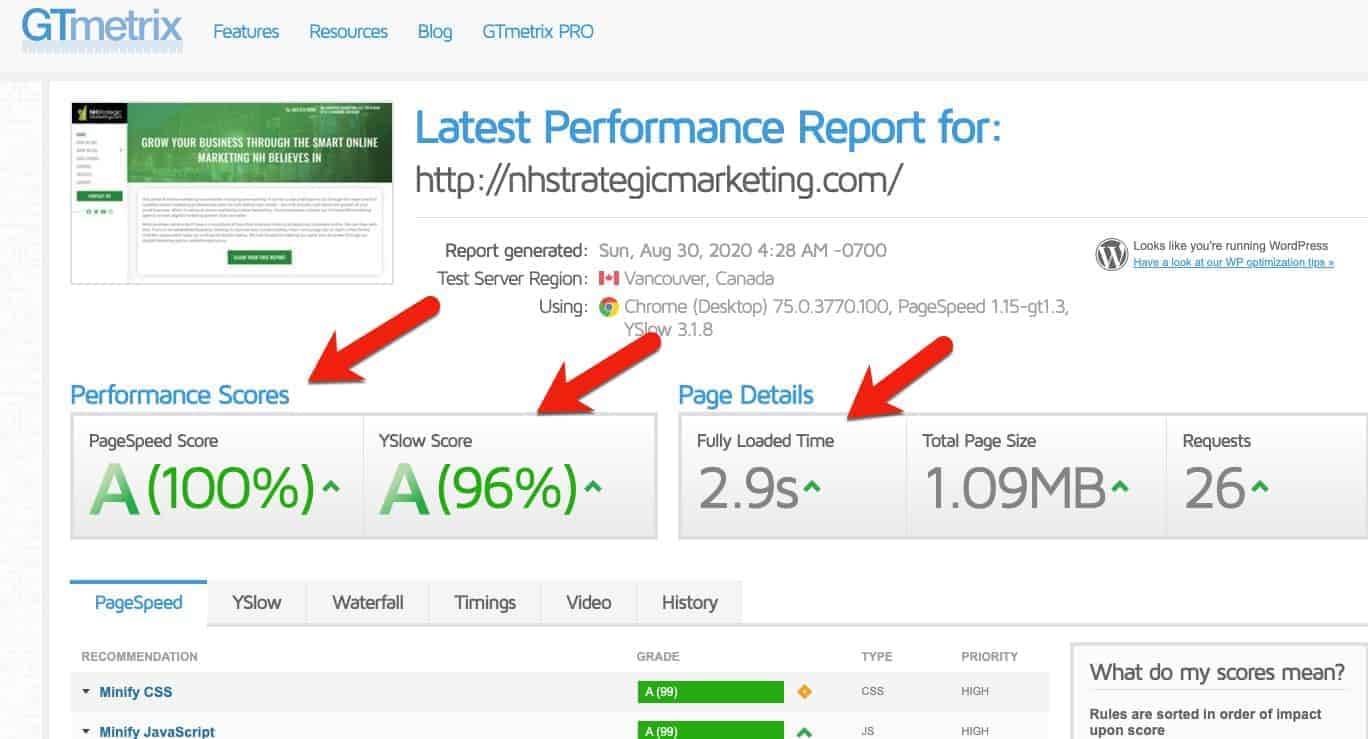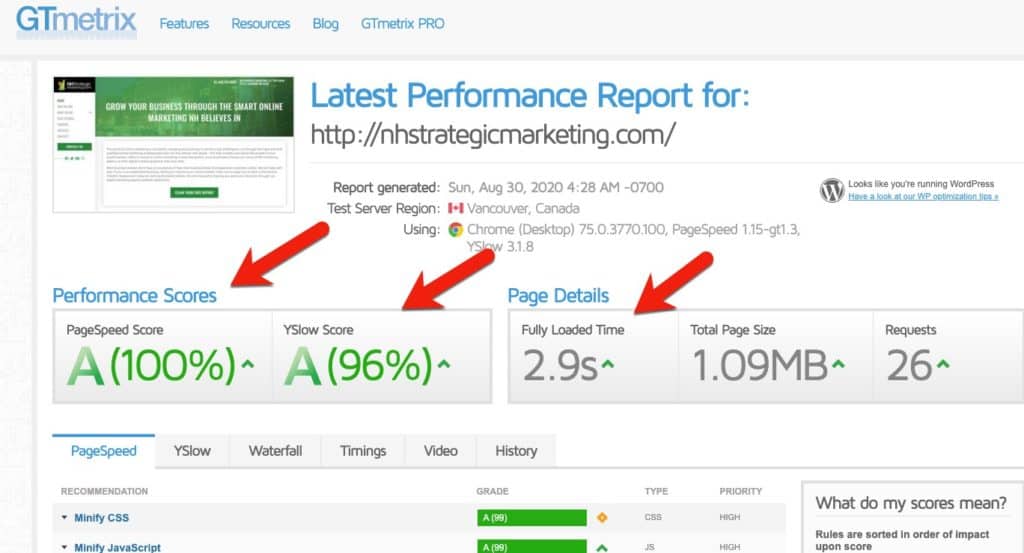 Website speed is an important ranking factor in this day and age. Your website needs to load FAST. If your competitor's site is loading faster than yours it could be negatively affecting how many people are finding your site. Google penalizes sites that don't load quickly and could be holding back your potential.
You can easily test how fast your site loads using this Free tool called GT Metrix. Just plug in your competitor's URL and you can see how fast it is. You should check yours as well!
Website Rankings / Organic Traffic – SEO Company NH Tips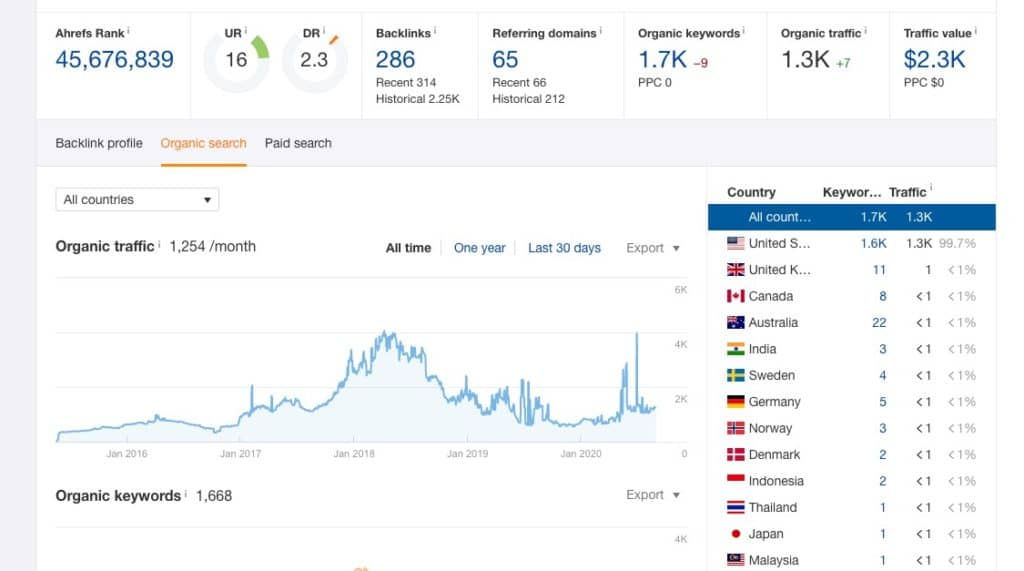 This is one of my favorite competitive research strategies. Using a specialized (and expensive) tool, our SEO company NH can "spy" on your competitor to see roughly how much organic traffic they get from their website ranking in Google.
We can see exactly which organic keywords they rank for.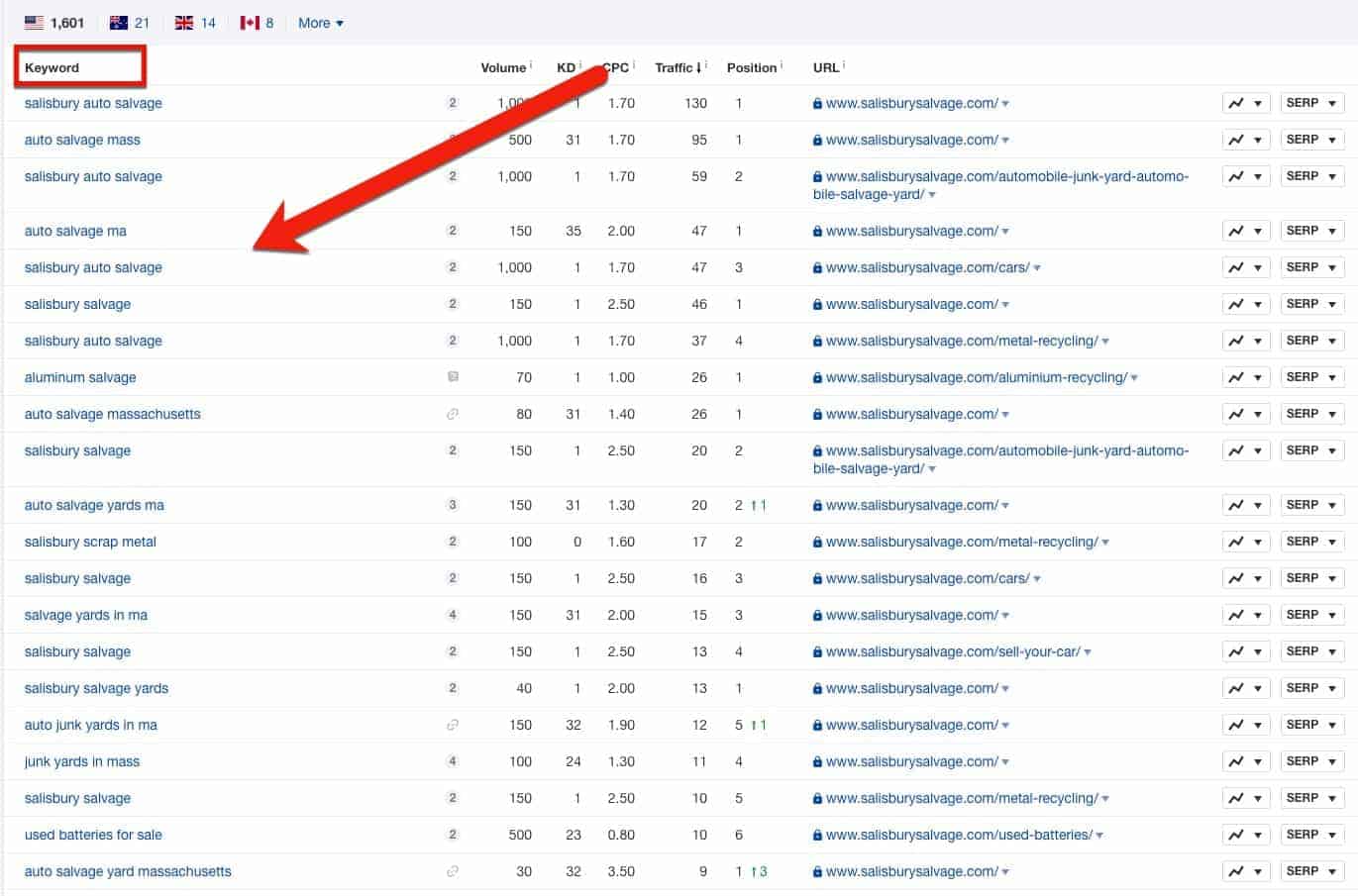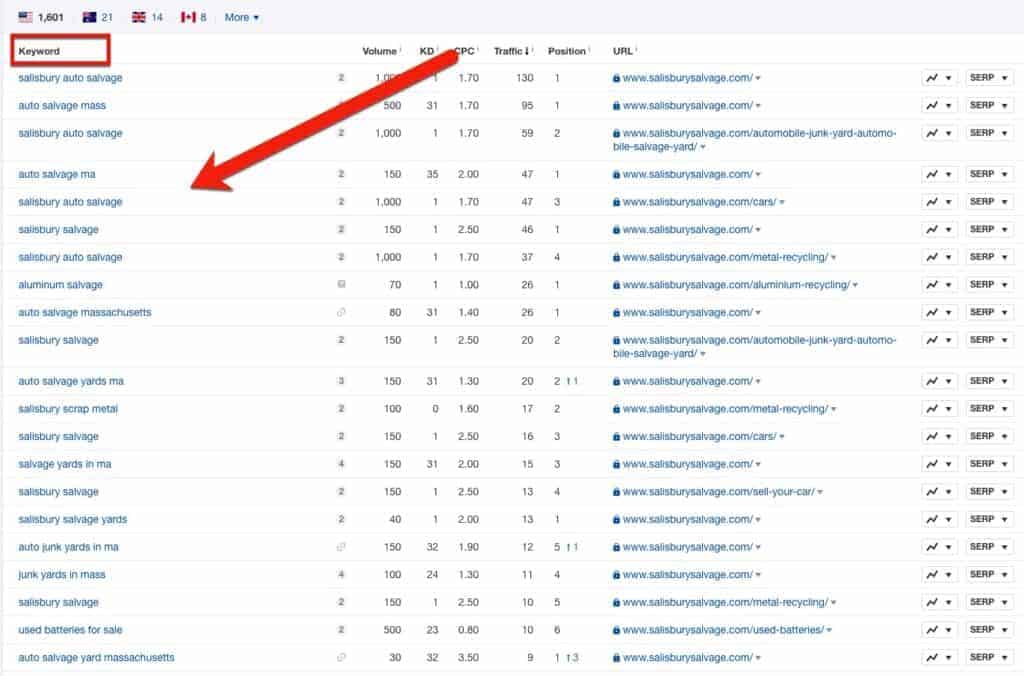 We can also see what their top pages are on their site (this information is Gold!), and how much traffic they get from each keyword.  You'll also learn where they get their backlinks from so you can play "follow the leader" and get the same ones and even better ones.  A backlink is a link is when one website links to another website.  The number of backlinks a site has and the quality of them is factored into your competitors overall SEO rankings.  
All of this is factored into determining how a website ranks in Google.
With 98% of the clicks going to websites on the front page of Google we can easily determine how your competitors are outpacing you and ranking higher in the search engines.
Getting your website to rank higher than your competitors is essential if you want to attract more website traffic, leads, and grow your business. A little spying can yield some great information that is invaluable to improving your organic rankings and we can help you research this if you are interested.
Google Maps Rankings – SEO Company NH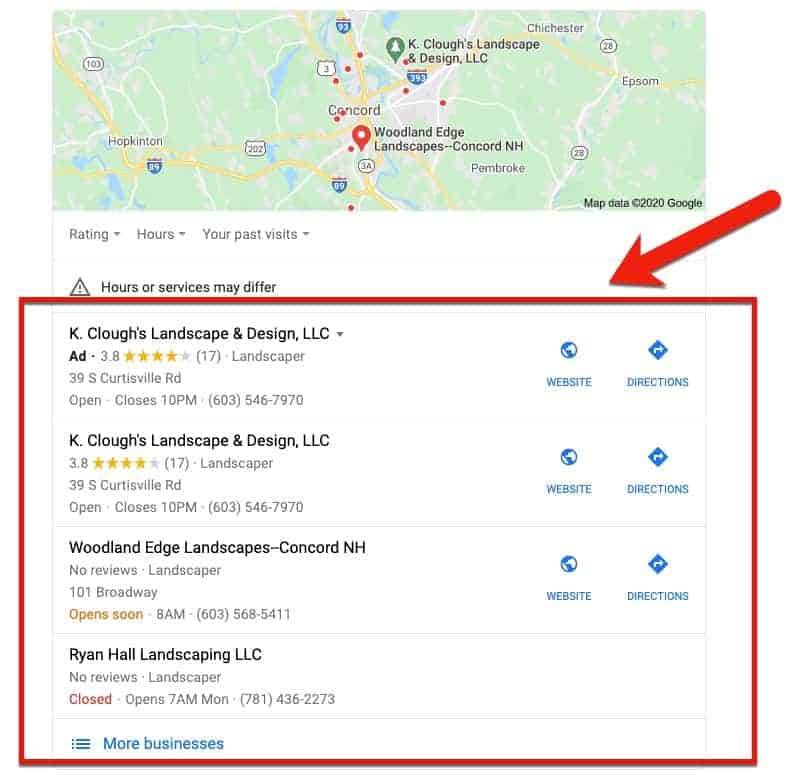 Another way your competitors may be soaking up all the available web traffic is by showing up in the Google Maps 3-Pack showing in the middle of the page. We have sophisticated reporting tools that can show how you rank in the Google Maps 3-Pack and how your competitors rank.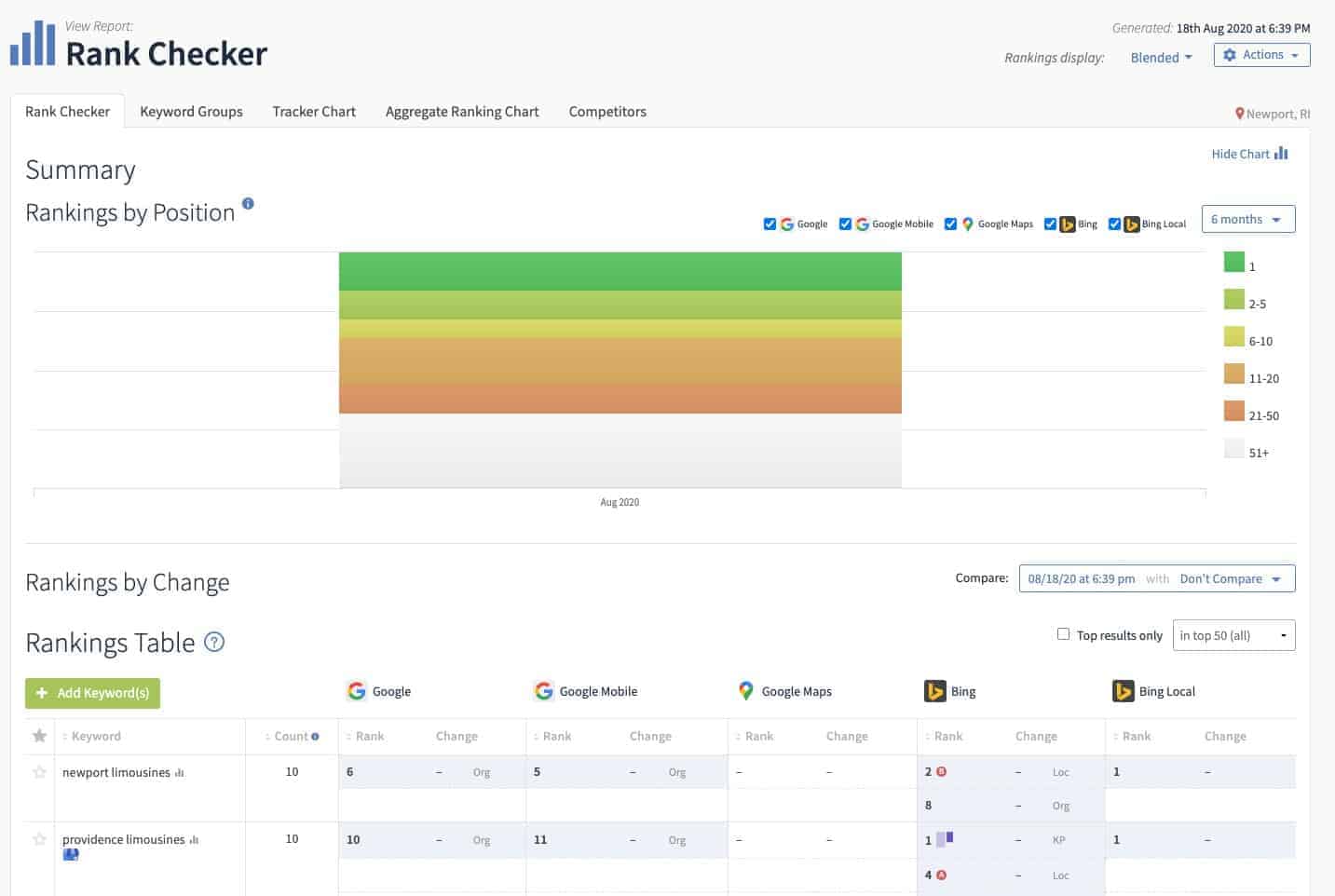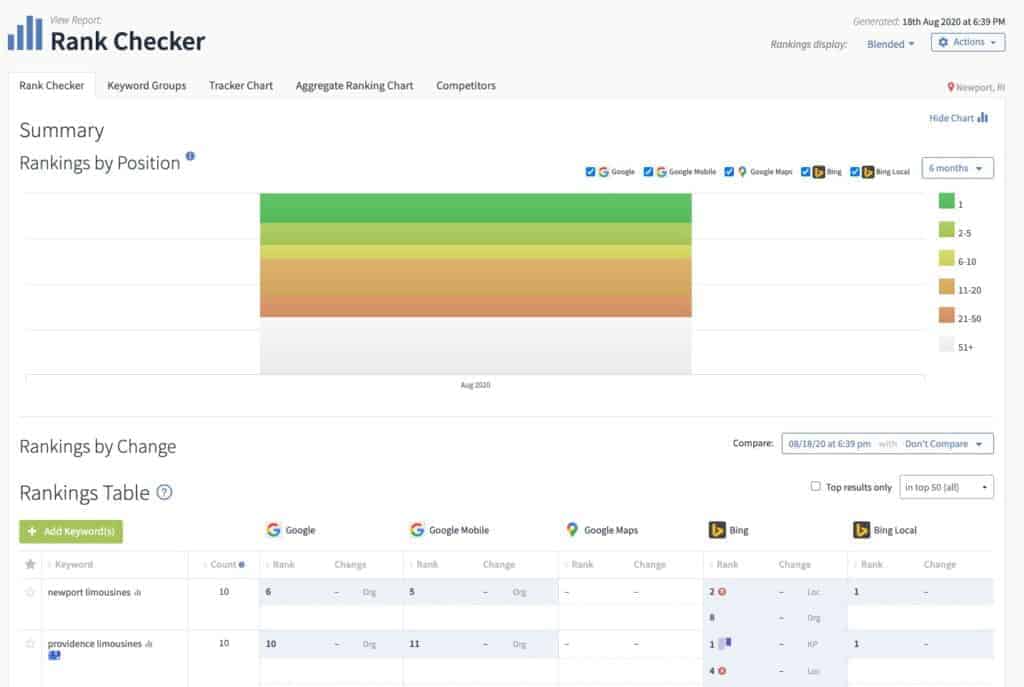 Getting your business listing to show higher can drive a lot of inbound phone calls and clicks to your website from interested prospects.
Online Reviews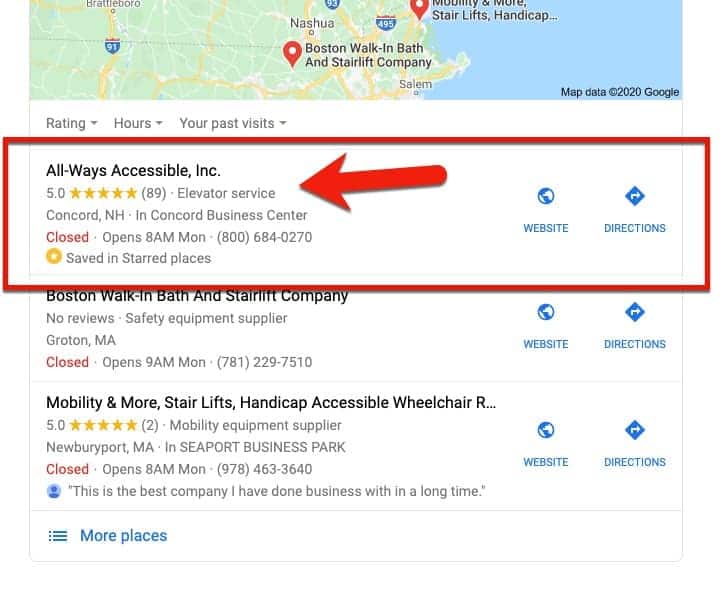 Online reviews matter. Think about your own search and online shopping behavior. Don't you look at the reviews online before visiting a restaurant, buying something on Amazon, or hiring a local contractor? Yeah, everyone else does too.
Online reviews are the new "word of mouth" marketing. By getting more reviews on your Google Business page, Facebook page, etc you can position your business as the go to option in your market. People look at the overall review rating, the number of reviews, and the feedback your customers have about you.
The same is true of your competitors. If they have a lot more reviews than you do it could be hurting your online lead generation efforts.
Paid Advertising on Google (Google Ads)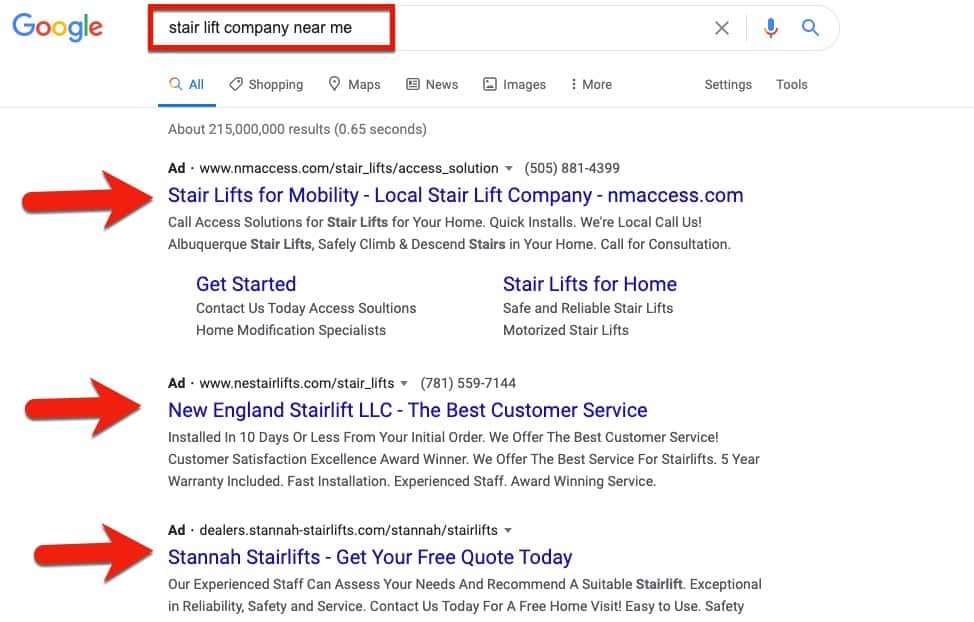 Another powerful competitive research strategy we employ is looking to see if your competitors are running a Google PPC campaign. Not only can we tell IF they are running Google Ads, but we can also gain insights into their monthly budget, what keywords they are paying to bid on, and how long they have been running ads.
We have some clients that are spending $500 a month on paid Google ads while others are spending $30,000/month. These kind of insights can be very powerful to help improve a pay per click advertising campaign. If you have a competitor that is buying online ads we can take a look and share the juicy details with you.
Paid Advertising on Facebook
40% plus of all Internet traffic comes from Facebook. Facebook advertising can be an effective and profitable way for your business to stay top of mind with your ideal prospects and customers. Did you know there is a simple way to see the exact ads and landing pages your Competitors are running?
The simple way is to visit their websites and see who is running retargeting ads. As an example, I was doing some online competitive research for a prospective New Hampton NH windows treatment client and I visited some of his online competitors. Within minutes I started seeing Facebook and Instagram ads for one of those competitors who's website I visited.
Here is a screenshot of one of their Facebook and Instagram retargeting ads.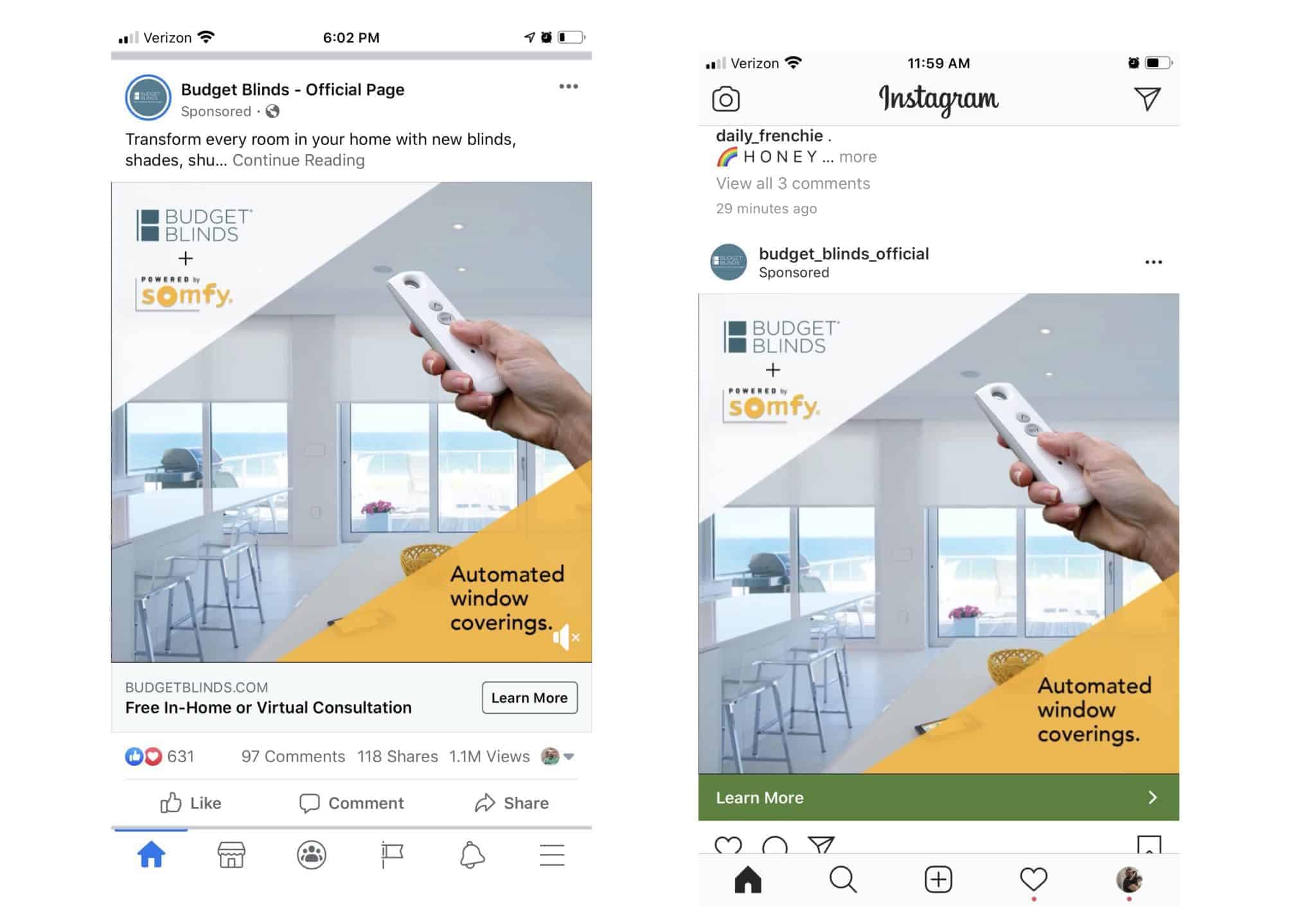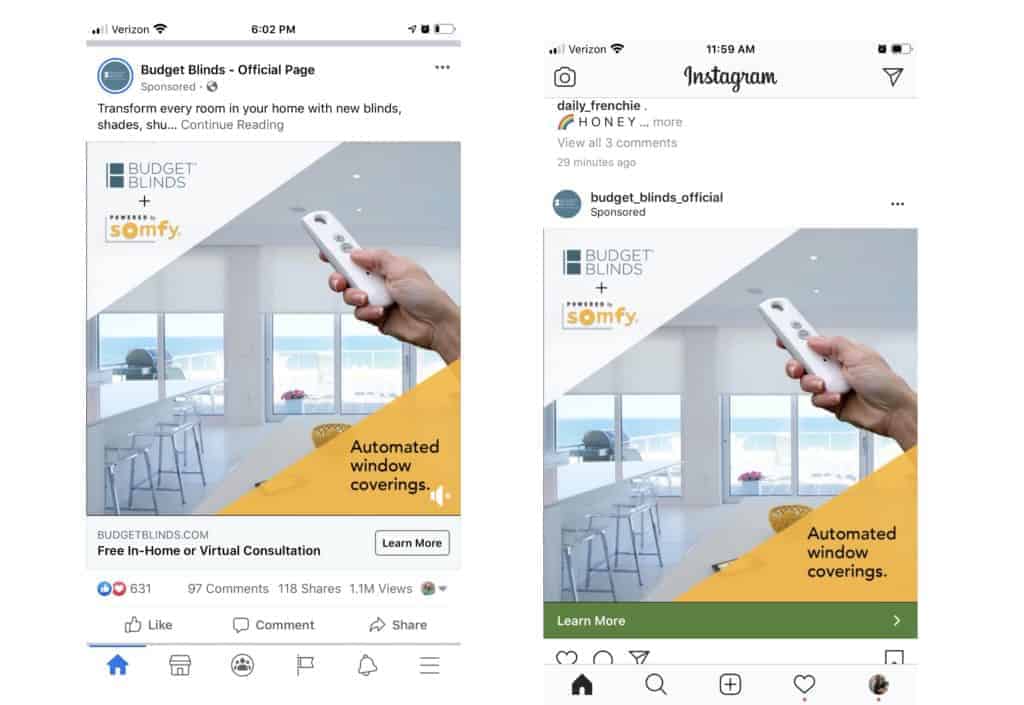 Now, aside from simply visiting their website there is an easier way to see what kind of Facebook and Instagram Ads they might be running.
Here is a simple way to spy on their Facebook ads:
Step 1.  Find their Facebook business page and go to that link.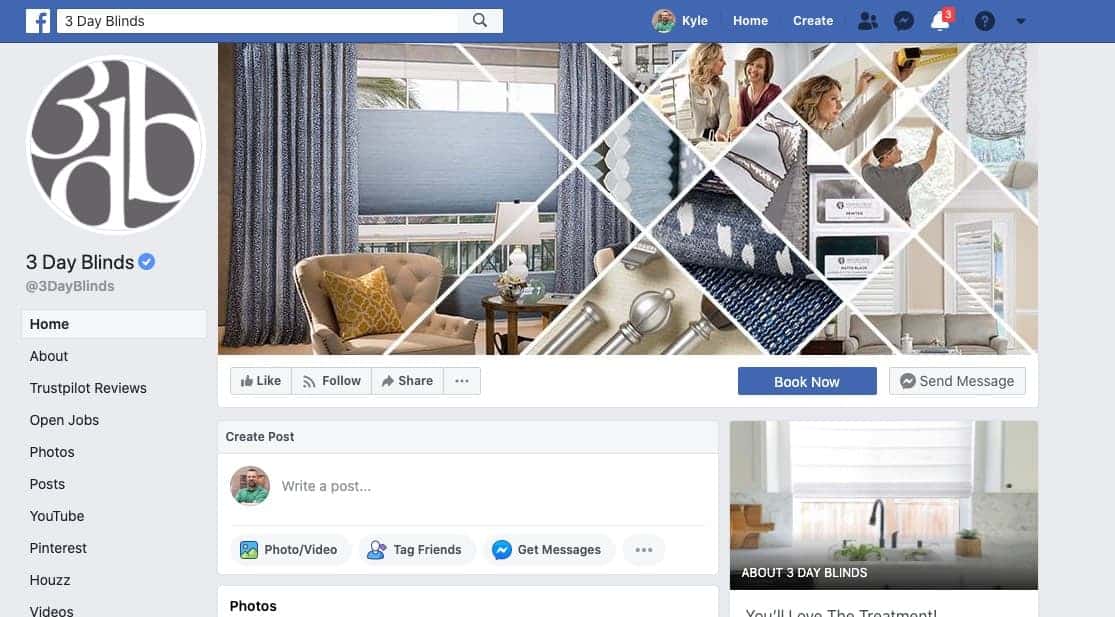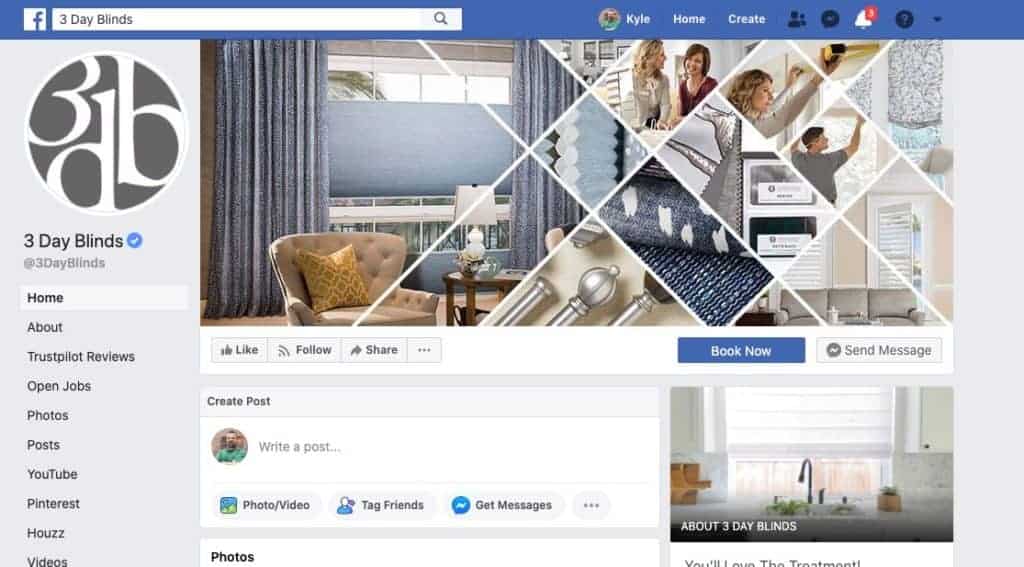 Step 2.  Scroll down the page and look for a small section called "Page Transparency."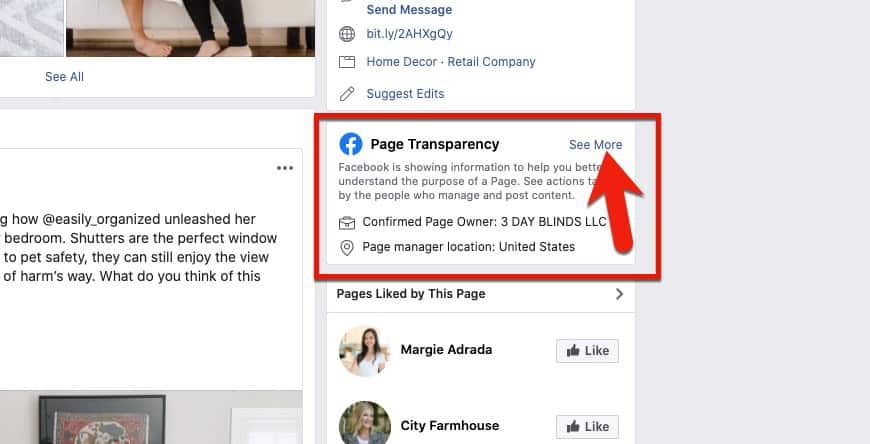 Step 3.  Click on the "See More" link 
Step 4.  Look at the bottom of the pop up and look for the part called "This page is currently running ads."  If they are running ads then click on "Go to Ad Library."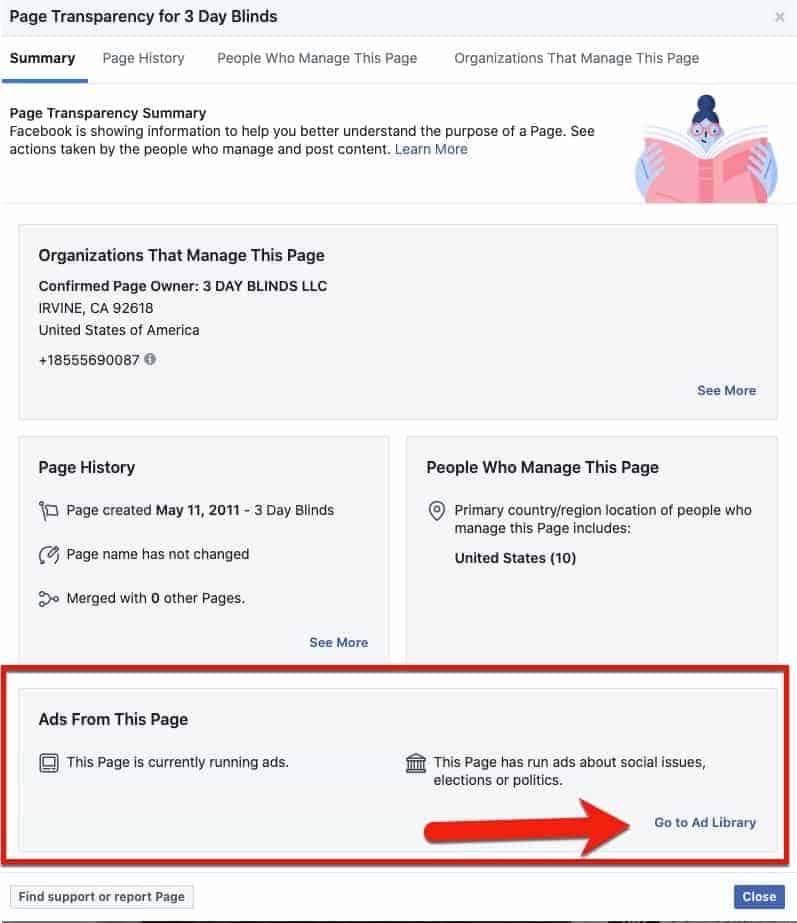 Step 5.  From there you will see the ads your competitor is running.  You can click on the links in their ad to see exactly what ads and landing pages they are running to.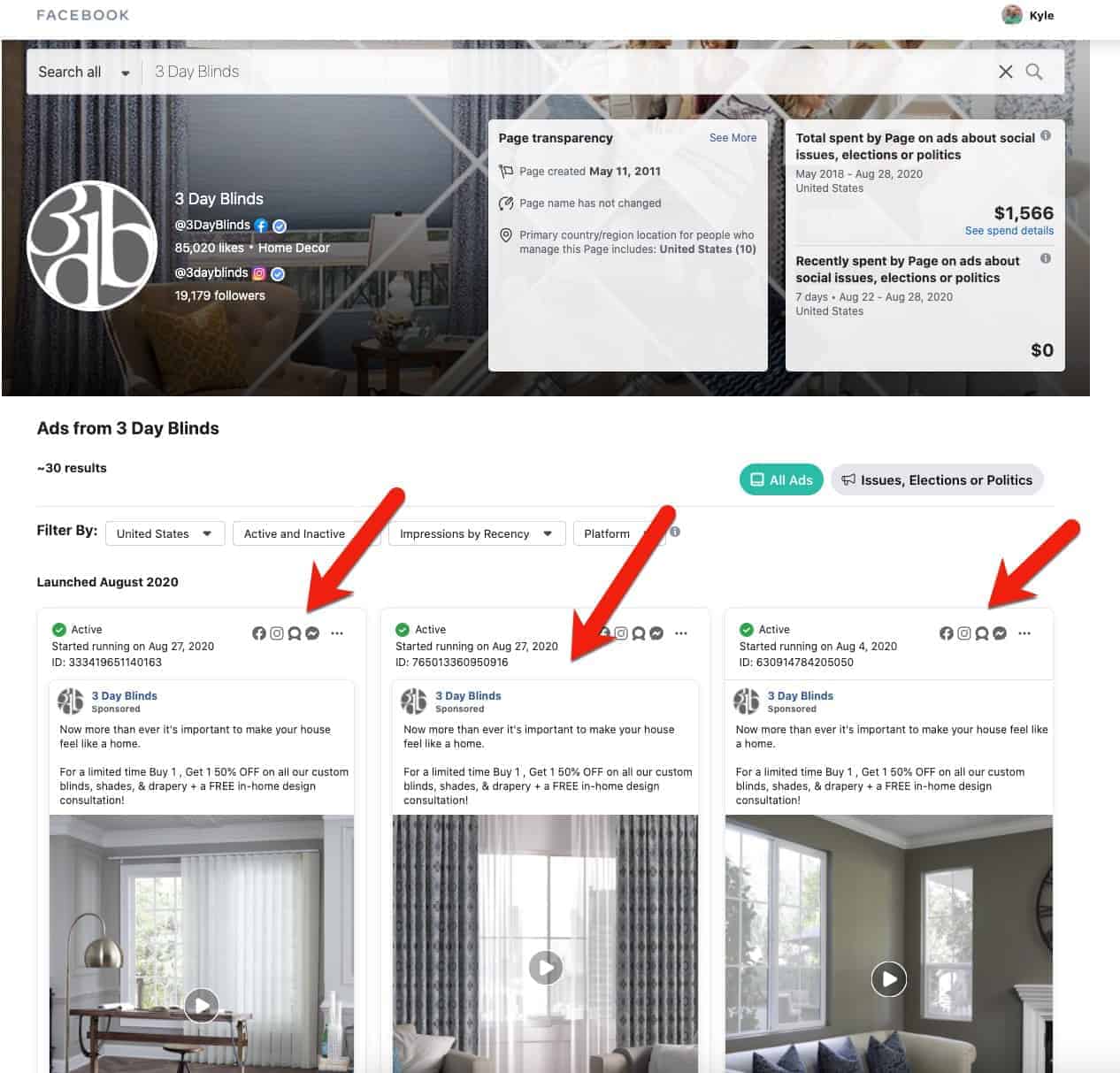 Curious How Your Competitors Are Marketing? NH Strategic Marketing – A SEO Company NH Can Help
Like I mentioned before, success leaves clues. One of the quickest and fastest ways to get clarity on how to market your business online is to spy on your competitors. Knowing where and how to look is a skill and it is one we are proficient at. If you would like some insights on how we can help you gain some traction with your online marketing I invite you to reach out for a Free consultation.
I would be happy to dig into how your competitors are marketing online, how they are getting website traffic, and how you can out pace them.
To your success,
Kyle Battis
NH Strategic Marketing