We work with businesses of all shapes and sizes, in all industries, and in over 15 different states across the country, The truth of the matter (despite what you may have been told), is that when it comes to online marketing and building awareness for your business –
The tools and methods that are most effective for allowing you to get (and stay), in front of your target audience are nearly the same in all cases.
Of course the style of communication, the design aspects of your website and ads, and the verbiage you use when speaking to your ideal prospects changes – but the online marketing methods and tools simply do not. And this is great news for your business.
NH Strategic Marketing has always taken a No BS approach to marketing. We never use smoke and mirrors to command higher prices, and we always focus on one primary objective: Making our client's lives easier (and better), by acting as a 'filter' when it comes to building your brand, and marketing your business online.
One of the things we hear day in and day out is a sense of frustration from small business owners who are constantly bombarded with offers from marketing agencies promising to solve all of their problems with some new solution. These agencies are always pitching some service designed to 'bring in more customers'. And in many cases they can do it for very little money (or so they say). For just $100/mo you can be increasing your online visibility, and getting found online more frequently. 
Here's the truth (which I suspect you already know):
No 'one thing' is going to drive any real, lasting  results for your business. And if you want to see real results, you can't do it without making a more serious investment.
We've looked at the results from many of these '$100 offers' and in reality – they deliver zero return. Clients have told us time and time again (when contacting us for help after these strategies aren't moving the needle for them), that they've seen no increase in business, and don't even really know what's being done.
Effective online marketing requires a smart combination of activities, which when combined properly, deliver long term, sustainable growth.
Online success requires having a real person looking at your business goals and helping you plan your marketing strategy – a person who knows about all of your options, and what combinations of tools and marketing strategy will work for you.
This is what we do – day in and day out for each of our valued clients. We can do the same for you. And the good news…
It will probably cost much less than you'd expect.
Unlike typical agencies – we don't believe in hiding our pricing. Most newer business clients will fit nicely into one of our standard packages – which start as low as $597/mo. These programs are designed for businesses just getting started and looking to grow their business with smart, multi-channel, online marketing. And of course we offer more tailored, integrated services as well – but in all cases, the focus is on turning your marketing dollars into revenue (and profit), for your business.
Many of the most successful businesses we work with each month – who are as busy as they want to be – are spending less than $5k/mo (all in), with their online marketing strategy. And when you think about it – that's less than the cost of one employee in your company. You're actually hiring an entire virtual marketing team – who are always on the cutting edge and focused on growing your bottom line – for less than the cost of a single in-house person. And you don't have to deal with any of the employee related overhead that comes with trying to bring it all in-house. It's really a no-brainer.
We only work with clients who are serious about wanting to grow their business, and who understand that to be successful, you absolutely must invest in marketing, We suggest most businesses invest a minimum of 10% of their gross sales back into marketing to improve their position in the marketplace, and to maintain their visibility and competitive advantage. 
We firmly believe that every dollar invested into marketing should be growing your business – period.
We'll never offer a business a service that we aren't 100% sure will improve the bottom line. We're a small business as well, so we understand that investing in your online marketing is a serious decision. We also understand that with all of the noise and false promises swirling around nowadays, it can be overwhelming trying to figure out the best way to invest online. Well, the good news is – it doesn't have to be.  And if you work with an agency that understands fair pricing and the real needs of your small business – you should be able to do all of the things that matter, with a reasonable budget.
When you're doing the right things, online marketing is an investment – not an expense.
This is such an important point, Doing a few random services that each cost $50 or $100 each – but don't yield any real results is like burning money. Why would you continue to do that? Here's the real question:
Are you trying to spend as little as possible – or are you trying to grow your business?
It's easy to lose track of the real purpose of online marketing if you're only focused on cost. 'Cheap' doesn't equal effective. So ask yourself: "What am I really trying to do: spend as little as possible marketing my business – or – am I trying to grow my business by investing intelligently in online visibility. If you look at your mindset through this lens, you'll understand that in the first case, you're simply wasting money – and that is an expense – in the second case, you're investing – and that's how you grow a business. 
Online marketing done right will make you far more money than it ever costs you – period.
If that doesn't make sense to you – re-read this section before proceeding. If it does make sense, congratulations – you're on your way to growing your business with smart online marketing.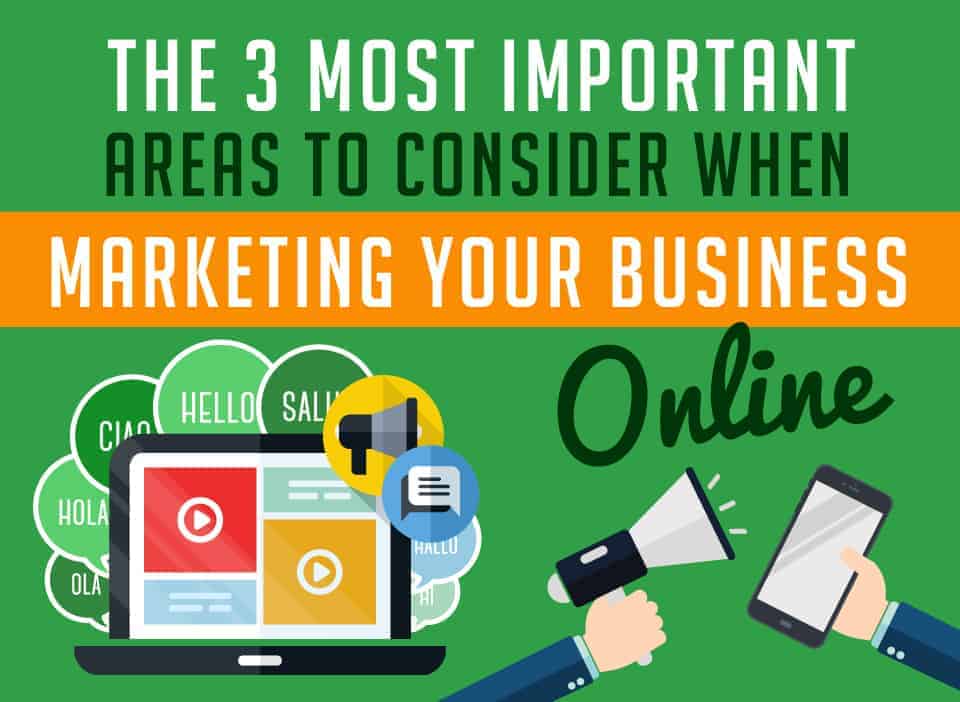 There are three very important areas you must consider when looking at any marketing program. Here they are:
1. Your Online Appearance – How prospective customers see you when they find you online.
We start here because you don't want to invest in driving any traffic to your website until you stand a high chance of converting that traffic into new business.
No amount of investment can grow a business if you're spending money driving to a property that doesn't convert.
It would be like a realtor showing prospective buyers a house that's about to fall down, and telling them that it will be perfect for their new family, and they should buy it now. Not only are they not likely to buy it – they'll probably tell all of their friends that they should stay away from that realtor as well.
Here's what we consider (and work on) in our marketing packages:
Your online 'curb appeal' and visible presence. Important things covered here are how your website looks – most importantly, on mobile devices. In most industries we work with, 60-80% of your visitors will come from mobile devices.
The security of your website. We make sure your site is serving all content through SSL – which is required to be ranked in Google now.
We also make sure your site is on a solid and reputable hosting environment – and we can essentially act as your on-call web development team in the event you run into any problems or need help updating your site, adding new content, or even if your site gets hacked. We have your back. 
And if you don't have a website yet – we can help you there as well – and websites aren't as expensive as most people think.
We also make sure your key pages are conversion focused and designed in such a way that they are likely to turn the right visitors into inquiries (and ultimately customers), for your business. In many cases we may suggest (and will help build out), new pages dedicated to growing specific areas of your business.
Finally we make sure your site is organized and structured in such a way as to promote good organic listings as well as a good user experience and ease of navigation. 
Another critical aspect of your appearance is your online reputations (reviews). We can work with you on strategies to make sure you have more (and better), reviews than any of your competition. This is a critical factor to instilling trust in your newest prospects.
Here's a quick visual recap of these important points: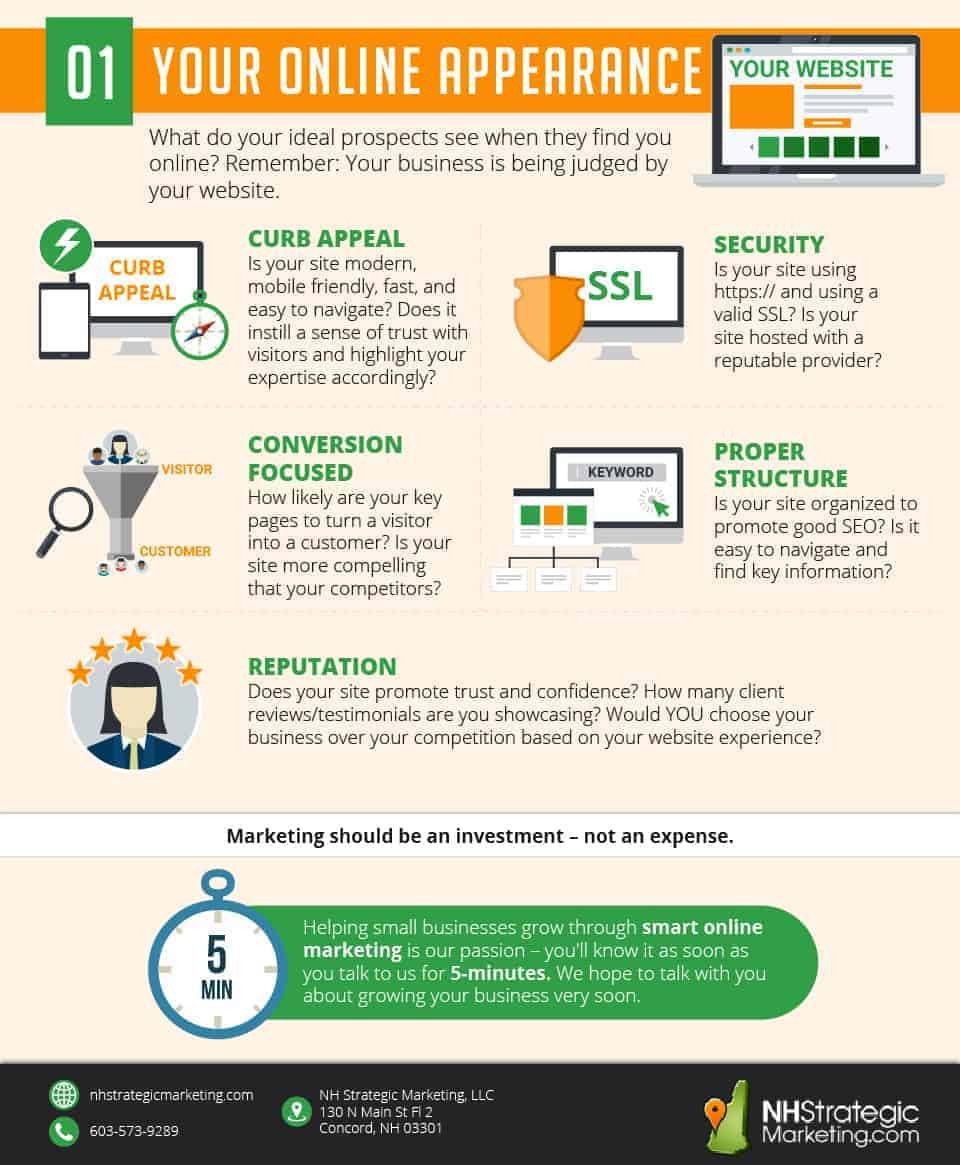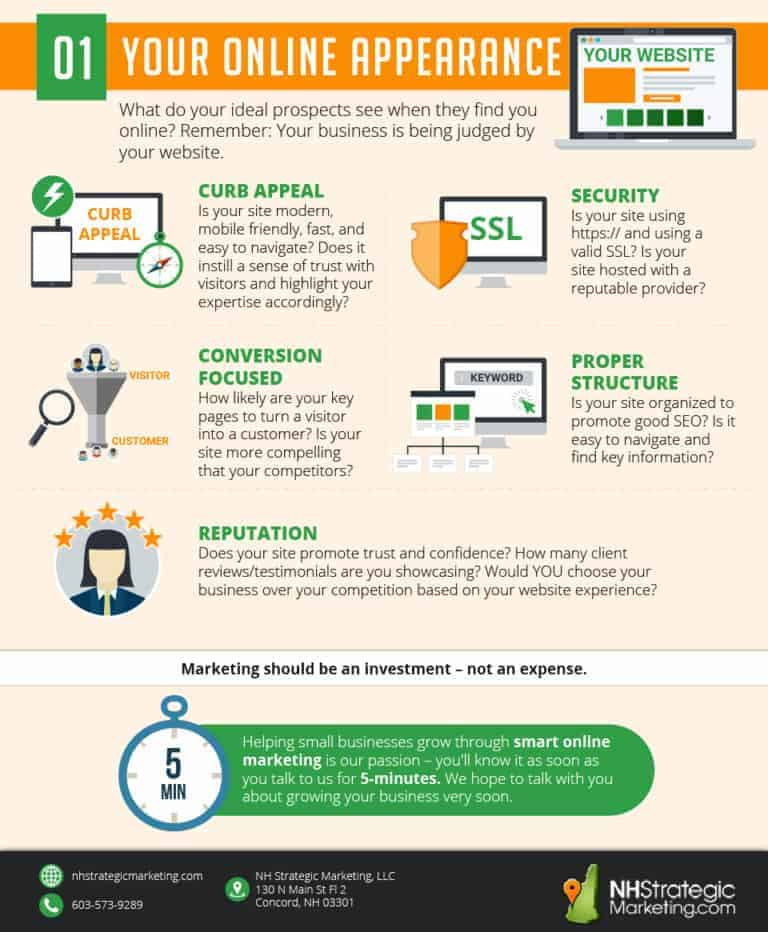 All of this sets you up with a rock solid foundation, and allows you to achieve the highest return on investment as you start driving traffic to your web property. And this brings us to the second area of focus:
2. Your Traffic Streams – How new customers find you online.
Let's get real for a moment. It doesn't do a stitch of good to have an amazing web presence if nobody ever sees it. And it doesn't do a bit of good if you spend money developing a cutting edge website if it doesn't bring you new business – right? Of course. This is why the next area of focus – once you have your website dialed in- is traffic. Getting new visitors to your site – and new customers calling your phone.
There are a lot of strategies we use to drive awareness and traffic for our clients. The strategies vary slightly by industry, level of competition, whether or not the business is limited by geography (like a local service business – a landscaper, roofer etc.), if it's an internet based business (like an e-commerce store), etc. The important thing to realize however, is that of the 10 thousand ways you've probably heard of to build awareness for your brand, and bring in new customers online – there are really only a handful of tools and traffic streams that deliver any significant result. The 80/20 rule is definitely in effect when it comes to driving traffic and awareness online.
Here is the approach we take when laying out your businesses traffic strategy:
The first thing we do is a competitor analysis. Here's the hard truth:
There are only so many people looking for the products and services you sell each month – realize that this 'customer inventory' is limited.
Your goal is (or it should be), to capture as much of that inventory as possible, and convert it into new business. Plain and simple. This is how your business beats the competition.
And what's more important – you need to establish your position in the marketplace when business is good – when you're already busy and things are going well. When the economy takes a dive – everyone ramps up their online efforts to get more customers. This drives up costs for each advertiser (supply and demand at it's best) – except for the businesses who already have a solid footing. These are the businesses that can't be beat.
Want to economy-proof your business? Start establishing your online presence now – when things are booming. Wait until later, and you'll be fighting for scraps with all of the others that didn't heed this advice.
Okay, so once we have the competitor data, we then use that to determine how we're going to position you to rank higher in paid search, organic listings, and even in the business listings and social channels by using targeting campaigns in the following order:
Brand targeting strategy. This is where we'll make sure you show up top of page any time someone searches specifically for your brand or company name. The last thing you want is your competition showing up above you when someone is searching for you directly – right? We see it all the time, and honestly it hurts me to see a company who let's their competition capture their referral and branded search traffic. It happens all the time, but there's absolutely no need for it. I digress…
Once we're certain you show up at the top of page one when people are looking for you by name, we then focus on Retargeting (also known as remarketing). This is the second most important type of traffic, as it means we're continuing to show up and stay top of mind for people that have visited your website, but not yet taken the next step with your business. That may be filling out a form, buying a product, or even giving your business a call. Remarketing campaigns are very often the most profitable form of online traffic.  Every business should be running remarketing campaigns. It's one of the best marketing investments you can make.
Next we focus on getting your business showing up when people are searching for your competition. You absolutely want to make sure your business is 'in the running' when people are searching out your competition. And you need to show up in a creative and intelligent way – with a strong offer. Many of our clients generate a lot of new business with competitor targeting.
Next we outline and plan out strategies for Search and Display campaigns. Search campaigns get in front of people who are displaying 'buyer intent' – people who are raising their hands and asking for the products or services you offer. You definitely want to get in front of these prospects. Display advertising is a bit more of a disruptive form of advertising, but we can do it with very high relevance, and that's why it is a close runner up to our search campaigns. 
We then take a look at the best social media strategy for your business. The days of 'lots of free traffic from Facebook' have been gone for some time now, but Facebook is an amazing traffic stream when their paid campaigns are utilized properly. We are incredibly proficient at managing high-performance video, brand awareness, and conversion focused campaigns in Facebook, and some of our clients see lower cost per conversion goals through Facebook than any other medium. We can certainly evaluate it as a fit for your business as well.
We then look at your current SEO (Search Engine Optimization), results and formulate a plan to tackle 'easy wins' as well as long term, higher value targets. SEO campaigns are typically longer timeline strategies, that require higher investments, but they pay dividends over the long term.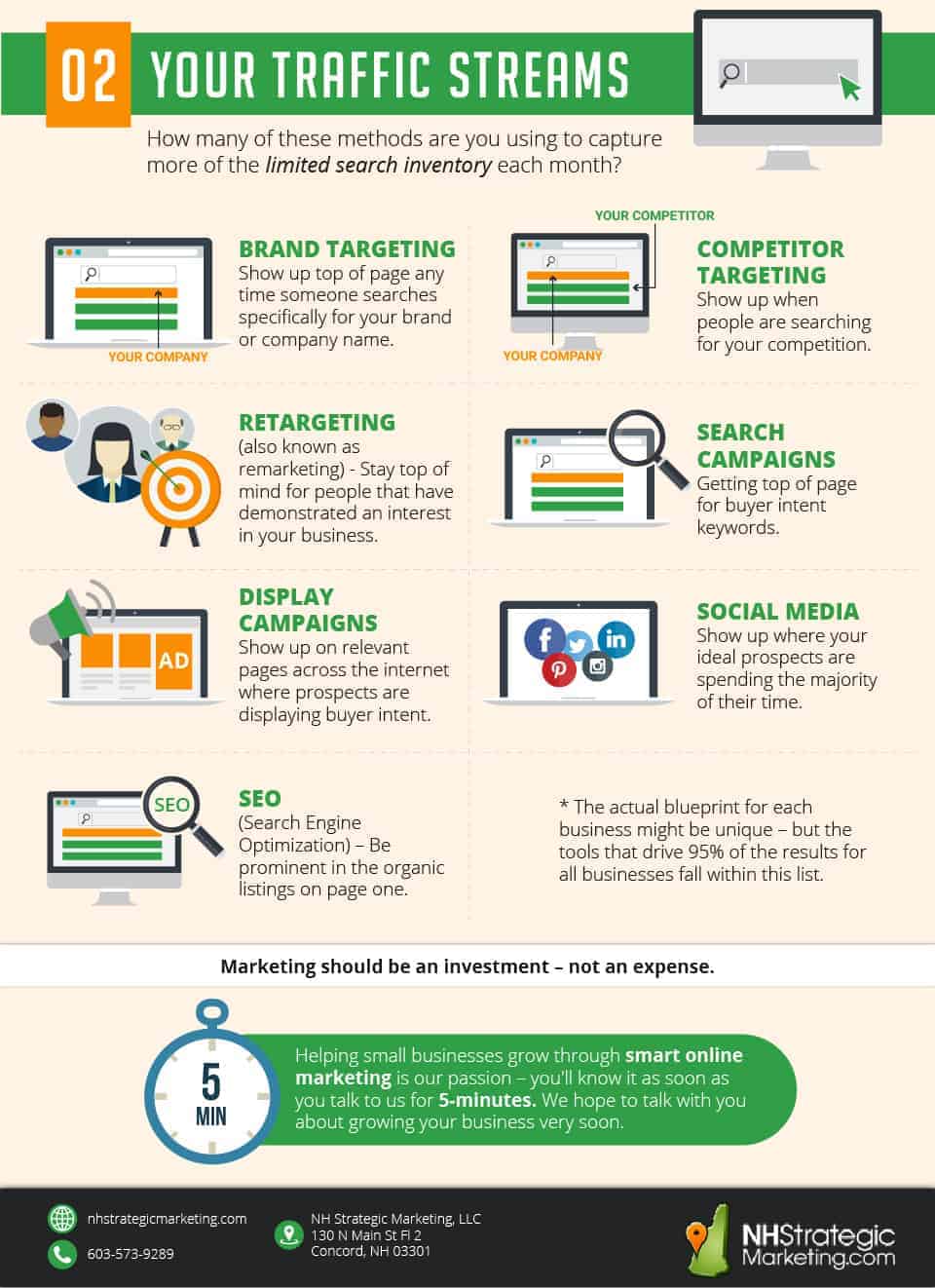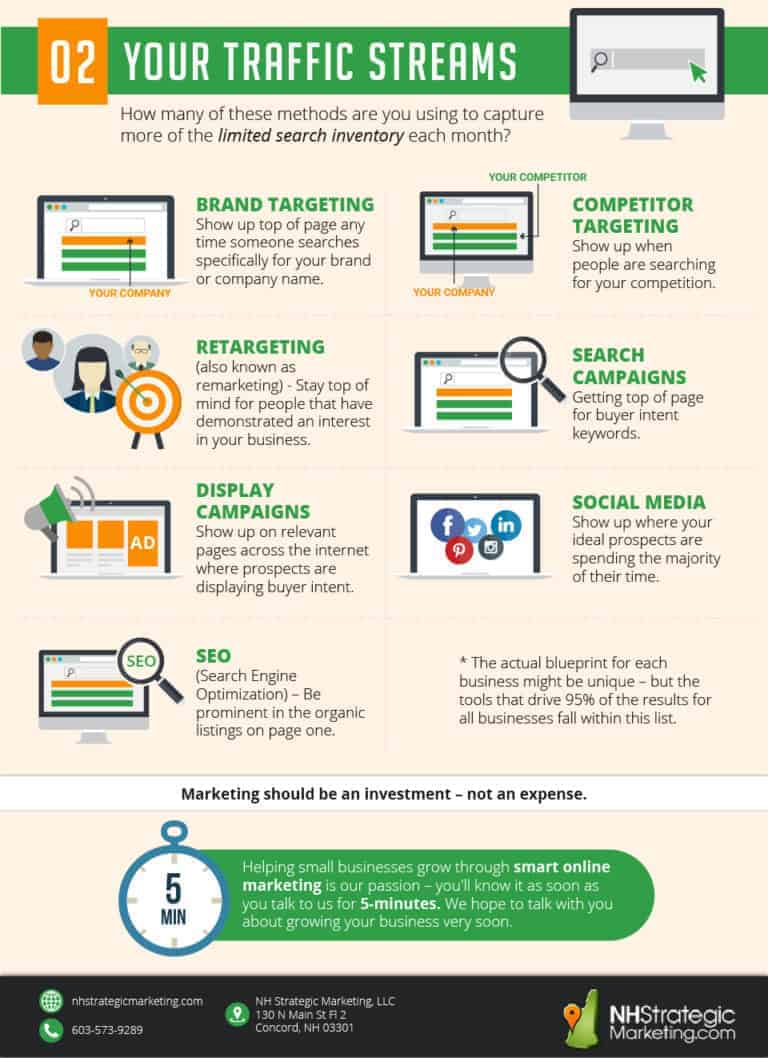 This is a brief picture of our traffic and remarketing approach, but what's important to realize, is that the blueprint for each business might be unique – but the tools that drive 95% of the results for all businesses fall within this list. We see way too many businesses wasting time with other strategies that are simply not likely to ever return a profit. The strategies above have proven time and time again (when deployed correctly), to grow businesses and increase profits.
So, now that you have a solid online appearance, and you're regularly driving new, qualified visitors to your site – the only thing to do is to measure and improve your results. Let's talk about this for a moment.
3. Tracking And Reporting – How you know what's working.
Visibility into what's working (and what's not), means the difference between success and failure when it comes to marketing your business online. I can't even tell you the number of times we've taken over management of a new client's accounts and discovered that there is no way (literally zero chance), for the client to see and know what efforts were driving results from their marketing investment. 
We won't launch a media campaign without first having tracking in place. How else will we know what's working. How will you know what to do more of – and what to stop doing? Marketing without tracking is like throwing money into a hurricane and seeing what blows back your way. I wouldn't recommend it.
We set up dedicated phone, web and conversion tracking for every paid traffic campaign we launch. You'll love the peace of mind you have when you can see and know with 100% certainty which campaigns are working (meaning you should put more money into them), and which ones are not (meaning you should stop spending money on them).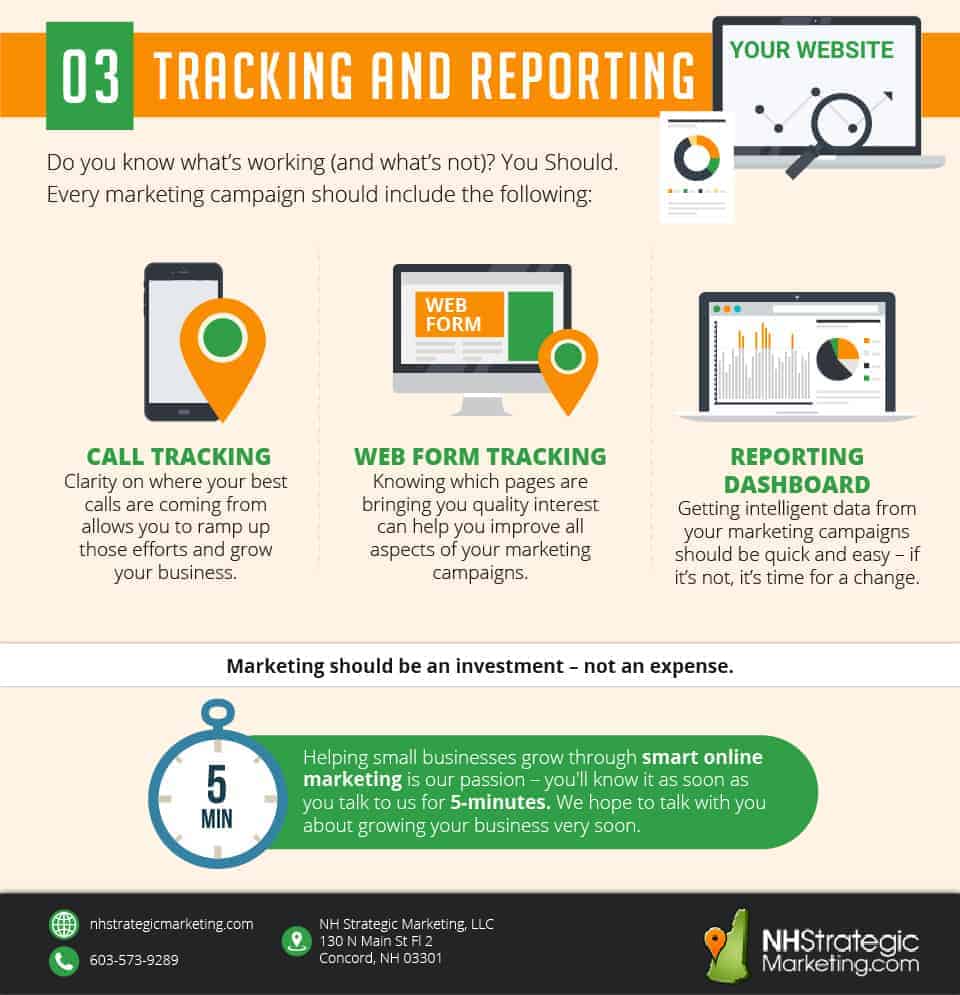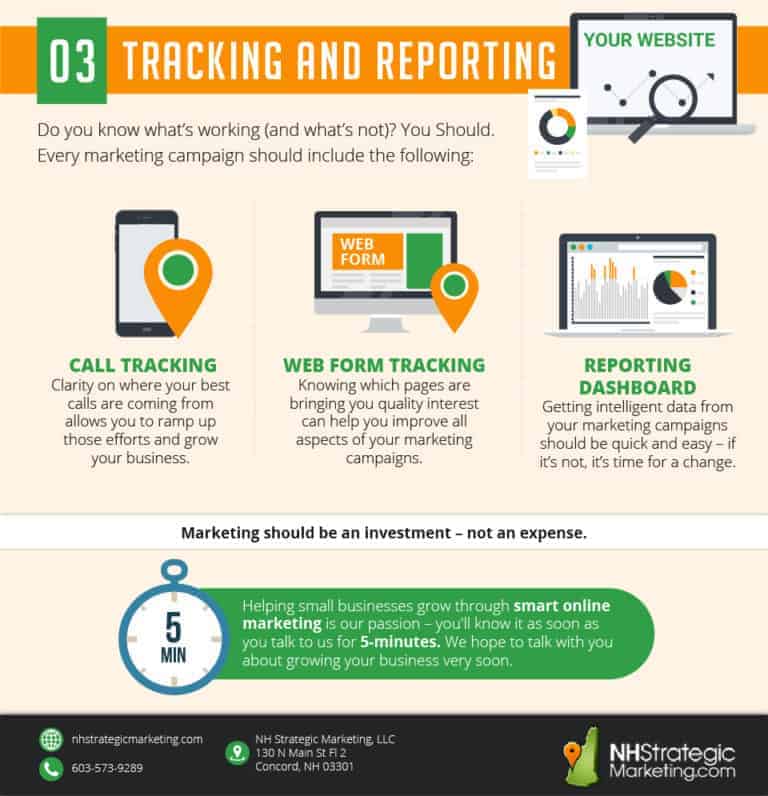 We've found no better way to improve ROI from a marketing campaign then to track properly, and adjust strategy based on those reports. So…
Now that you know everything that you can (and should) be doing to market your business online, we'd love to help you 'filter' these items to make sure you're focused on the right things.
I truly hope you've found value in this article. If you have – and you know that it's time to take your business to the next level, then I'd encourage you to:
Claim Your Free Online Visibility Assessment Report Today.
We'd love to review your business's online presence and help you to uncover the hidden potential for your online marketing strategy. The assessment is completely free – we only ask that you're serious about investing in the future of your business.
It typically takes us about 48 hours to complete an assessment once your form is submitted (click the button below to get started). At that point, one of our team members will reach out to you to schedule a call and we'll review everything we found – and we'll share an exact game-plan for how we suggest you move forward with your online strategy. These calls (we call them Discovery Calls), typically take 20-30 minutes.
Helping small businesses grow through smart online marketing is our passion – you'll know it as soon as you talk to us for 5-minutes. I hope to talk with you about growing your business very soon.