On a daily basis I speak with small business owners who have used WIX to build their website for their small business and I cringe every time I see this. Many of them reach out to our NH website design agency because of the WIX website SEO problems they are experiencing.
Why WIX Websites Aren't Helping Your Small Business
Here's why….
You can use any Do It Yourself website building platform to build a site but if no one ever sees it then it won't help your business at all.
Websites built with WIX are proven to not rank well in Google as shown in this in-depth study that the AHREFs SEO blog conducted: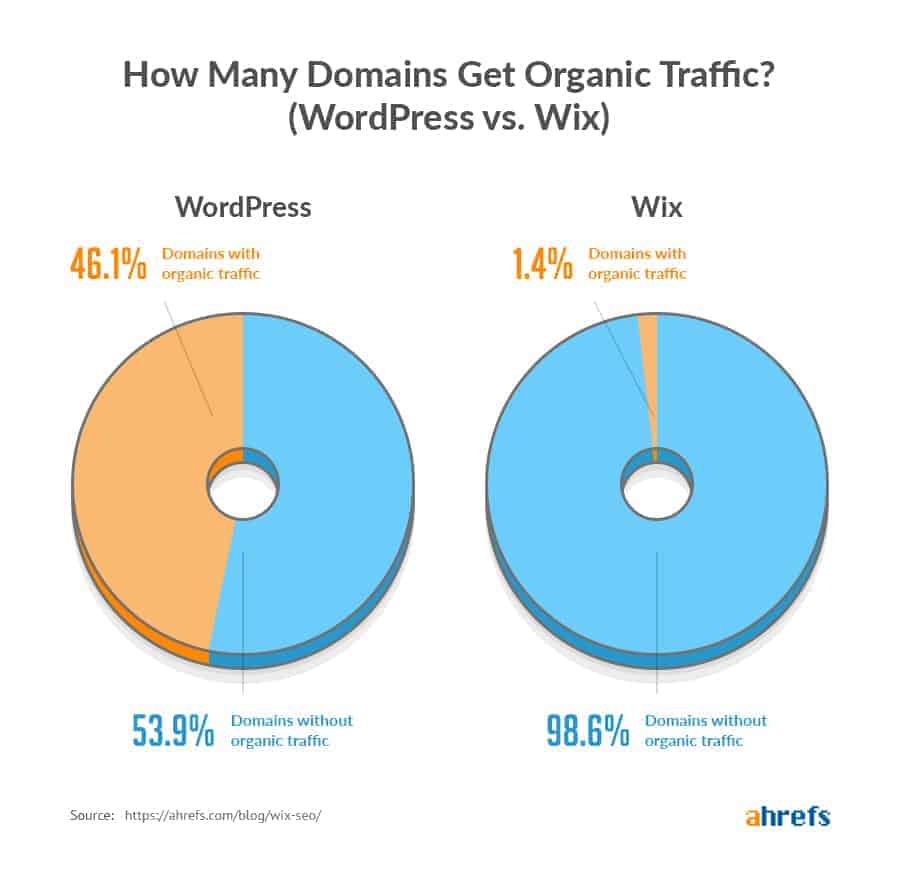 The team from AHREFs wrote:
"So according to our data, it's pretty clear that on average, WordPress sites get significantly more organic traffic than Wix sites."
Look,
If you want your website to work for you and attract customers to your site, building your business site on WIX won't serve you in the long run.
It may appear to be a cheaper alternative to get something up and running but please understand that choosing to do so will hold you back. I have seen time and time again WIX website plagued with SEO problems that don't help the business owner out in any way.
Every week I talk with very nice business owners who decided to go with WIX because it was cheap and easy to get a site going using this platform.
I get it.
When you are starting your business that was likely not a bad train of thought.
But….
If your site doesn't have the chance of ranking well in Google and no one ever sees it, then you're hurting your business potential more than you are saving money.
The Internet is a big and competitive place and it does you very little good to have a website that no one will ever see. Even if you are a local business owner you still have stiff competition and you will need to show up in the local Google searches if you want a shot at attracting new customers from your website.
Most WIX websites that I evaluate never get any traffic and don't rank for anything in Google.
The opportunity cost of building your business on a bad foundation is immense.
"So Kyle, what do I do if I did build my website on WIX?" How do I solve my WIX SEO Problems?
You have two choices at this point….
You can stay where you are and be subject to your business being essentially invisible on Google OR you can make a choice to have your website redesigned on a better foundation.
How a website looks is very important but how it functions is even more important.
A Website That Doesn't Rank In Google Is Like Having a Shiny Car With No Engine Under The Hood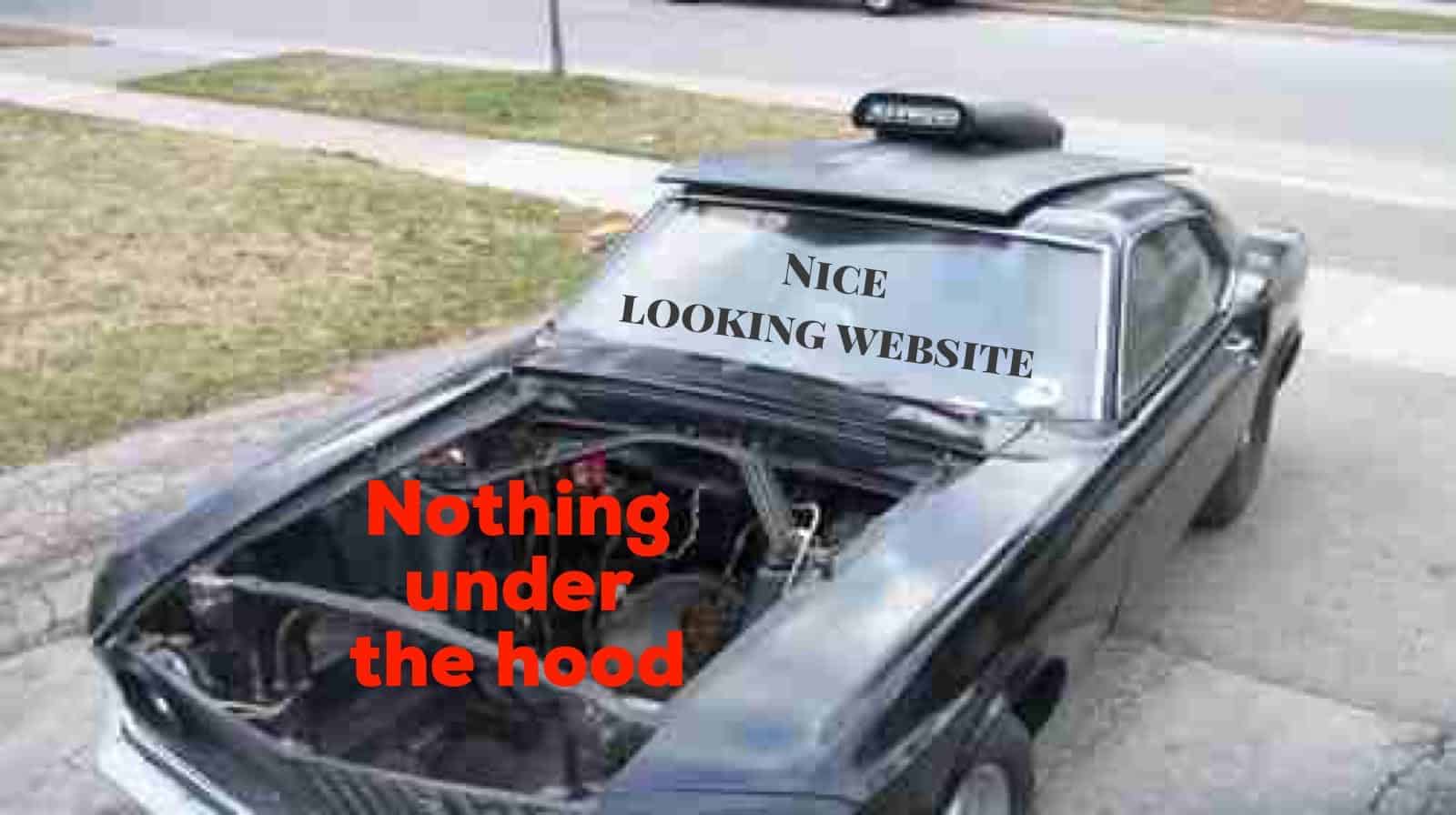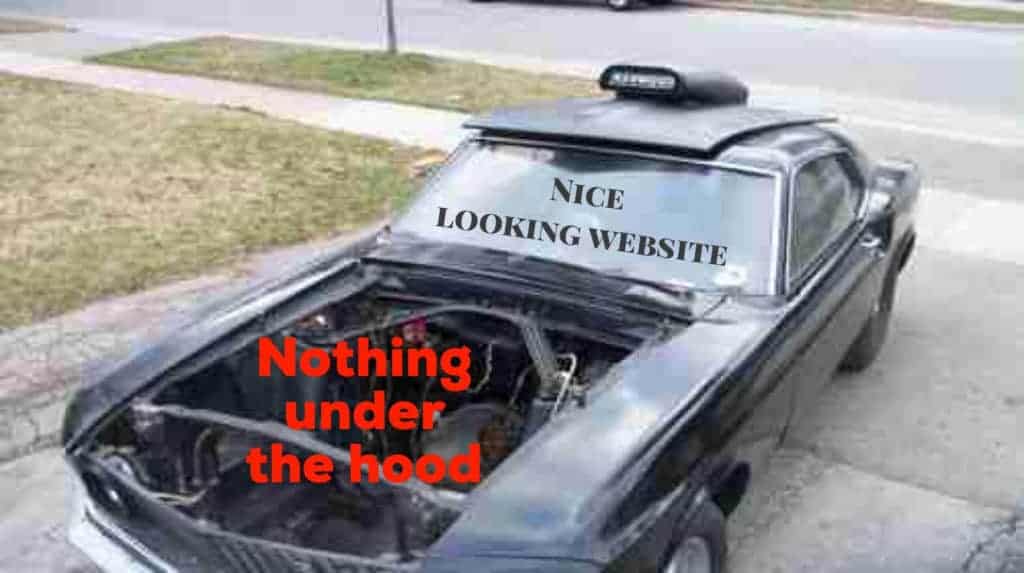 It doesn't matter how good your website looks if it is missing critical components "under the hood" that help it actually rank in Google. I just had a meeting the other day with a prospective client who's website was built on WIX. The site was three years old and even after that period of time barely ranked for anything and it gets ZERO organic visitors.


As a result his business was struggling and he stated to me, "I never get any leads from my website."
All show, No go.
That's why our preferred platform for building our clients' websites on is WordPress.
34% of All The Sites on The Internet Are Built on WordPress
There is a great reason for this too.
It works.
It is a rock-solid platform and is regarded as a top CMS (content management system) by website design professionals all over the world. All things being equal, when a site is built on WordPress vs Wix, it ranks better. You can certainly do advanced SEO tactics to make a WordPress site work even better.
We have seen time and time again that WordPress small business websites greatly outperform websites built on do it yourself website platforms like WIX.
We just did this for a client who owned an Heating and Cooling company who had built his site on WIX when he first launched his business. He got to a point where he knew he had to make a move if he wanted to change how his business ranked in Google.
He reached out to us, we discussed a website redesign, and then proceeded to rebuild his junky old site on a new WordPress foundation with a custom design.
Here is his new site and he absolutely loves it!!
https://triumphhc.com/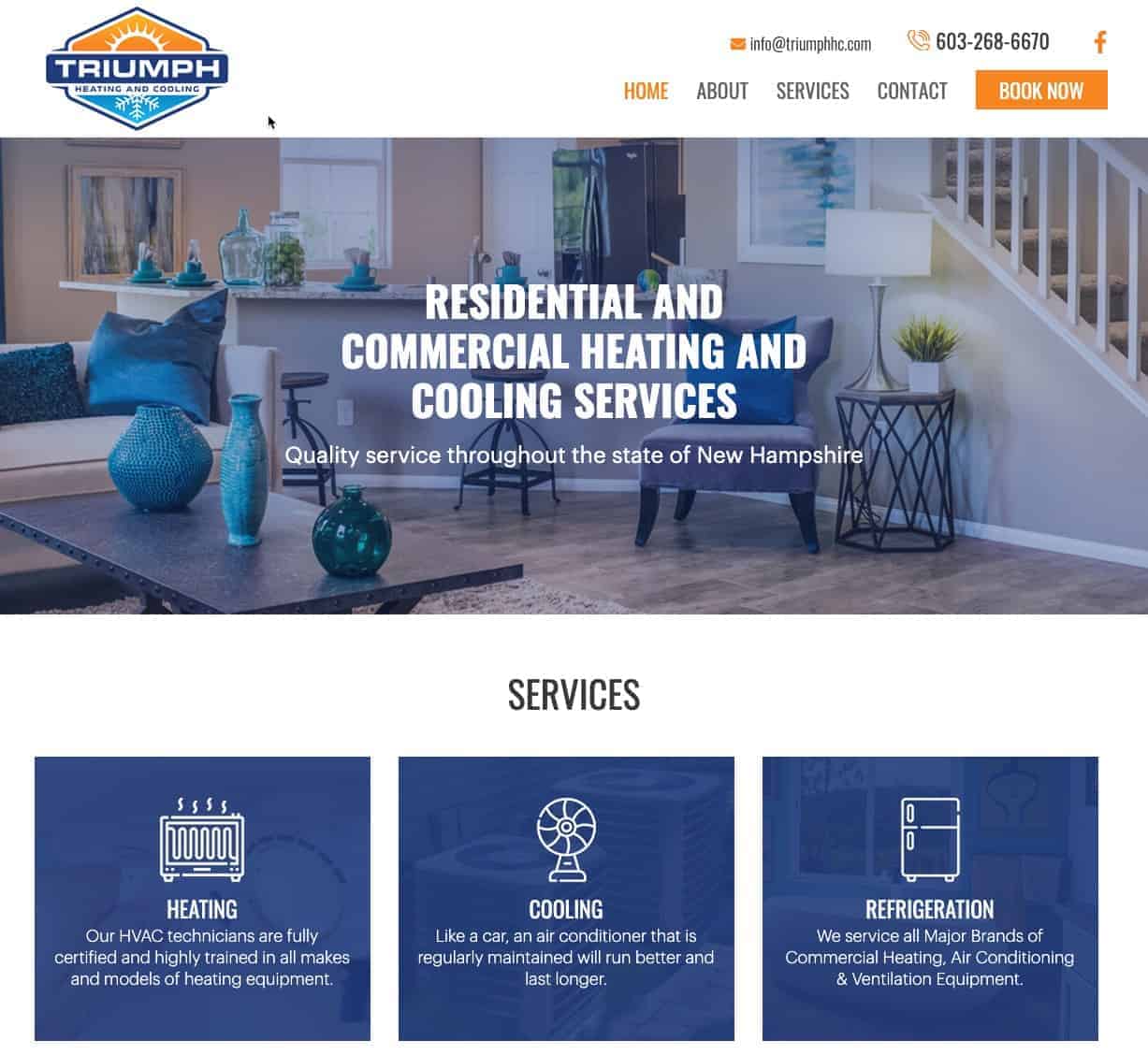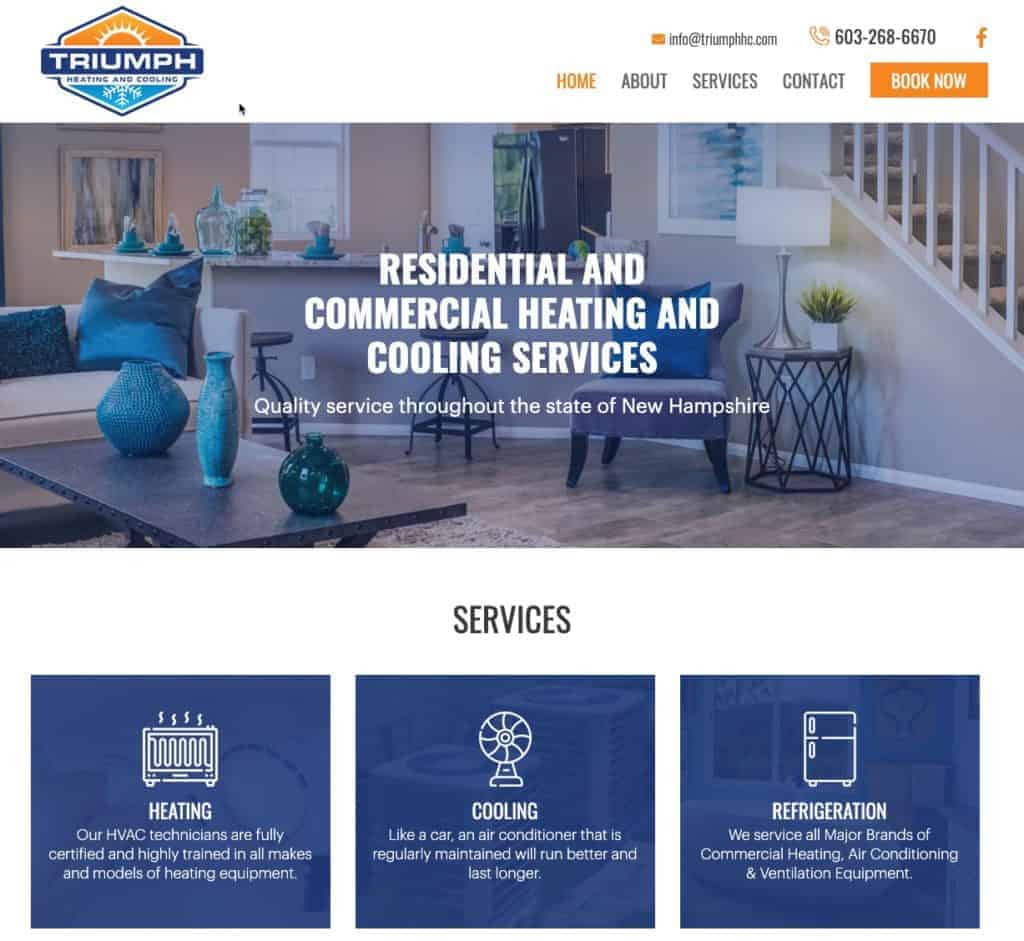 What's even better is that we did some additional work "under the hood" of his website that will position it to show up higher in the Google search rankings over time.
This will result in more people looking for the services he offers to find him when they search on Google.
This means more traffic to his shiny new website and more new customers for his business. You can check out some of our case studies here.
Your business website should be the foundation of your online presence
Your website is the "home base" of your business and building it on a great foundation is absolutely essential for long term success.
The website should be an asset not a liability.
I talk with business owners who have built their site on a shaky foundation (WIX or another DIY website building software) and after years of frustration and lack of results, that's usually when the reach out to us to get help in rebuilding their website.
We take great pride in building them not only a beautiful website but a website that actual works for them. Building on WordPress is just the start. We also install specific SEO plugins, add Schema mark up to the site, optimize Title tags, meta descriptions etc for core pages to help it rank better in Google.
Additionally, we help our clients by getting their website more visible in the Google search results in multiple other way.s.
WIX SEO Problems Bottom Line
Your website should be a tireless 24 hour a day, 7 days a week salesperson that attracts new potential customers and turns into added income for your business. From my experience helping small business owners with their online marketing WIX isn't a great platform to build on if you really want to be found on Google.
If you want your business website to attract more traffic from Google then I urge you to consider a website redesign and put it on a stable WordPress platform.
If you are interested in discussing a website redesign for your business let's have a discussion. If you are interested in a discussion about a website redesign we are happy to speak with you. You can contact us here.
To your success,

Kyle Battis
NH Strategic Marketing
www.NHStrategicMarketing.com