I recently got a phone call from one of our seasonal NH small business advertising clients. (We run a Google ads campaign for him to get him showing up on the front page of Google during the Spring, Summer and Fall months.) He called to admit to me that he had made a mistake.  Back in November, he had us shut down his advertising campaign and had planned to turn it back on in the Spring.
However, he called me in January after he found himself in a rough spot.
During those Winter months a few projects fell through, he lost an employee, and realized he had no new projects in the pipeline.
He was in trouble and needed to drum up some new business.
He admitted to me "I should have never stopped advertising."
Here's a video sharing this cautionary story and how to make certain your NH small business thrives year-round:
One of my mentors drilled into my head to never let your head hit the pillow without having done something every single day to feed the top of your funnel.
Henry Ford was credited with stating "A man who stops advertising to save money is like a man who stops a clock to save time."
I tend to agree.
You should always, always, always be taking some action as part of your daily schedule to make more people aware of your business, to deliver value to prospective customers, and ultimately add more people into the top of your online marketing funnel.
Further, having only one method of attracting new customers for your business is shaky ground to stand on. My advice would be for you to have as many ways possible of getting new customers for your business as you never know what method will generate a new customer for you from month to month.
Dan Kennedy, a marketing mentor of mine said, "I'd rather have 30 ways to get 1 new customer a month than 1 way to get 30 new customers a month."
One is the most dangerous number in any business.
Relying on ONLY referrals or only on one source of new customers is an inherently bad idea. There are countless examples of businesses that got all their new customers from one source and then "Poof," something changed and that stream of new customers goes away.
Then that business is in serious trouble.
For example, I have known of business that solely relied on Google organic traffic (SEO). Then the Big "G" changed their algorithm and overnight that business lost thousands of website visitors a day and it crippled that business.
I knew of a Dental Implant office that only relied on referrals from a local dentist office. It worked while it worked but years later, that same Dental office decided they would bring their own Dental Implant professional into their office to increase profits. That Dental Implant office lost their stream of patients and they then had to scramble to try and replace it.
My advice would be to add stability and strength to your business by having multiple ways your business attracts new customers.
Now you may be wondering, what exactly should I be doing Kyle?
Well, it depends.
It depends what kind of business you are in. It depends on how established as a business owner you are. It depends on your resources. (If you don't have resources, then you have to be resourceful). In other words, if you don't have much of an online marketing budget you will have to do more manual activities to try and drum up new business. Below is a list of some ideas on how you can keep feeding the top end of your marketing funnel, create new opportunities, and attract more new clients or customers your way.
22 NH Small Business Marketing Ideas To Feed Your Online Marketing Funnel and Have a Steady Stream Of New Customers
1.  Optimize Your Google Business Page Presence
Your Google Business page is one of the most important pieces of the online presence for your business.  It is one very important way that Google knows who, what, and where your business is and who your customers are.  If you don't claim and fully optimize your page then your chances of showing up in the Google maps listings are extremely low.  Adding an update post to your page, asking a happy client to leave a review, maximizing the categories that you are in, and adding new photos are some examples of ways to optimize your Google business page.  (There are plenty more and I'm happy to meet with you to take a look at how your Google business page can be further optimized.)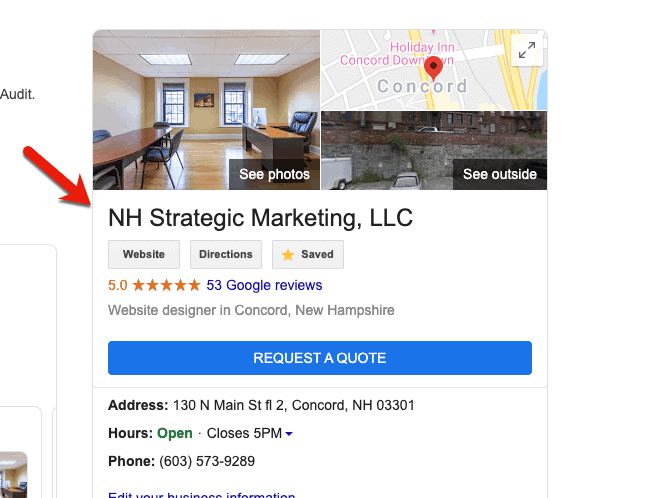 2.  Launch or Optimize a Google Ads Campaign Targeting The Keywords and Services You Want To Promote
For most small businesses showing up on the front page of Google is crucial to attracting more potential customers.  It is important to understand that there are only so many Google searches for the core keywords you want to be showing up for every day in the geographic area that works for your business.  If you aren't running a Google ads campaign perhaps it is time to start one.   A Google ads campaign can get your business to the top of the Google search results.  Here's an example of some NH roofing companies running Google ads: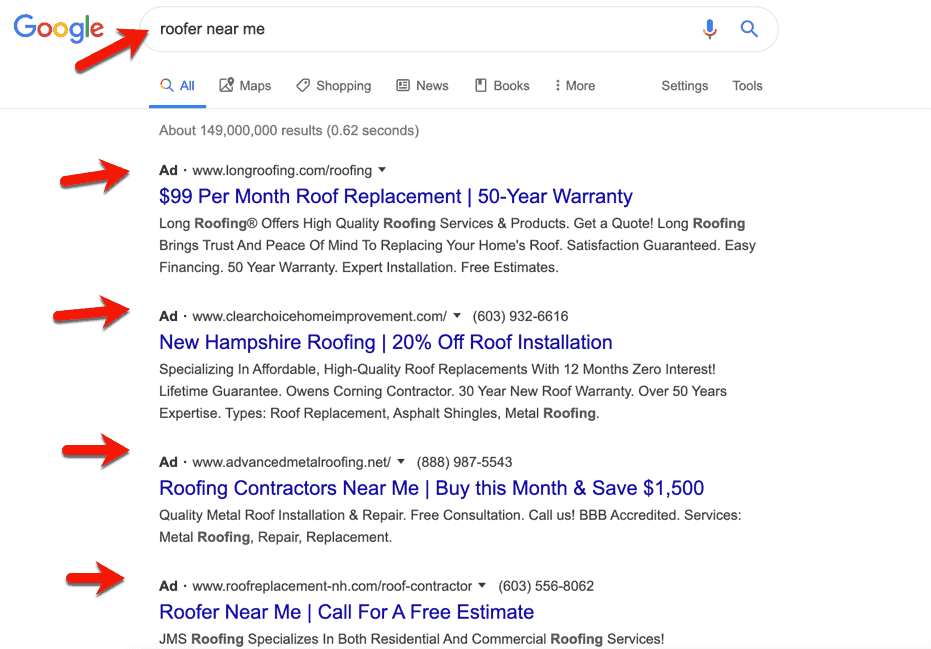 A properly managed Google Ads campaign gets you to the top of the Google search results.  If you are already running a Google ads campaign perhaps it would make sense for you to have an outside set of eyes perform a Google Ads account audit from one of our Google certified account managers to see how your campaign can be improved.  (Hint:  we always find a lot of ways to improve a Google advertising campaign that can save you money and increase the effectiveness of your campaign).
Some common mistakes we see when we audit Google advertising campaigns are:
Running ads to the front page of their website and not a customized high-converting landing page
Not tracking phone calls from your campaign (for most small businesses the majority of your adwords leads will be phone calls so to not track them and optimize for more of them is a big mistake)
Poor technical campaign set up
Duplicate keywords in campaign
No conversion tracking set up (or improperly set up conversion tracking)
Improperly set up Geographic targeting so your ads show to people outside of your target area (no use in putting your ad in front of people who you can't deliver your services to)
Not taking advantage of all the Google Ads Extensions that could help improve click through rate and how many total leads you deliver
Wasted ad spend – there are limitless ways we have found small business owners waste money with poorly structured Google ad campaigns including but not limited to overnight spending, not using Negative keywords effectively, and more
Like I said, Google ads is one of the most powerful online marketing tools for a small business because it gets you to the top of Page 1 (if done correctly) for prospective customers looking for what you offer exactly when they are looking for it.  If you are interested to see if Google Ads is a fit for your business or to have us Audit your current Google Ads campaign you can contact us here.
3.  Launch a Facebook Ads Campaign
40% of all Internet traffic is driven from social media traffic (namely Facebook and Instagram).  Facebook paid advertising is very different than Google advertising but can be very effective when done properly.  Every business is different so how you market your business on Facebook can be very different.  Educational marketing may be one approach, Remarketing Ads for an Ecommerce store may be another approach, of if you are a brick and mortar business you may do something completely different.  Here at NH Strategic Marketing we have done Facebook advertising campaigns for paving companies, landscapers, roofers, dog trainers, private schools, realtors, and more.  If you want to brainstorm some facebook marketing ideas for your business feel free to contact us and we can schedule a time to talk.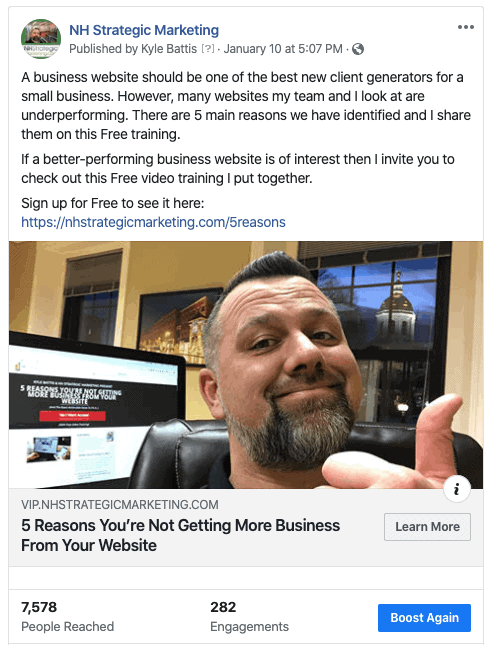 4.  Redesign Your Website
Your website should really be one of the best business generating assets for your business.  It is the "home base" of your entire Internet presence.  There are a lot of important considerations to keep in mind for a website redesign including but not limited to the platform you build on (we prefer building on WordPress but have built on other solid platforms too), the content on your site, the messaging, how easy it is to contact your business (think easy to fill out contact forms and click to call functionality so they can call your business with the click of a button), the Search Engine Optimization foundational elements "baked into" your website, the images on your site (hint: stock images are less than ideal and real, custom photography is much better), video on your website, and more. Here is our full approach on how we redesign websites.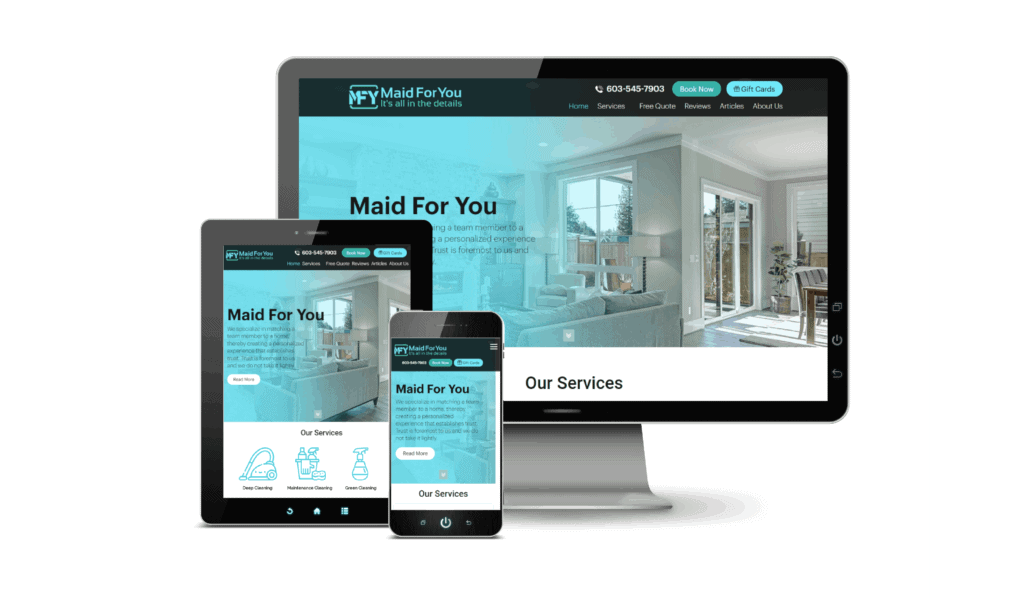 This blog post write up is a website redesign we did for a client that immediately started generating her more leads and new customers.  We look at a lot of small business websites and we find many of them lacking in proper messaging, adequate search engine rankings, and proper conversion capability.  If you want more from your website message us and we can talk.  

5.  Improve The SEO (Search Engine Optimization) Of Your Website
Search Engine Optimization, also known as SEO, is a way of helping to optimize how well your website ranks in the search engines like Google and Bing.  Properly done SEO consists of three things:  Technical SEO, Content, and Links.  Google is always updating their Algorithm on how they rank websites.  While  the rules change all the time, adding high quality content to your website is always a good idea.   The key idea here is adding quality content, not poorly written short blog posts that add no value to the Internet.  If you are going to have a blog on your small business website and you want it to actually help you rank better in the search results you need to write quality content that attracts more people to your website.
As an example, one of our clients Kelly McCaskill, owner of Ridge Light Studio is a NH photographer who offers a variety of photography services, one of which being Architectural Photography.
After we redesigned Kelly's website and built it on WordPress she has been adding well-written blog posts where she is intentionally working to rank for specific keyword phrases.  By writing blog posts about Architectural photography, business branding photography, etc she is more likely to rank in Google and attract people specifically looking for that kind of photography.
Just to let you in on a little secret, this post you are reading now is me working on the SEO for our NH Strategic Marketing site.  While I invested hours of my team writing it, it will be an asset that keeps working 24 hours a day, 7 days a week, 365 days a year to attract more people my way.
Part of properly done Search Engine Optimization is not only adding great content to your website but also optimizing your Google Local presence, and getting other websites to link to your website (which is like a vote of confidence in Google's eyes).  SEO is a tricky minefield to navigate and, if you are going to do it, you should do it intelligently and with guidance.
6.  Ask for referrals from existing clients
Referrals are absolutely one of the best ways to get new clients.  Customers referred to you tend to be higher-paying, better all-around customers for a variety of reasons.  However, referrals do have a downside.  You can't always count on or predict just how many referrals a month you will be getting.  I love referrals just as much as the next business owner but I fully understand that you can't count on growing your business enough on referrals alone.
With that said, there are some actions that you can and should take to maximize the number of referrals you get.
Here are 6 tips on how to get more referrals for your small business:
Offer exceptional service. This should be a given but you MUST do a great job delivering on what you promised and ideally overdeliver.  If you are just good enough and don't really impress your customers then the chances of you receiving referrals are pretty slim.  Your company must deliver that WOW experience and do more than what anyone expects.  If you aren't getting many referrals perhaps it is time to look at ways to overdeliver more.
Giver's gain.  Give more referrals to get more.  Human beings tend to want to help those that help them.  One of the best ways to get more referrals for your business is to go out of your way to try and help other small business owners.  I am personally part of a few different networking groups in Concord, NH and I work really, really hard to help others any chance I get.  I pride myself on selflessly trying to give way more than I receive.  I make connections, I refer people to others' businesses, I invite people to networking meetings I attend to help them out.  I have no expectations that I will ever get anything back.   I certainly don't keep score, but I have found the more referrals I give, the more people want to help me.
Make referrals part of your proposals and initial conversations. I remember talking to one of our landscaping clients in a different part of the country and he told me how when he starts working with a new homeowner, he asks them to agree to a simple request. "If I do a great job for you, will you please tell others about our services." It is a simple request but very effective and it sets the expectation up front, inviting your customer to want to refer you once the job is done.
Have good referral timing.  I have heard it said that "the difference between lettuce and garbage is timing."  If a customer is pleased with your work, thank them, and state, "'I'm so glad to hear that you are happy with the work that we have done!  Would you happen to know of other people like yourself who could benefit from our services?"
Specific is terrific. When asking for a referral, the more specific you can be the higher the likelihood of you actually receiving a referral. If you're looking to be connected with affluent home owners in a specific town, ask for that.  If you're seeking business relationships with a certain type of business, say it specifically.  The more clear and specific you can be the better your referral results will be.
Take great care, keep your referral partners in the loop and thank them.  When you get a referral from someone recognize it for what it is:  an important gesture of trust.  You absolutely must take care of that customer who was referred to you at an even higher level than normal.  If you don't do a good job taking care of that referred customer you run the risk of turning off that new client and the client who referred them to you.  Not only that, if someone refers someone to you then you should absolutely keep that person in the loop that you have followed up and made the connection.  I would also recommend thanking them (check out the hand written note tip below).
Referrals, while unpredictable, can be a phenomenal source of new customers for your business.  Follow these tips above and you will be more likely to have a steady stream of referrals coming your way at all times.
7.  Send a Hand-Written Note
Sending a hand-written note or postcard is a nice touch.  In this age of digital where you can send an email or a text message I have found it even more powerful to take the time to send a hand-written note.  There are lots of situations where you may want to send a hand-written note.  You can send one to someone you just met and set up a follow up meeting.
For example, the day I am writing this blog post I met a fellow New Hampshire business owner who I really enjoyed meeting so I pulled out one of these NH Strategic Marketing postcards we had printed up at a local print shop, and took 1 minute to write him a nice thank you note on the postcard.  In a couple days he will get the postcard and we may meet for coffee and then who knows what will happen.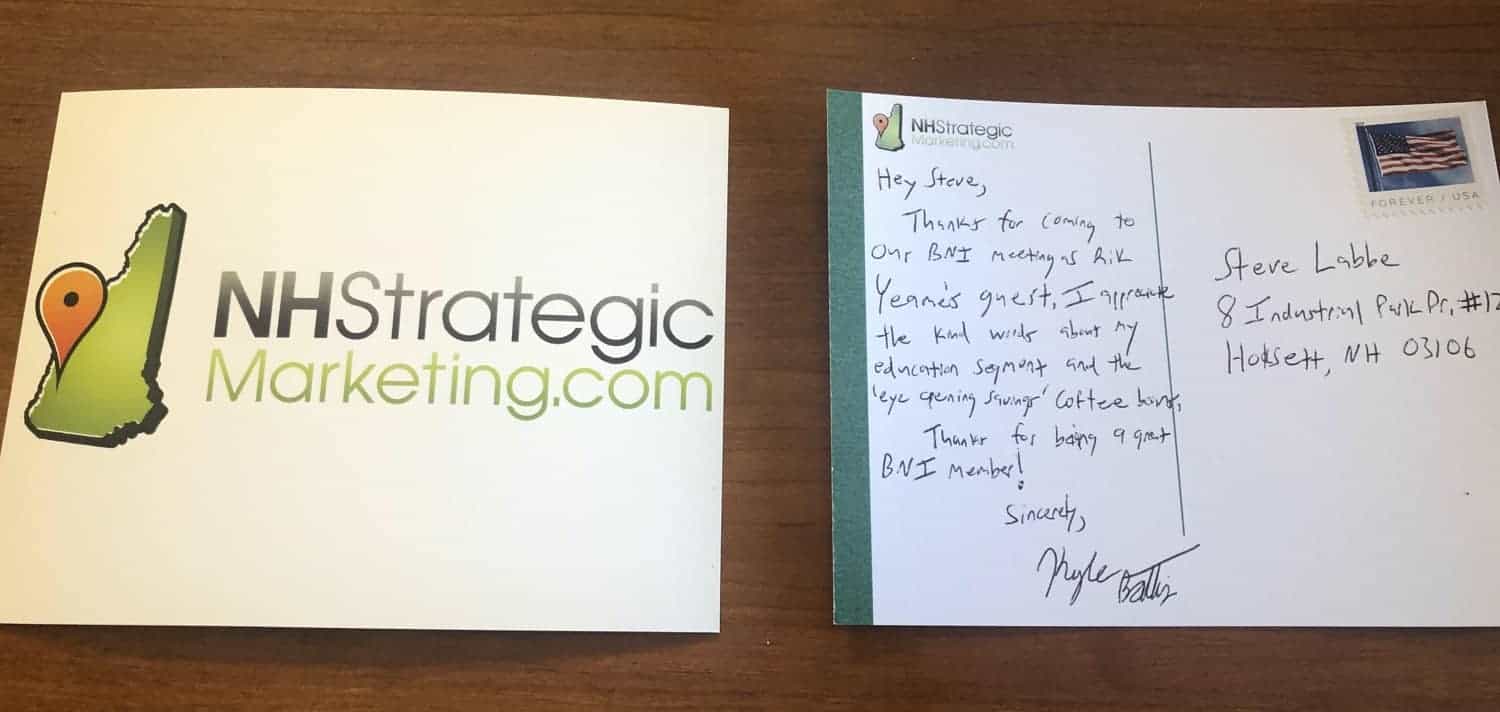 Here is an example of a friend of mine who sent a very nice hand-written postcard and guess what?
I was impressed by her thoughtfulness so I reached out to her and immediately scheduled a meeting for the following week.  Some good things may come from that meeting and it never would have happened if she hadn't taken the two minutes to put together that postcard and drop it in the mail.  Here is what my friend Rachel Sotak of www.TigerLilyByRachel.com sent to me: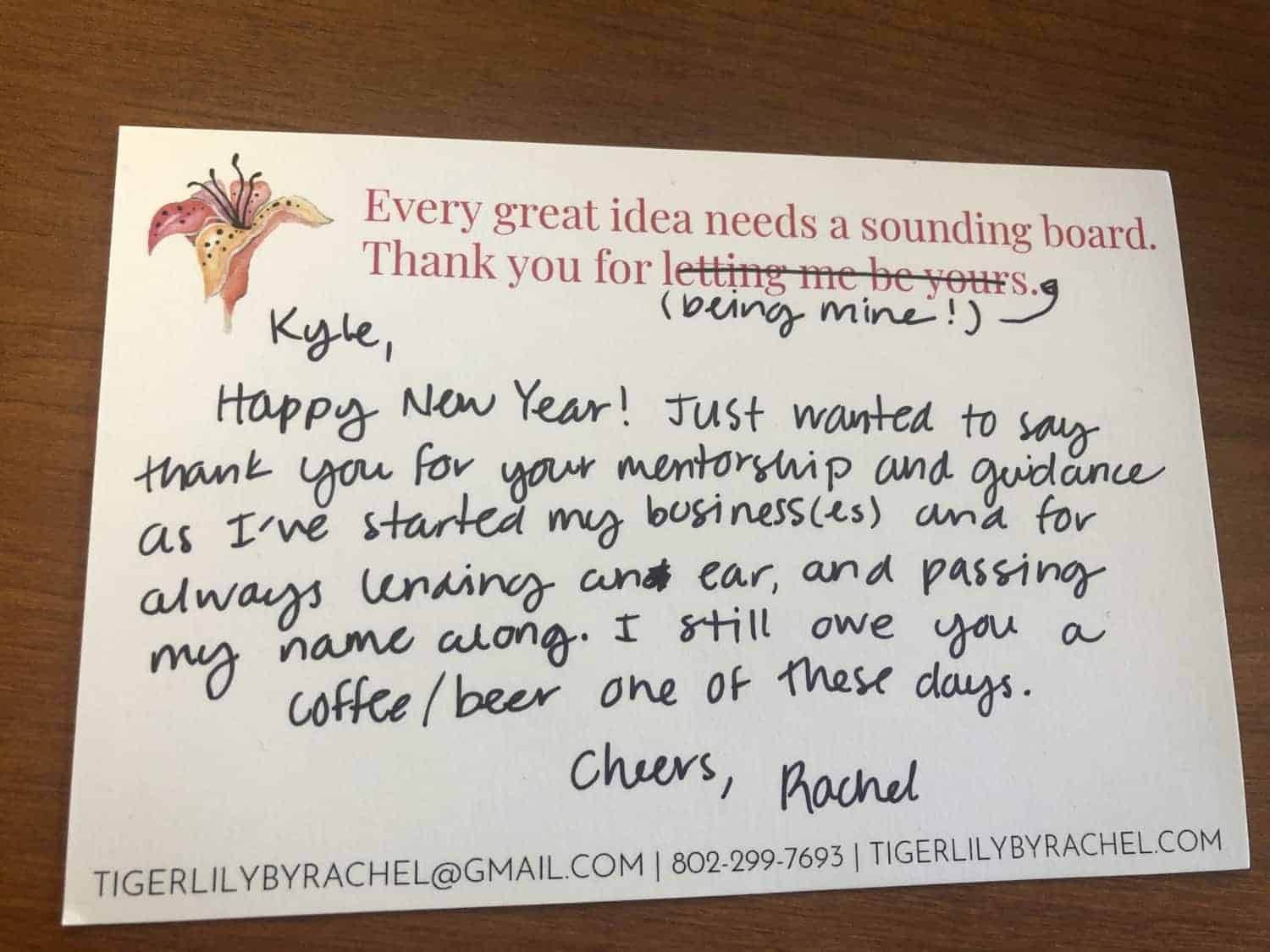 A local commercial real estate agent Rose Culver sent me a nice hand written thank you note with a gift card to a local Concord, NH restaurant I like to visit from time to time after I had referred a new client to her.  I was so impressed by that gesture, she stayed top of mind for me and one week later I sent her another referral!!  Maybe there is something to this hand written note thing!
8.  Pick Up The Phone
This falls under the category of "if you don't have resources, then you have to be resourceful."  There are lots of ways you can use the phone to generate new opportunities for your business. They range from calling existing customers all the way to cold calling.
Here are some ways to use the phone to generate new opportunities for your business:
Cold calling.  Dialing for dollars is an old school way of generating new customers for your business.  While more people are just opting to send an email, if you pick up the phone some magical things can happen.
Call a new referral partner.  You can introduce yourself to a prospective referral partner and see how you might be able to work together.  This could be a non-competitive business where you both share the same type of customer.  A strategic partnership like this could go a long way.
Call on a prospect to set a meeting.  You can call and ask a prospective customer for a discovery meeting so you can hear about their needs and see if you can work with them.
Call an existing customer.  You can call an existing customer to check in on how they are doing and see if they have any other projects in mind.  Maybe they even have a referral in mind for you.  Remember, activity leads to new business so picking up the phone can help increase your chances for getting a new client.
Call a cancelled customer.  Customers sometimes have to cancel for a variety of reasons.  You might consider calling on cancelled customers and trying to reactivate them.
I understand not everyone likes picking up the phone and calling on people but if you are looking to generate some new business this can be a great tool in your toolbox.
9.  Reply to Comments On Your Social Media
You can and absolutely should keep a close eye on your Social media channels.  Every comment could be a potential customer opportunity.  You should respond to every comment and answer every question. If you don't, then you are basically ignoring potential customers trying to communicate with you.  It doesn't matter if you don't consider yourself a "Facebook person."  If you are a business owner who chooses to have a presence on Facebook (or any other social media platform for that matter) then it is your responsibility to monitor those channels and respond to anyone commenting there.
I would recommend getting the Facebook Pages App on your phone and checking it at least once a day.
Here is what it looks like: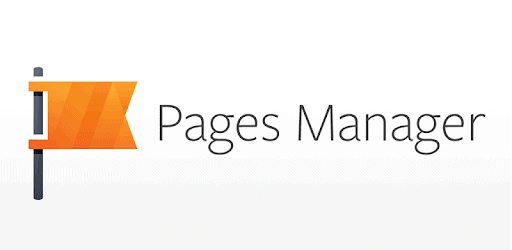 You can go to the Apple App store or the Google Play store, download it for Free, and connect it to your business Fan Page.  It is a simple and easy way to stay on top of the messages and comments happening there.  Logging in to this app once or twice a day is a smart and simple way to get more customers for your business.  The more active your social media presence is, the more often you should be checking in on your pages.
10.  Attend a Networking Meeting
In every city, every single week there are opportunities to network with hundreds of like-minded business owners looking to grow their businesses.  Some of these networking groups are paid groups, while some of them are free groups.  Almost all of them you can visit for free at least a couple times before deciding if you want to join or not.
There are Rotary meetings, BNI meetings, Chamber of Commerce meetings, and even informal small group networking meetings. These meetings take place at coffee shops, libraries, restaurants, and various meeting facilities in your city.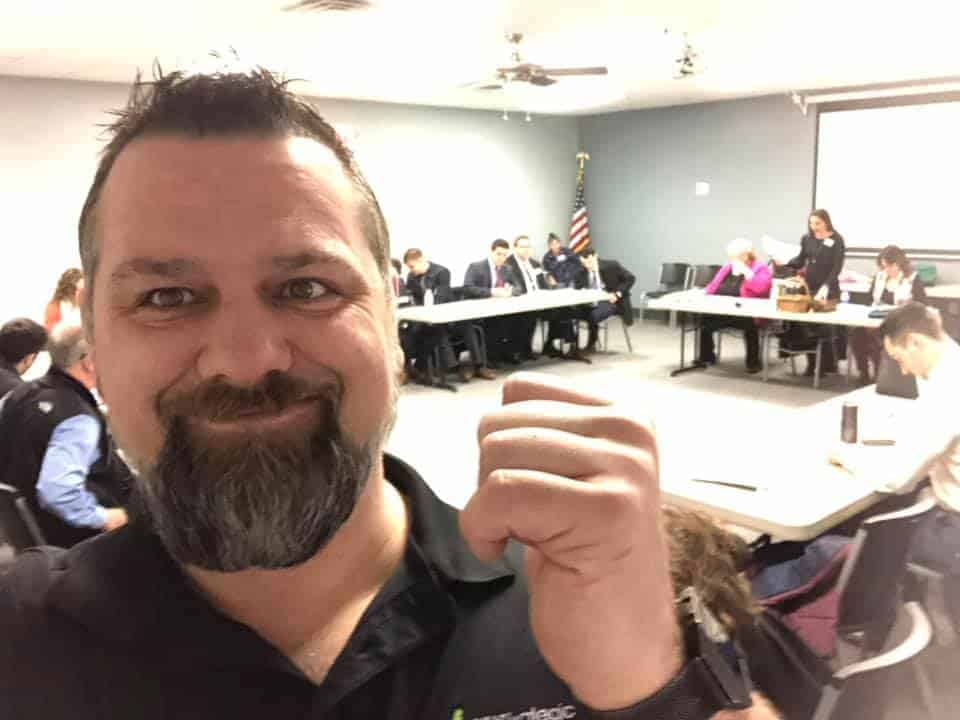 Important point:  These groups are all about building relationships.  People like to do business with people they know, like and trust.  The more you can proactively build relationships, help others, make friends, and deliver value the more likely it is that you may get some business as a result of those relationships.
There is a level of commitment to these groups that needs to happen if you want them to work for you.  You must show up, educate your group members on what a good referral would be for you, participate and work to help the other members of the group grow their businesses.  If you do a great job and are a team player this can be a tremendous source of referrals for your business.
11.  Host a Live Event and Teach Something
A client of ours is a local Concord NH gym owner and he hosts regular events at his facility aimed at teaching and giving value.  For example, in January he is hosting a free Weight loss seminar.  He will likely get 30+ participants to visit his facility where he can spend an hour educating, sharing value, and building rapport.  There is a strong chance some of those people will want to then join his gym.
Another example is a dog trainer who hosts a live Puppy training event for new dog owners looking to get their puppies under control.  She could do a low cost or free class on this subject as a way to get introduced to new dog owners who could benefit from ongoing training, one on one coaching, dog boarding and more.
I have seen Realtors give first time home buyers clinics, financial planners like my friend Andrew Githmark conduct free seminars on Social security and Retirement planning, and even local contractors teach classes at their local Hardware store to attract new clients.
People like to work with experts.  Experts teach.  Get out there and teach something in a free workshop and some great things may come out of it! We do this on a semi-regular basis for our business and we can track back many clients from those efforts: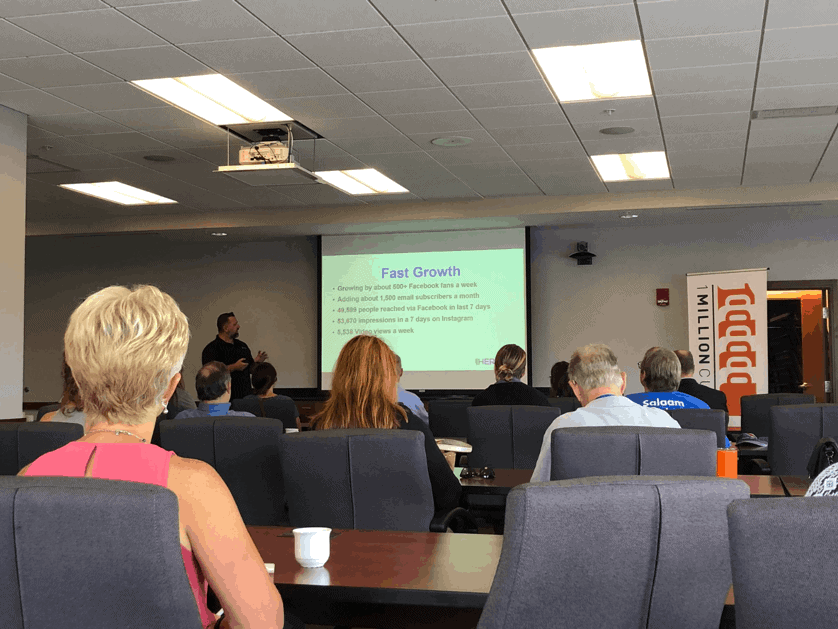 12.  Record a Video and Send It To An Existing Client
I love this strategy and I do it all the time.  People like the multi-media nature of these videos too.  You can use your webcam to record a little "talking head" video or record a screen capture video.  I use a program on my computer called SnagIt to quickly and easily record short screen capture videos.  You can record a short video delivering some value, reporting on some positive results, and doing any kind of "show and tell" that would benefit your client.Here is a screenshot example of a screencast video message I sent to a client sharing some good news on how her website rankings were increasing.  She loved the message and even shared it with other business owner colleagues in a private Facebook group.  Who knows, that one act could generate more new clients for our agency.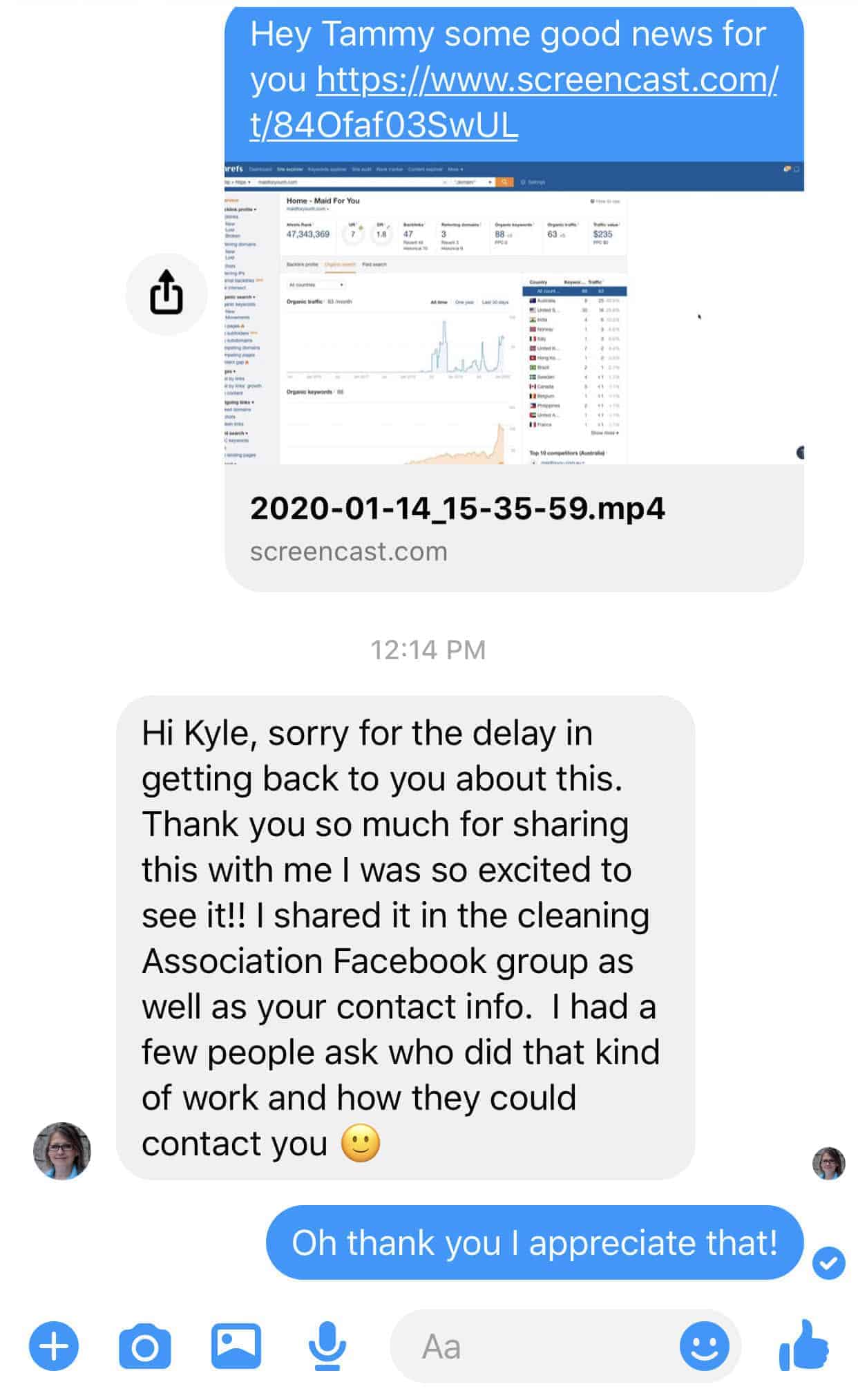 13.  Record a Video and Send It To a Prospective Client
You can use a program on your computer called Quicktime to quickly and easily record a short video that you can send to a prospective client.  You can also use that same SnagIt software or something like it to record a video that you can share via a simple link with a prospective client.  You can share some ways that you can help or maybe an issue they have that maybe you could help them with.
14.  Drop off Donuts / Food / Etc to a Potential Referral Partner Or Customer
Want an inexpensive way to meet a potential new customer?  This works especially well for business to business introductions.  For example, if you are photographer that does architectural photography it may be a good idea to periodically show up at an Architect's place of business with a fresh batch of donuts to introduce yourself and hopefully make an ever lasting impression.  Walking in the front door with a box of fresh-made Donuts may be a great way to be a welcome guest instead of an annoying pest.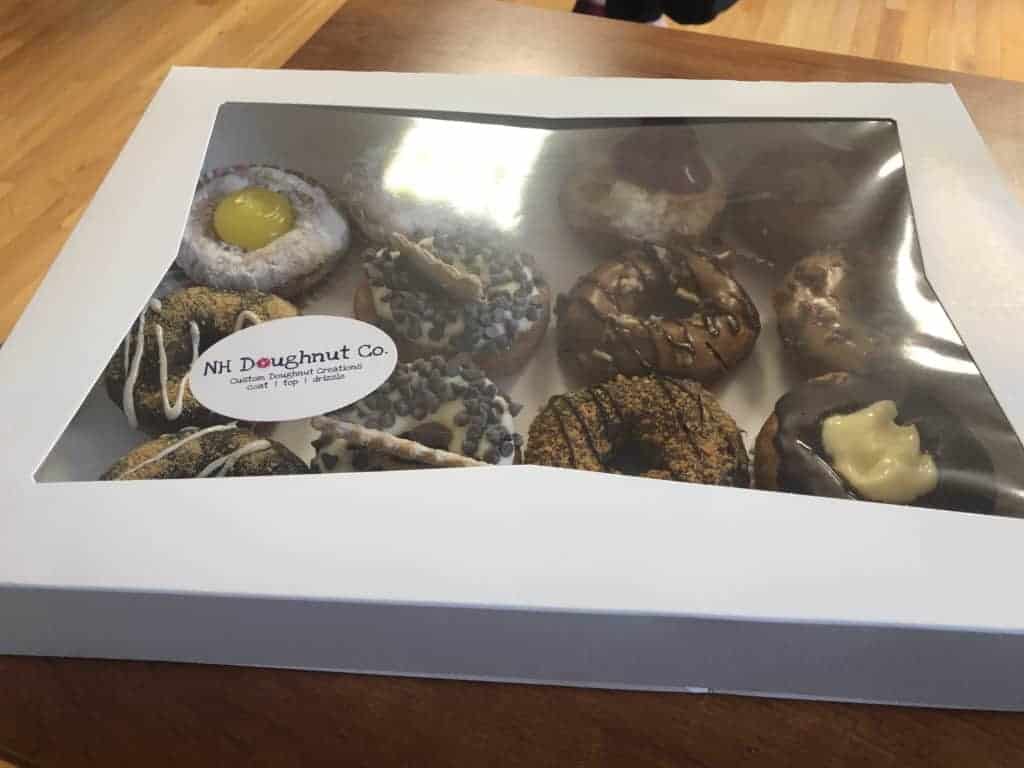 It doesn't have to be donuts either – it can be any kind of food.  Another example.  A physical therapy clinic I used to work for would drop of candy baskets to local Doctors' offices once a year as a nice way to stay in the good graces of these offices (these offices may refer patients their way).
What other types of businesses would be potential referral partners for YOUR business?  Identify those and consider doing a donut drop to introduce yourself.  Some great things may come from it!
15.  Host a Webinar
This is similar to teaching a live class but completely virtual.  You can create a Live webinar people sign up for and attend with a service like Zoom.us.  Come up with a topic your potential customers may like, put together a presentation, set a date, promote it on Facebook using Facebook ads, spread the word on your LinkedIn profile, and promote it in any way that you can to get people to sign up.  Webinars can be a great way to grow your email list (more on that below) and attract potential customers your way.
16.  Email Newsletter Marketing
A great way to stay top of mind with prospective customers is by routinely sending an email newsletter to your audience.
7 Ways To Grow An Email Newsletter:
Have a pop up on your website
Add an in-line email newsletter sign up form to your website.
Offer a lead magnet on your website or a landing page.  This could be a white paper, a free report, a checklist, a webinar, or even a video that your prospective customer may want to get their hands on in exchange for their name and email address.
Run a giveaway contest
Run Facebook ads to a Newsletter sign up landing page (like I do on this landing page)
Manually add subscribers to your email list.  A local business owner uses Mailchimp and via an app on his phone can manually sign up people to his email list.
Add customers to your email newsletter at checkout.  Some modern day POS (point of sale) systems can automatically capture name and email address and add them to a newsletter list that you can use to stay in touch and top of mind with those customers.
Building up an email list and sending out a regular email newsletter with training, education, helpful tips, new ideas, and more can help drive more business your way.
17.  Volunteer or Donate To a Local Non-Profit
A few years ago I decided I wanted to start helping local non-profits with some online marketing as a way of giving back.  I had some expertise to share and thought it would be a good way to help them out.  I had no idea it would ever lead to generating new customers for my business but low and behold it has.  Just being associated with some of those non-profits, meeting other volunteers, etc. has led to some great new customers for our businesses.  Even one key relationship you make from helping out may lead to a lot of new business.  As a recent example, within the last year I joined another local group called "Guys Who Give a $hit" who help support local non-profits.  I have met some awesome people and fellow NH small business owners who I became friends with and some have even become customers for our marketing agency.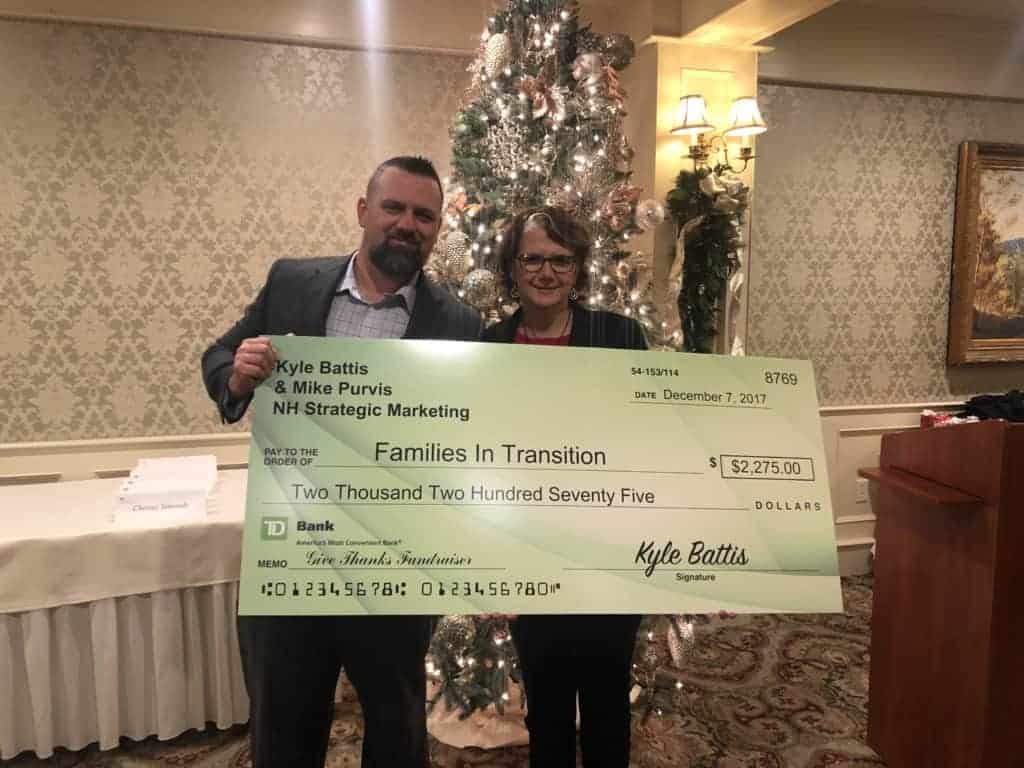 I have made some amazing connections volunteering for Non-profits that have led to me helping others and attracting customers for our business.  Being visible in your community is always a great way to help grow your business.
18.  Post a Video on Your LinkedIn Profile
LinkedIn has made a come back and has become a very productive social media network for business to business connections.  If connecting with other business owners makes sense for your business then connect with them on LinkedIn and post great content to your profile (like a video showcasing your knowledge, sharing a helpful tip, or showing off a recent project you participated in).  You never know who will see it and what may come from it.
19.  Host a Facebook Live On Your Facebook Business Page
A Facebook Live is a streaming video cast from your phone or computer.  It is a great way to engage with prospective customers in your geographic area.  You can teach something to your audience, you can live stream an Event you are hosting at your business, you can share a case study, a walkthrough of a new project you just finished and more.
I recently saw a Live Stream from a New Distillery opening up in NH that live streamed the announcement of when they were opening and pre-sold tickets to attend (it worked like gang busters by the way!).
Here are some tips on how to make your Facebook Live an effective one:
1. Plan your Facebook Live broadcast
2. Be natural and be yourself
3. Write a compelling description of your video
4. Tag your business and tag your Geography.
5. Periodically get new-comers up to speed on what you have already covered
6. Engage with your audience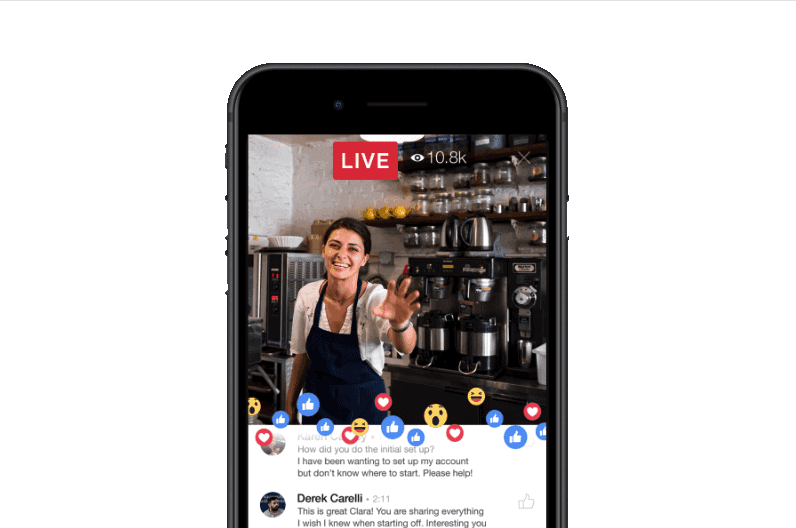 20.  Give Out a Unique Coupon
People love coupons and they can be a great way to attract new customers to your business.  This coupon in particular caught my eye because the owner of the company explained how he roasted his own coffee beans and included them with the coupon and tied it into his business.  It had some character to it and it stuck out!  Perhaps you could come up with a unique coupon idea for your business.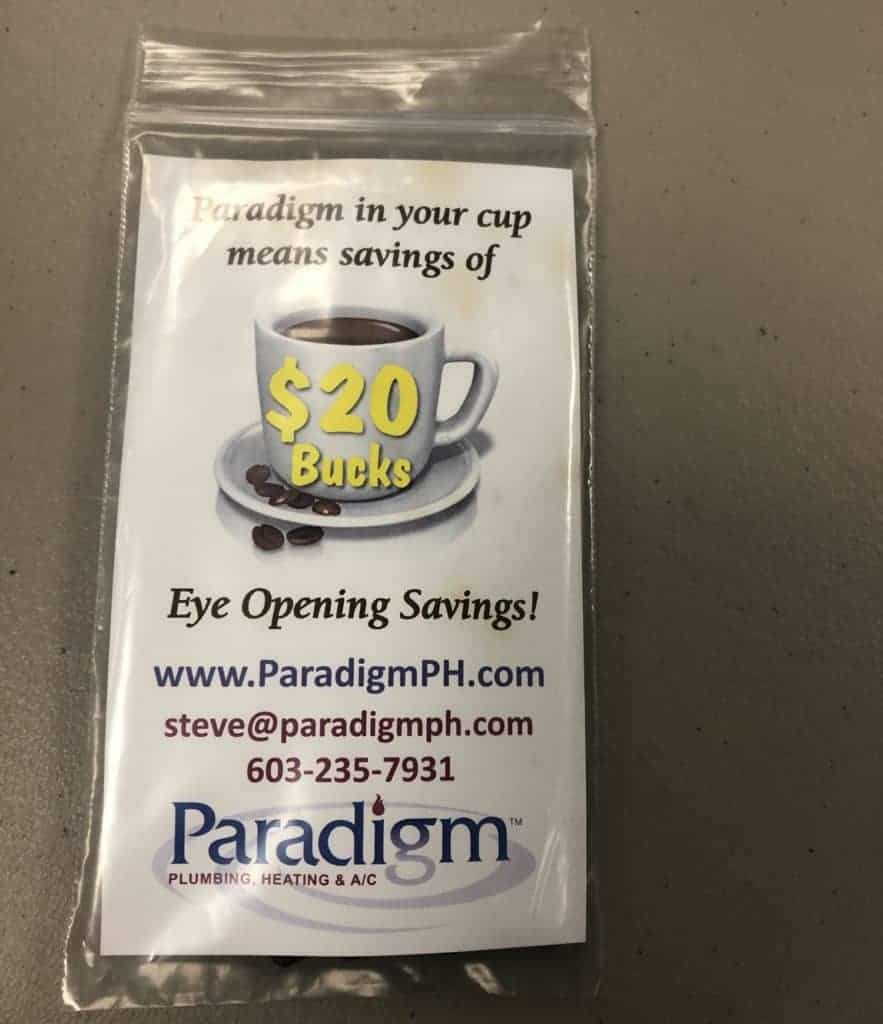 21.  Give Out a "Leave Behind"
At a recent networking event I attended, Steve Labbe, the owner of Paradigm Plumbing, Heating & AC shared a simple and effective story about how to avoid your pipes freezing in your home during the Winter months and suggested we all take this tag and zip tie it to our Water shut off valve.  That way, if you leave for a Caribbean trip during a cold NH Winter you will protect your house from flooding if your pipes burst.  I thought his short story and simple "leave behind" card was GENIUS.  Multiple people that were in that meeting, including myself, came up to Steve after and asked him for one of those tags.
Think about this.
Every person that takes one of these tags and puts it on their Water off valve will have a piece of marketing material with Paradigm's phone number attached to their water system. There is now an increased chance that the home owner will call Steve and his team instead of some random plumber on Google.
Simple but VERY effective.
I thought this was a great idea and many types of businesses can take advantage of this simple and effective marketing idea.
Here's a short video where I explain why this is a great idea:
22. Follow Up
My final item in the list of ways to generate a steady stream of new customers is to always follow up.  The money is in the follow up.  If someone reaches out to you once, you reach out to them and don't hear back, you should absolutely NOT give up on that prospective client.
You should keep track of those leads, when you followed up, the notes from those conversations, and if they turned into a client or not.  The amount of leads business owners waste because they never follow up more than once is staggering. Check out this popular infographic that made its way around the Internet: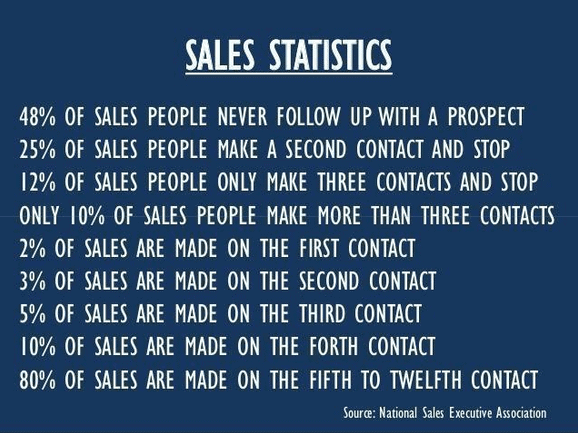 I have talked to business owners who were investing large sums of money on all kinds of advertising methods and they were very poorly handling the leads they were getting.
They didn't answer their phones….
They never called people back….
If they did get an inbound lead, they reached out to them once and if they didn't hear back immediately, they never reached out again and called it a "bad lead."
Huge mistake.
Just today I followed up for the 3rd time with someone who messaged our business via our website and they finally responded (turns out they were busy and they appreciated my follow up).  Turns out they are a GREAT prospective client of ours and it is only because I followed up and kept track that we had a chance of closing them.
Track Your Leads And Follow Up In a Simple App Called Pipedrive
For our business, we use a simple app to track our leads.  In the app we record every lead we received, where it came from, how often we followed up, and what phase we are in with them (Lead, Needs Defined, Meeting Scheduled, Proposal Sent).  This makes sure that no valuable leads for your business are falling through the cracks.
Just one opportunity that you don't follow up on could be worth thousands of dollars for your business.
In the App you can customize the "Stages" you choose to use.  Here are the exact stages we use:

Once someone gets entered into my follow up app I will follow up with them until they become a customer of mine or they tell me to go away.  I think my personal record is 12 follow ups over the course of 8 months and the person eventually hired us.
That was 12 emails, calls, etc over that period of time that eventually turned into a paying customer.  If you aren't tracking and following up I assure you that you are losing money in your business.
I love Pipedrive because it is very inexpensive, super simple to use, and helps me track everything so nothing falls through the cracks.  The money is in the follow up my friend so start tracking, start following up, and start closing more deals.
Click on the image below of the Pipedrive funnel to learn about a Trial offer they have.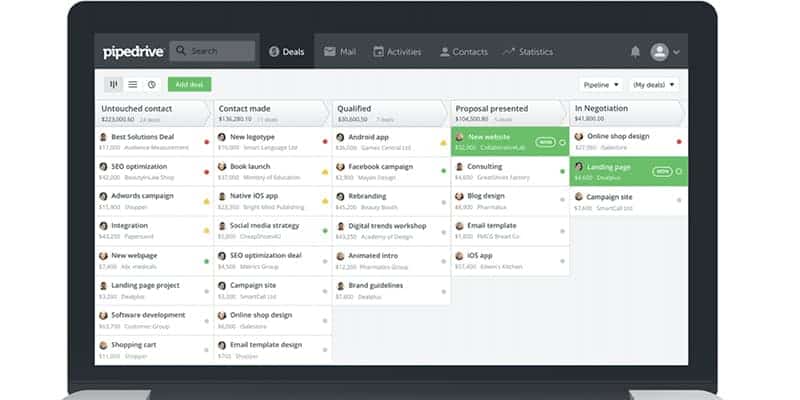 Action and activity create new business potential
Over my years in business I have discovered that the more activity I have going on to generate leads for my business, the more new customers come from that activity.  I am also a firm believer that having multiple ways to generate a new potential customer happening simultaneously the better.  A mix of online, offline, automated, and manual strategies to attract new customers on a monthly basis is a solid strategy for success.  Keep working on filling your funnel as that activity will help keep your business machine running smoothly.  Here's to your success!
Want our help figuring out how to improve your online visibility?
Click the button below to claim your Free Online Visibility Assessment.


We love helping Small Businesses win.