Google Direct Mail, The $50 BILLION Online Advertising Giant Sent ME Direct Mail?
Google, The $50 BILLION Online Advertising Giant Sent Me Direct Mail and there is a lesson here I would like to point out to you.  Google made $50 Billion last year and 97% of that revenue came from selling its online Paid Advertising product "Google AdWords" of which I am a huge fan.
Did you know Google nets $115,150 of revenue in one minute, and converts $23,509 of that into profit.
Crazy isn't it?!
Despite those amazing numbers you might be surprised to know that Google is one of the largest Direct Mailers in the technology space (with companies like AT&T).
Google is the 8th largest technology Direct Mailer and sends MILLIONS of direct mail pieces every year. They use direct mail heavily.
I was recently invited to participate in one of Google's newer beta programs called "City Experts" and I just got a personalized direct mail piece from them yesterday.
What I find interesting is that just last year Google was the eighth largest technology direct mail company in the U.S.
While there is no doubt at all that online advertising is critical in today's fast-paced digital world the question to ask is why is this Online Advertising GIANT sending out millions of pieces of mail?
The answer:  Because it flat out works.
They're using this traditional, old, offline media to drive customers to their online advertising service Google Ad Words.
Sure they do run Google AdWords Ads to attract new businesses to them BUT they aren't using just one method to attract new customers.
One is the worst number in any business.
While I am a big fan of online marketing, I find it my responsibility to remind you that Direct Mail is still alive and well.  Its also very effective still when done right (keyword = right).
Its better to have as many ways as possible to attract new customers into your business:
Google AdWords
Organic Search Engine Optimization
Social media marketing
Free publicity through local media channels
Direct Mail
Referral Marketing
Joint ventures with other non-competitive businesses
etc

Something to think about.
So, back to our discussion about direct mail. Here are some questions I can leave you with to get you thinking.
Are there ways you can use simple direct mail pieces to get new prospective customers to try your product or service out?
Should you try to do a little 'Appreciation Marketing' like the above example from Google? A simple hand written card goes a long way!
Should you try sending a monthly Print Newsletter to keep in touch with your valued customers?

Check out this other example Google mails out to attract NEW customers.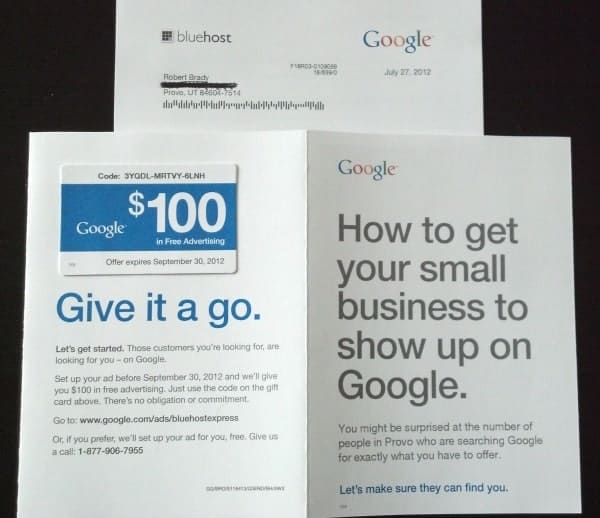 If online marketing giant Google still thinks its a good idea to use direct mail in their business, then maybe you should try it in your business too? Give it a shot and let me know how it works for you.
Helping small businesses grow through smart online marketing is our passion – you'll know it as soon as you talk to us for 5-minutes. I hope to talk with you about growing your business very soon.