Search Engine Optimization That Gets Results.
SEO Boost is our fully managed SEO service that gets you awesome, targeted traffic – all custom built specifically for you and your business.
Over the last 8+ years, we've analyzed a ton of data to know what works and what doesn't work in SEO.  It was important to us (and to our clients), that we did it in the "right way" too.  We ONLY do white-hat SEO – meaning, we do things the way Google wants you to do them – and we don't rely on shady tactics or fleeting strategies.  
We've worked on hundreds of Search Engine Optimization campaigns in all kinds of industries – and it shows. We took everything we've learned and put it into SEO Boost.
SEO Boost is the culmination of all our data, expertise, and experience.  You and your small business get all the benefits.  
You get a fully managed solution that combines our expertise, a powerful SEO strategy, awesome white hat link building, and premium content all with our best-in-the-business staff & support.
With SEO Boost we put together an advanced SEO strategy to MAXIMIZE your rankings and traffic for the long haul. Our process involves 2 major components:
1. Maximizing current rankings with our "Easy Wins Method":
With SEO Boost, we identify terms that you're already ranking for in positions 4-30 and push those terms up with a diversified, safe, white hat link building strategy to get you quick increases in traffic.
2. Advanced Competitive Research:
We use advanced competitive research (Competitive Gap Analysis) to find what you're missing: High volume, low competition, valuable keywords. Then we build out awesome, well-researched content to target these mid-cycle buyer keywords.
By combining both of these strategies we are able to achieve awesome boosts in targeted traffic.  Our goal is for your business to be prominently displayed on the front page of Google.  
All The Bells And Whistles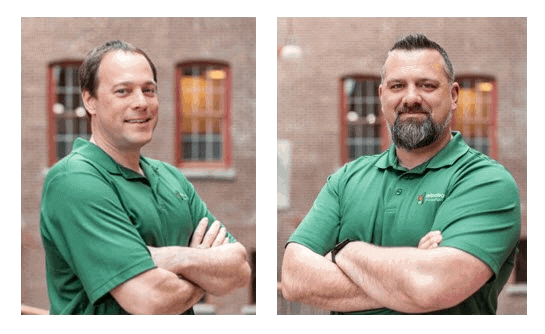 Meet Mike Purvis and Kyle Battis, your SEO Campaign architects.  We made SEO Boost the best possible service for you. It includes all the bells and whistles you've been looking for:
A Dedicated Campaign Manager: We created a whole new division specifically for managing your campaigns, and with SEO Boost you'll have a dedicated campaign manager.
SEO Boost Rank Tracker: Every SEO Boost client gets access to our keyword tracker, where you can get daily updates of all your keywords to monitor how your campaigns are progressing.
100% Customized Strategy: No cookie-cutter campaigns here. Every single campaign is researched, planned, and customized for you, your goals, and your website.
What Goes Into A Search Engine Optimization Campaign
As you can likely imagine, a lot goes into designing, launching, running and reporting on a successful SEO campaign – but we've broken it down into three core areas of focus:
This is where we take care of all of the critical research required to launching a successful campaign. It's also where we do the on-page updates for your site to set you up for early wins. Who knew you could be ranking in months instead of years (we did) – but you have to get this part right!
Creating content that is engaging for your users; able to convert readers into prospects (and customers), and gets ranked quickly by Google (and other search engines), is a bit of an art. Lucky for you, we have this down to a science.
Providing quality content is the first part of an effective SEO strategy. Getting inbound and outbound links (and doing it the right way), is another important factor. We have a proven process for internal linking – and we're very good at getting high quality backlinks for your website as well.
See What Are Our Customers Say About Us
"NH STRATEGIC MARKETING CAN HELP YOU GROW YOUR BUSINESS…"
For the last several years, NH Strategic Marketing has been a major influence on my online marketing efforts. They have a knack for coming up with quick and simple solutions on the fly, and are renowned for ensuring fast implementation of them. They are both a quick-starter and a strong finisher. The bottom line is that NH Strategic Marketing can help you grow your business, streamline normal business operations, reach new customers, and build your brand in new ways. For any small business owners who want to branch off into online marketing, you would be in good hands working with NH Strategic Marketing. They will absolutely deliver and even over-deliver on their promises to help you grow your small business and achieve your goals and beyond."
"I HAVE DOUBLED MY BUSINESS IN THE LAST YEAR!"
If it weren't for NH Strategic Marketing, I am sure I would be nowhere near as successful as I am today. In the last year i have DOUBLED my business! My wife could not stay home and raise our son. Kyle and his team have been instrumental: From helping me with list building to ad copy and everything in between. Any time I have a question or issue, they are there to help. They have never let me down and we've been working together now for almost 4 years. NH Strategic Marketing has a wealth of knowledge. They know what works and what doesn't. They won't waste your time or your money – two of the most important assets in any small business. From generating new leads to closing sales, NH Strategic Marketing will help you get it done.
"THEY WILL GET YOU RESULTS HANDS DOWN"
NH Strategic Marketing has been instrumental in helping me with my online marketing. To say that, doesn't really do it justice. They have also helped me with my mindset and clarity so that I can work on my online business. That's a critical factor before taking action and getting results. As a matter of fact, if it weren't for Kyle, I wouldn't have an online business today. NH Strategic Marketing is my go to team when I need ideas, help, brainstorming, or a nice motivational kick in the pants. I've known Kyle as a friend and mentor for 6 years now. He is one of the rare people who not only knows what he's talking about, but he delivers time and time again. If you get the chance to work with the NH Strategic Marketing team, and you don't, you are out of your mind. They will get you results hands down!
"THE GROWTH IN OUR BUSINESS HAS BEEN UNREAL"
Business was just "Ok" before we started working with the NH Strategic Marketing team. The phone was not ringing much because of some citation problems on the internet with our old web-site showing a wrong number in many listings. After we joined NH Strategic Marketing, we started noticing a BIG spike almost right away in phone calls. We also experienced a large jump in our Facebook Fan Page numbers and got some great new clients from our increased fans. The growth in our business since working with the NH Strategic Marketing team has been unreal, and the work that it brought in has been great – we even had to hire another person to keep up! I have told a lot of friends and businesses that I would highly recommend NH Strategic Marketing to help their business and I recommend them to you as well! Dick Arpin Dick Arpin Furniture Restorations Auburn, NH
How Our SEO Campaign Works
Just give us a few details about your website, your products, and your competition. If you don't know, that's totally fine too – we'll walk you through it and figure it out for you.
We'll investigate your site, your competition, and determine the best strategy for you. We'll take a look at easy-win keywords and find the gaps in your content.
After research, your campaign manager will schedule an onboarding call to review the campaign and answer questions. Once you approve the order, we begin working!
Once approved, the fulfillment process typically takes 30 days to be completed. If you would like to be hands off, we can auto approve your orders ten days after submission.
We get it, tracking SEO results takes time and patience. That's why we also give you access to our live 24/7 rank tracking software to check your current keyword rankings and progression.
Each month you'll receive reports of everything we've done, 100% transparent. You'll have the opportunity to book a call to review your progress with your campaign manager every month!
Below are some SEO case studies of how we have improved the rankings for our clients using targeted Search Engine Optimization Campaigns.  While every business is different whether we are working on an SEO campaign for a local business, a multi-location business, a national business, an e-commerce business our SEO services can help your business rank for more high-value keywords that drive targeted web visitors to your business.
Brand New Business / Website Now Ranking For 1,576 Keywords And Driving 298 Visitors/Month After Only 4 Months
In this case study, we will show you the results of a the organic traffic results of a brand new business that we started an SEO campaign on after completing their website design.  The site was a clean slate that we built ourselves here at NH Strategic Marketing so we were able to achieve some great results in a short period of time for this business.
Background
The site was created and ranked for no keywords, had no organic traffic at all, and was brand new.  The site focused on a specific state in the US and served the residents of that state.  The site owner wanted to get visibility, improve awareness about their business, and attract visitors to their website so they could grow their sales.
We worked with the client to create a SEO campaign that fit their budget.  We started with a lower tier of SEO Boost and focused on that for the first four months of the campaign.
The Campaign
With almost all campaigns, we create a diversity of links and content.  Depending on how the campaign progresses we shift budgets into higher quality links or more content. 


This campaign started with a variety of products, foundational links, including diversity links, Guest Posts on other sites, and on-site content.
Results
The campaign is very much still in it's early stages as this business and website are still only 5 months old now but we are happy to report that the site went from ranking for nothing at all to now ranking for 1,576 keywords, has 69 relevant backlinks, 22 referring domains, and is attracting 298 organic visitors!

The plan is to keep the SEO campaign going and we expect these results to continue to exponentially increase as the site continues to grow in authority from week to week.
Multi-Location Business In A Competitive Market Ranks For 25,000+ Keywords
In this case study, you're going to learn how we boosted the rankings of a website that's in a very competitive market. This site came to us with a pretty clean slate and not only were we able to drastically increase their total number of keywords ranking, we also brought their estimated traffic value to over $350,000.
Background
This site is in a very competitive market. The owner wanted to compete with the biggest names in the space. This site started in July 2017 and built up traffic to about 13,000 visitors a month before retaining our team in Oct of 2017.
We worked with the client to create a very aggressive plan per their request, starting with a $3,000 / month budget progressively working up to an even bigger budget as the campaign proved its effectiveness.
Audit
This site had no previous penalties as it was relatively new. We did see that it had a bit of aggressive anchor texts making up 7% of of the profile, but we knew we had the budget to diversify.  Also, the site has some very bad site speed scores which we focused on cleaning up in the initial weeks of the campaign (slow site speed scores can dramatically reduce the rankings of a website).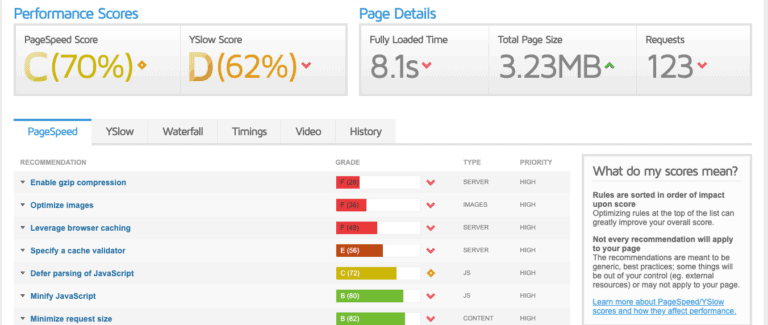 Easy Wins Analysis
We identified 230 "Easy Wins" keywords ranking in positions 4-30 with volumes between 20-11,000 Monthly Searches. You can see that the volume gap was extremely large, but all of the keywords had CPC, and some of the lower volume keywords were extremely lucrative with CPC up to $20 per click. We took this all into account when deciding on keyword & page targets, as many of the pages ranked for a multitude of keywords.
Additionally by sharing this information with the client, they were able to optimize their pages with LSI (Latent Semantic Indexing) keywords to help increase the rankings.
Competitive Gap Analysis
This analysis is designed to help us locate keywords that your competitors are currently ranking for that you are not. These keywords are great for generating a lot of fabulous new content ideas. Our team initially identified over 1000+ keywords that competitors were targeting that our client's site was not. We identified 3 types of content to target and utilized each at different strategies over the course of this campaign:
Category Pages – These are broad, high volume keywords that talk in general about a subject.
Product Review Pages – With the content gap analysis we were able to identify valuable brand and product terms to review. We used this to build a substantial amount of content that would produce revenue.
Supporting content – Later in the campaign after we completed a multitude of the base content, we also began creating supporting content for high competition keywords. For instance, we would support a large broader category keyword with contextually relevant articles that all linked to the high competition keywords article, building a foundation for the rankings. These were usually niche, avatar-specific, or situational variations of hub pages.
The Campaign
With almost all campaigns, we create a diversity of links and content.  Depending on how the campaign progresses we shift budgets into higher quality links or more content. Here are a few examples of monthly spends in how the campaign progressed:
This campaign started with a variety of products, including diversity links, Guest Posts, and content.
2x Platinum link building

1 Mini link building

2x DA20 Guest Posts

3x DA30 Guest Posts

2x DA40 Guest Posts

7x Blogger 1000 Word content pieces

 
As the campaign progressed we added more content and shifted to higher quality links, for example:
5 X link building

10X DA30 Guest Posts

15X DA40 Guest Posts

5X DA50 Guest Posts

16 Blogger x 1000 Word

 
Then as we saw the success of content ranking and the large breadth of targeted keywords to rank for, we shifted even more budget into content, while continuing to build high quality links.
40 Blogger 1000 Word

4X Platinum

10X DA40 Guest Posts

20X DA30 Guest Posts

1X DA50 Guest Posts

 
Results
The results of this campaign were tremendous thanks to the well defined marketing strategy, execution, and great communication with the client. In the span of less than a year this site became a major contender in the space ranking for some of the most competitive keywords.
The site's current traffic value is estimated at $351,000 per month:

It ranks for over 25,000 keywords, and the traffic graph grew aggressively over the last year: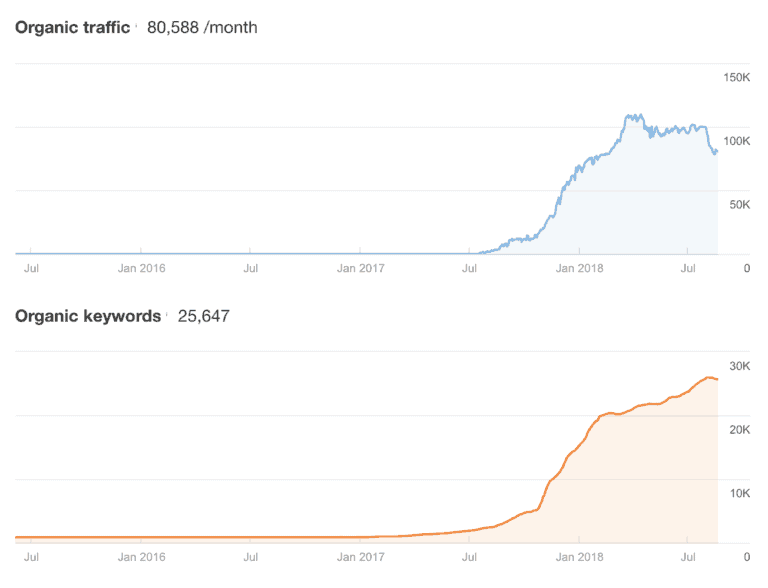 This was an amazing campaign – not just because of the work that was done, but also because of how much the client was involved. The client put trust in our team to follow the process but also worked closely to identify high value targets to focus in on as the campaign progressed.
In addition, because of the larger spend level, our team was able to prepare additional analysis of competitors, which gave the client insights that helped beyond just the search portion of this campaign and influenced business decisions.
We would love the opportunity to build a similar campaign for your business. SEO can literally change the game for many businesses and allow you to establish a position of long-term strength online.
Contact Us To Learn More About SEO Boost